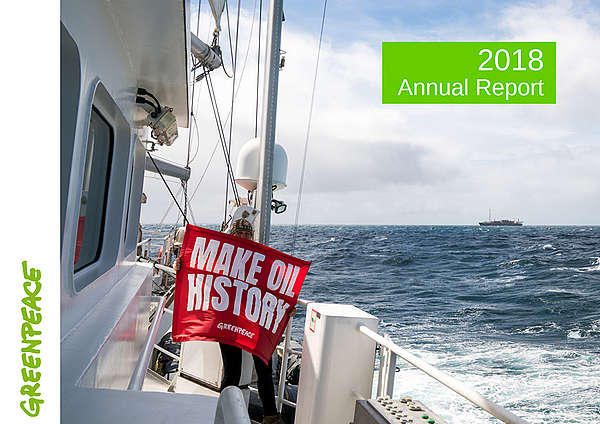 The year 2018 was a stand-out year for Greenpeace in Aotearoa and all those who dream of a world full of life in all its diversity. After seven years of tenacious campaigning alongside many others, we achieved a ban on new oil and gas exploration permits (with the exception of onshore Taranaki). This was still short of our ultimate goal – no new exploration permits and cancelling the existing exploration permits – but it was nonetheless a globally significant step towards living within our global carbon limits.
This campaign victory came after years of flaxroots campaigning up and down the country by tens of thousands of people. There were rallies, marches, occupations, demonstrations; iwi and hapū declared their opposition to oil exploration and launched flotillas and waka; people locked onto drillships, support ships, exploration ships; people swam in front of seismic blasting ships; flotillas of boats sailed hundreds of kilometres from shore to impede the oil boats; young and old used their bodies to block the entrances to oil industry conferences and offices; and so much more. The oil industry struck back with legal threats, private spies and the previous government passed laws to criminalise protest at sea. Yet still, we prevailed.
It was the kind of mass civil disobedience that changes the course of history, and it did. Our agriculture campaign also made huge strides forward with the successful campaign to end government subsidies for big irrigation. These subsidies were driving more industrial dairying and ending them was critical in preventing the expansion of this climate and river wrecking industry.
Now it's our job to promote regenerative farming and continue to campaign for fewer cows and an end to the use of synthetic nitrogen fertiliser – a critical pillar in the industrial farming model.
Our oceans work exposed the destruction of the fishing industry and the collusion between the government and the fishing industry. We continued to push for changes to the Quota Management System which incentivises fish dumping and other practices. We made the first steps to getting rid of single-use plastics with the announcement of a ban on single-use plastic shopping bags.
None of this would have been possible without the support of tens of thousands of New Zealanders who support us, financially and otherwise. We don't take money from government or business so we rely entirely on the support of regular people, which is completely synergistic with our campaign strategy to mobilise people power to change the world. We face a planetary climate and biodiversity emergency whose only rational and loving response is determined and courageous activism.
Download the full 2018 Greenpeace NZ Annual Impact Report
Find the 2018 Greenpeace International Annual Report here