In the last two weeks, one third of people in Havelock North have fallen ill with a gastro illness that originated in the town's water supply.
The source? Most likely contamination from cows, sheep or deer.
By all accounts the last couple of weeks have been hell for the people of Havelock North. This isn't what's supposed to happen in a "clean, green" first world country.
Unfortunately, the chances of it happening again are about to increase, with a series of industrial irrigation schemes planned around New Zealand.
These schemes will mean more intensive agriculture, and therefore more water pollution. We should be cleaning up and protecting our waterways, not building giant irrigation dams that drive more agricultural intensification and compound the problem.
This map shows where big irrigation schemes are planned – do you live near one?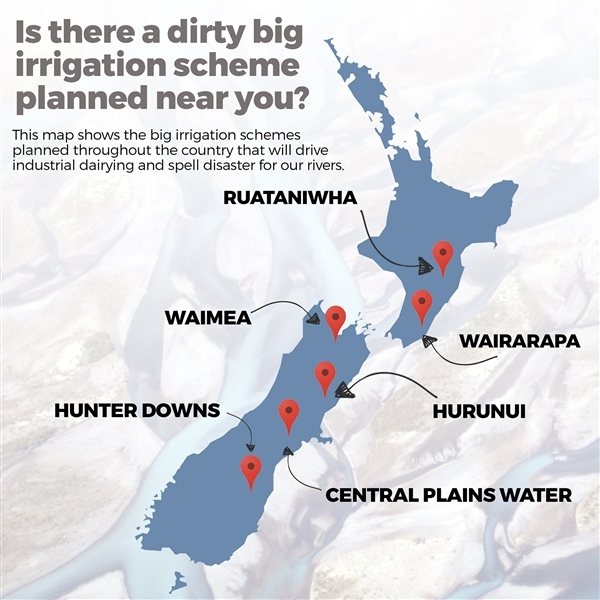 Despite the risks of big irrigation, the Government is throwing over half a billion taxpayer dollars at it, and local councils are pouring in millions of dollars of ratepayers' money. In doing so they're essentially sanctioning water pollution.
Remember local elections are coming up. The Havelock North crisis has ensured water quality is high on the political agenda in the Hawke's Bay. It needs to be a big election issue in every place big irrigation is planned.
If you live in one of the areas likely to be effected by a dam, make sure you're enrolled to vote, make sure you actually do vote, and be sure to ask your local candidates their position on large-scale irrigation and the expansion of industrial agriculture.
You can find more details of dams planned around New Zealand below.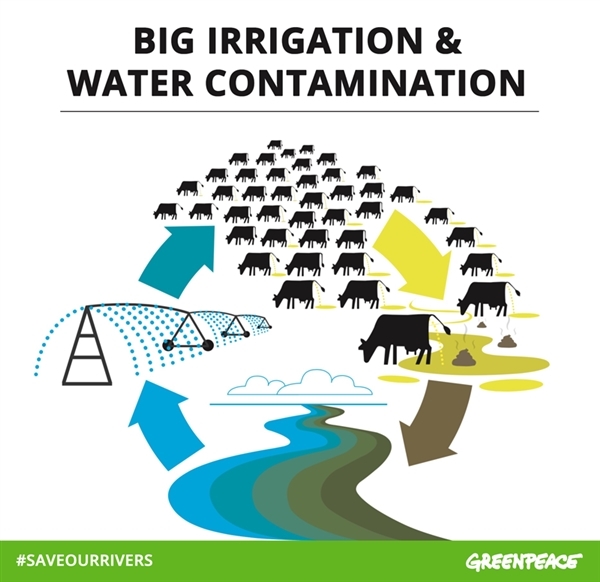 WAIRARAPA DAMS
30,000 hectares of land to be irrigated from two dams to take water from the Taueru River, Mangapurupuru Stream, Black Creek and Wakamoekau creek

Greater Wellington Regional Council – $3 million

Wairarapa District Council $20,000, Carterton District Council $10,000
South Wairarapa District Council $10,000

Government – Over $2 million

RUATANIWHA DAM in Hawke's Bay
25,000 hectares of land to be irrigated from a 25 storey high dam on the Makaroro river

Hawke's Bay Regional Council has already contributed $20 million and propose to put in $80 million

Government – nearly $5 million and looks set to put in millions more

WAIMEA (Lee Valley ) DAM near Nelson
6300 ha to be irrigated from the Lee River
Tasman District Council – to put in $25 million

HURUNUI IRRIGATION SCHEME in North Canterbury
58,000 hectares of land to be irrigated from the Waitohi and Hurunui Rivers

Hurunui District Council has so far refused to put money into the scheme

Government – Over $3.5 million

CENTRAL PLAINS WATER in mid-Canterbury
60,000 ha of land to be irrigated from the Rakaia and Waimakariri Rivers

Selwyn District Council has already put in $12 million

Government has given over $18 million

HUNTER DOWNS in South Canterbury
40,000 hectares of land to be irrigated from the Waitaki River
Waimate District Council – $170,000 and plans to put in $250,000 total
Timaru District Council – $170,000 and plans to put in $250,000 total
Government – Over $7.5 million