#Climate
#Justice
Demand Climate Justice
Filipinos are enduring the worst impacts of climate change, caused by greedy corporations. It's time to hold them to account!
TAKE ACTION
Manila, Philippines, 27 August 2018—On National Heroes' Day, Greenpeace, together with the National Commission on Culture & the Arts (NCCA) and the Komisyon sa Wikang Filipino (KWF) released a video, "Dagat o Gubat," a Balagtasan piece by local poets group The Makátas. The short film is aimed at raising awareness on how climate change threatens our environment and our future, while demonstrating the Filipino language as a powerful medium in tackling a human rights and environmental issue that affects all Filipinos.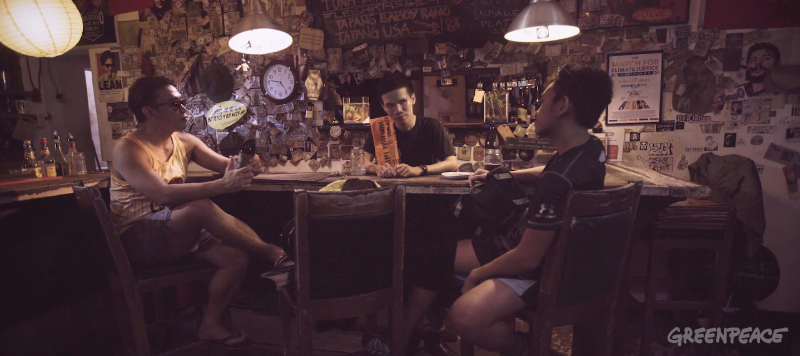 Desiree Llanos Dee, Climate Justice Campaigner of Greenpeace Philippines, said, "Climate change not only endangers our seas and forests, it threatens the existence of entire Filipino communities, including their cultural heritage and identity. Recognizing the urgency to act, artists are using their voices to demand justice from corporations who have profited at the expense of people's lives."
Around the world, artists have played a significant role in raising public discourse on climate change, and demanding action from governments and companies. In the Philippines, typhoon survivors and climate advocates have turned to sports, culture and the arts, not only to help them deal with the trauma and making some sense of their experiences, but also to tell their stories and send their messages to the rest of humanity.
"Months after typhoon Haiyan hit Tacloban City, the arts, literary, and heritage circles bloomed. One example of this is how spoken-word in Waray-waray emerged as a way for the people to embrace their identity and heritage, passing it on to their community, and making sure that it will not be taken away again," Llanos Dee added.
With the growing frequency and intensity of climate change impacts like typhoons, heavy rainfall, and drought, many Filipinos are growing tired of the resiliency narrative [1], and are standing up to demand accountability from the companies who created the climate crisis in the first place.
Roy Cagalingan, a member of The Makátas, said, "Sandata natin ang wika upang maibulalas ang nararamdaman sa paglalapastangan ng kalikasan. Kung hinuhubog ng kalikasan ang ating mga salita, marapat ding hubugin ng ating mga salita ang lunggati natin na mapangalagaan ang kalikasang ito. Nakikiisa kami sa mga naniningil ng katarungan. Marapat lamang na ipamalas ng mga artista ng bayan ang kanilang pakikiisa gamit ang kanilang sining at konsensiya."
[Our language is our weapon to vent our sentiments towards the degradation of nature. Just as the environment shapes our words, so must our words mold our strong desire to protect it. We are in solidarity with those demanding justice. It is only right that the nation's artists express their solidarity with their craft and conscience.]
The Makátas is a group of poets composed of Dakila Cutab, Ralph Fonte, and Roy Cagalingan, who are fellows of Linangan sa Imahe, Retoriko at Anyo (LIRA), the oldest organization of poets in Filipino and one of the country's premier literary groups. Some members of LIRA and other spoken word artists have shown their support for communities at the forefront of climate impacts, performing at: the Typhoon Haiyan Commemoration event in Tacloban City and the Pre-hearing Conference of Parties at the Commission on Human Rights in 2017; and at the Balangaw: Climate Justice Ship Tour last March.
At the third Climate Change and Human Rights public hearings on August 29-30, community witnesses from different regions of the country will be sharing how the changing climate has changed their lives and their livelihood. The storytellers consist of a transgender leader from Tacloban, a farmer and fisherfolk from Camarines Norte, and an indigenous farmer and youth leader from Banaue.
In September 2015, Greenpeace Southeast Asia-Philippines, together with thirteen (13) non-profit organisations and eighteen (18) concerned citizens, mostly at the frontlines of climate impacts, filed a Petition [2] before CHRP against forty-seven (47) multinational coal, oil, gas, and cement companies (the "Carbon Majors"), including BHP Billiton, BP, Chevron, ConocoPhillips, ENI, ExxonMobil, Glencore, OMV, Repsol, Sasol, Shell, Suncor, Total, and RWE. The petitioners requested for the CHR to investigate into the responsibility of the Carbon Majors for human rights violations, or threats of violations, resulting from the impacts of climate change.
Support the people and communities around the world who are taking legal action for climate justice: http://www.greenpeace.org/climatejustice
Links to the "Dagat o Gubat" video:
Download on WeTransfer: https://we.tl/t-jNxAgfvKQ2
On Facebook (will be available by 27 August 2018, 12:00 PM): https://www.facebook.com/greenpeaceph/videos/253668392021393/
Notes:
[1]  http://www.interaksyon.com/some-filipinos-are-tired-of-resiliency-narrative-during-disasters/
[2] Petition Requesting for Investigation of the Responsibility of the Carbon Majors for Human Rights Violations or Threats of Violations Resulting from the Impacts of Climate Change, December 2015: https://storage.googleapis.com/planet4-philippines-stateless/2019/05/be889456-be889456-cc-hr-petition.pdf  
[3] Relevant documents and additional information on the investigation can be found at http://www.greenpeace.org/seasia/ph/press/releases/Worlds-largest-carbon-producers-ordered-to-respond-to-allegations-of-human-rights–abuses-from-climate-change/The-Climate-Change-and-Human-Rights-Petition/
[4] Buwan ng Wika 2018: Filipino ang Wika ng Saliksik http://kwf.gov.ph/buwan-ng-wika-2018-filipino-ang-wika-ng-saliksik/
Contacts:
Desiree Llanos Dee, Climate Justice Campaigner, Greenpeace Southeast Asia – Philippines
desiree.llanosdee@greenpeace.org, +63 998 595 9733
Johanna Fernandez, Digital Campaigner, Greenpeace Southeast Asia – Philippines
johanna.fernandez@greenpeace.org, +63 920 975 9844
RR Cagalingan, Komisyon sa Wikang Filipino
rrcagalingan@gmail.com, +63 917 561 5024