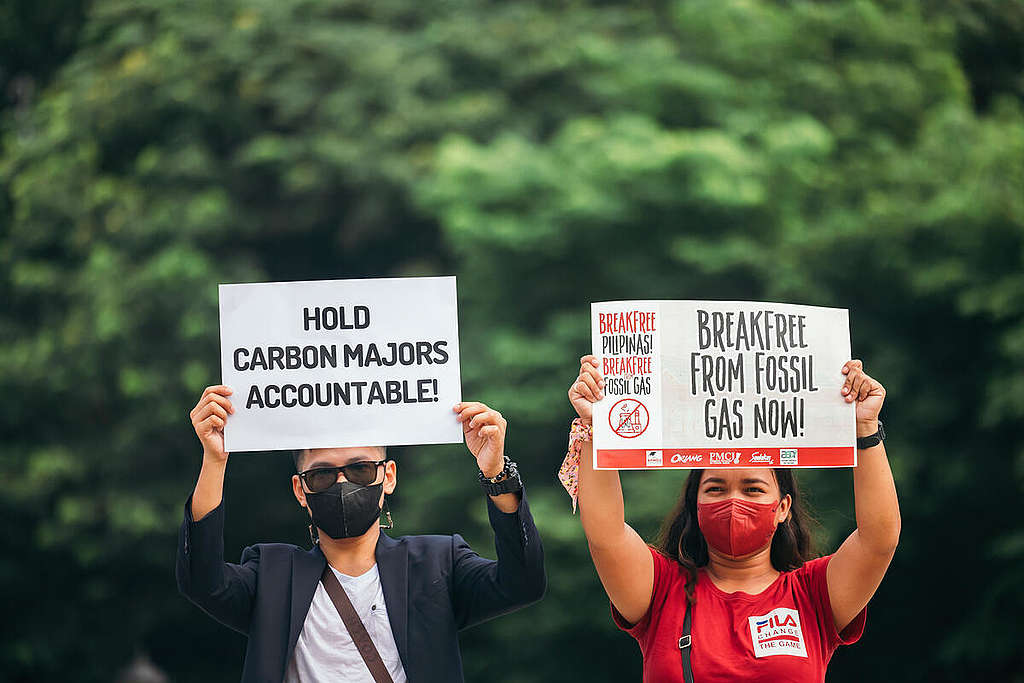 QUEZON CITY, Philippines (14 September 2022) — House Bill 4097 seeks to grant the natural gas projects the status of "Energy Projects of National Significance" (EPNS), expediting the permit processes for such projects. The bill was filed by Davao Rep. Paolo Z. Duterte, Benguet Rep. Eric G. Yap, and ACT-CIS Party-list Representatives Edvic G. Yap and Jeffrey P. Soriano.
Reacting to this, Greenpeace campaigner Khevin Yu said:
"The President during his birthday celebration yesterday declared that environmental welfare and protection is one of his administration's greatest priorities — but when it comes to energy, his allies in the House didn't seem too keen on holding up their end of the bargain.
This increased focus and reliance on tapping fossil gas is a dangerous proposition, and shows a glaring disconnect from the administration's stated thrust on climate change and renewable energy. Fossil gas-fired plants produce methane, which is up to 105 times more potent than carbon dioxide over a 20-year time horizon.[1] Thus, generating more power from this dirty source would only ramp up our contributions to the climate crisis, when the world is already teetering at the edge of the 1.5C threshold for global warming. Fossil gas uptake will also edge out renewable energy projects and lock us into further reliance on imported fossil fuels in the next 40 years.
If the President has designated climate change as a focal point of his administration, it is imperative on Congress to follow this directive and craft coherent policies on climate change – lay down the groundwork for a just transition to renewable energy, and ensure that all new power generation is from solar and wind sources. At the end of the day, Marcos Jr.'s optimistic statements of urgency will be for naught without concrete, genuine climate action on all fronts of government."
###
Note to Editors:
[1] Natural Gas & Climate Change: A Bridge to Nowhere | Greenpeace
Media Contact:
Karl Santos, Communications Campaigner
Greenpeace Philippines | [email protected] | +63 9999932058
Maverick Flores, Communications Campaigner
Greenpeace Philippines | [email protected] | +63 9176211552