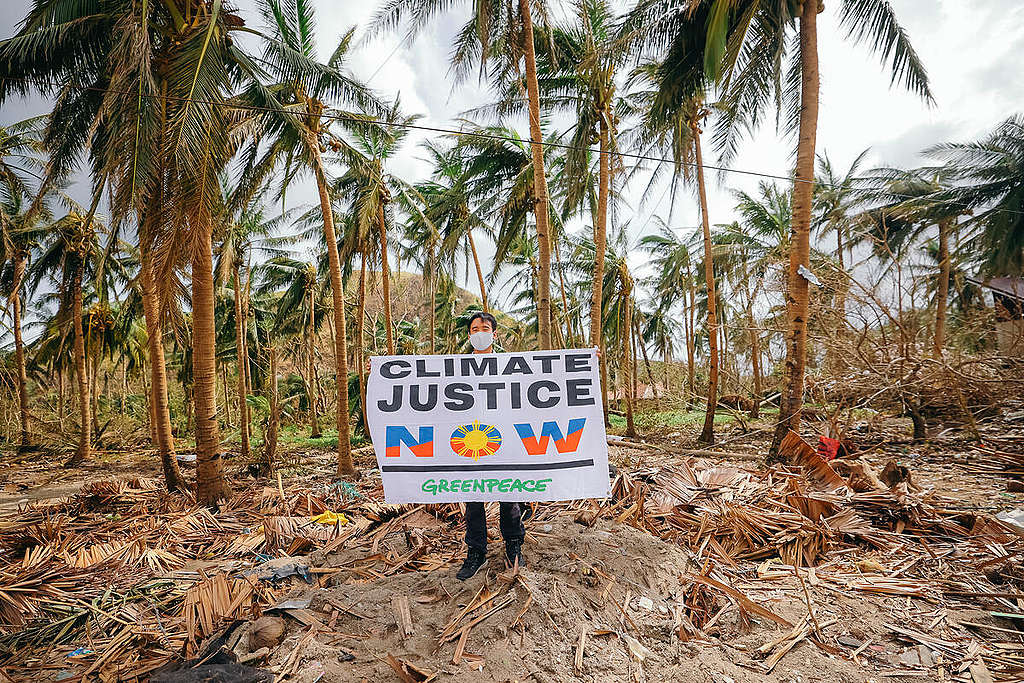 QUEZON CITY, Philippines (21 September 2022) — Following President Ferdinand Marcos Jr's speech at the United Nations General Assembly in New York this Wednesday, Greenpeace Philippines back home called for a clear plan for climate action and climate justice, as well as the protection of environmental and rights defenders. The call, and Mr. Marcos' speech, coincided with the 50th anniversary of the declaration of Martial Law during the 20-year regime of Marcos Jr.'s father, the late President Ferdinand Marcos Sr, which saw rampant corruption, extractivist cronyism, and the death and torture of thousands of activists.
"The President's calls for solidarity and sustainability at the UNGA need to go beyond platitudes and must be reflected in the actual policies of his administration," said Lea Guerrero, Greenpeace Philippines country director. "At present, we hear all this talk about climate justice, climate action, protecting biodiversity, ensuring food security, and upholding justice and human rights, but, in reality, most developments on the ground and the administration's policy direction are leading us away from these purported aspirations. We are calling on Mr. Marcos Jr. to actualize the claims in his speech, and heed the calls of Filipino communities for concrete action on climate and rights."
Mr. Marcos Jr. comes into presidency following the worst years of a still-present pandemic, and with the country's economy at one of its lowest points. He serves his term during what climate scientists describe as the most critical decade for climate action. The next six years needs to see the Philippines — a country extremely vulnerable to climate impacts — through toward a green and just recovery that should pave the country's transition away from climate change causing fossil fuels.
However, even as the President calls for climate action at the UNGA, his administration is aggressively pursuing fossil gas expansion and dangerous nuclear energy. Greenpeace says that both energy sources will only serve to edge out the massive growth needed in renewable energy sources, and lock the country into inflexible baseload systems that will further prevent the entry of RE.[1] Fossil gas and nuclear energy further endanger the health of vital ecosystems and biodiversity and put communities' lives and livelihoods, and security of food sources, at risk. The situation is made worse by the lack of a clear energy transition plan that should serve as a backbone for a climate-resilient economy.
Moreover, according to the environmental organization, the President has yet to acknowledge and implement the recommendations of the Final Report of the National Inquiry on Climate Change.[2] The groundbreaking report strongly calls for accountability and obligations from industrialized nations as well as from Carbon Majors— fossil fuel and cement companies identified in a study to have the biggest historical contribution to climate emissions. 
"The President could have used the NICC report to call for more forceful climate justice and climate action from his international counterparts. He could have fully represented the cries of Filipino climate survivor communities for justice for all the harms from climate impacts dealt to their most fundamental rights. Unfortunately, Marcos Jr went for the fence-sitter's approach with lackadaisical calls for what industrialized countries are already obliged to do under the Paris Agreement," said Guerrero. "He should have instead called for more ambitious emissions reductions targets, more money for climate finance, and importantly, compensation for loss and damage. He should also have called for ensuring that Carbon Majors be held accountable for their share of the climate crisis."
"Addressing the climate crisis entails urgent, long-term, and systemic solutions that need to go beyond business as usual. We need bold and transformative policies that include an ambitious energy transition plan that doesn't include fossil gas and nuclear, and an economic recovery plan that puts climate action and climate justice at the center— looking at how climate impacts health, livelihoods, food security, poverty reduction–and charting a truly sustainable blueprint. Most importantly, the president must champion democracy: support people's participation in governance, strengthen democratic institutions, and ensure the safety and protection of people and communities championing environmental justice and rights."
"More than courting the world's governments, climate action requires a unified front — one that stems from home, from the very people that understand and experience the crisis firsthand."
###
Notes:
[1] NEWS RELEASE | Greenpeace on SONA: Drop nuclear, fossil gas plans – head straight to RE
[2] The findings of the NICC report recognize that a just transition to RE and an end to fossil fuel dependence is necessary and urgent if we are to avoid the worst impacts of climate change and protect Filipinos' lives and rights.
The world's first Climate Change and Human Rights Inquiry, filed by Filipino typhoon survivors, communities, and civil society organizations at the Commission on Human Rights on September 22, 2015, sought to hold carbon majors accountable for human rights harms arising from the climate crisis. The final report on the Inquiry was released by the CHR on May 6, 2022. The findings are a victory for the millions of Filipinos whose fundamental rights are being impacted by the corporations behind the climate crisis, as they show that there are legal grounds for communities to hold corporations accountable for undermining climate action. Read the full text of the final report here: https://chr.gov.ph/wp-content/uploads/2022/05/CHRP-NICC-Report-2022.pdf
Media Contact:
Karl Santos, Communications Campaigner
Greenpeace Philippines | [email protected] | +63 9999932058
Maverick Flores, Communications Campaigner
Greenpeace Philippines | [email protected] | +63 9176211552