Environment group renews call for countries and corporations to pay up for climate damages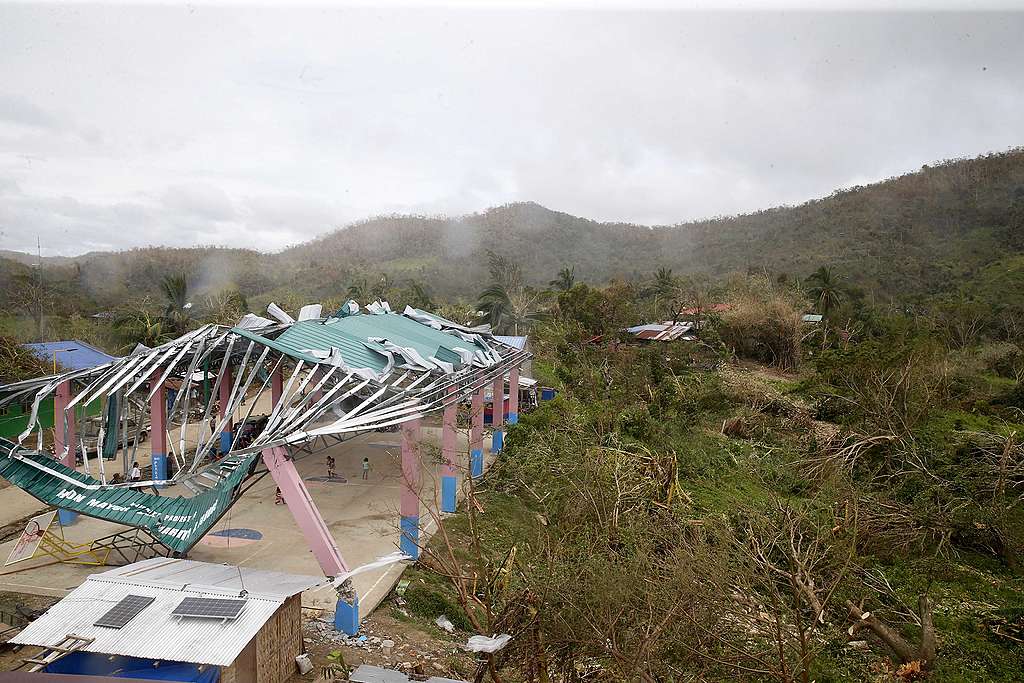 QUEZON CITY — Greenpeace Philippines, together with youth groups in Bulacan Province, today called on the Philippine government to ensure that disaster recovery plans—and the country's long term economic recovery strategy—is powered by Renewable Energy. The call came following the installation of solar panels and solar-rechargeable lamps at Brgy. Kalawakan, Doña Remedios Trinidad, Bulacan, pending power restoration in the wake of Super Typhoon Karding (int'l name Noru), to support the community's recovery from an extreme weather event made worse by climate change. Doña Remedios Trinidad was one of the areas where signal no. 5 was raised, as Karding moved closer to Luzon.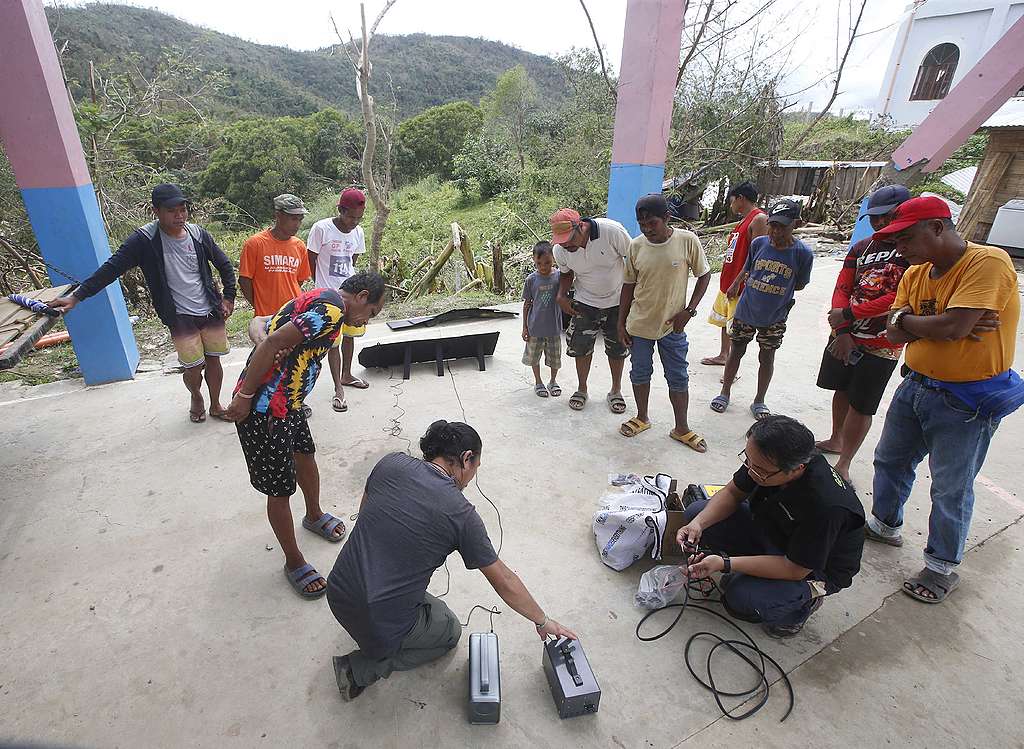 The solar panel has a 300W capacity that can charge up lamps and mobile phones for the small Dumagat community in Brgy. Kalawakan. This will provide not only the community's need for electricity, but also restore communication channels that would aid in coordinating relief efforts. With the help of the Bulacan Youth for Disaster Risk Reduction and Management (BYDRRM), Greenpeace volunteers demonstrated how the small scale but powerful system can be effectively operated by locals themselves.
"As volunteers for disaster response in our area, we've seen the extent of the damages caused by typhoons not just in the short-term, but also in the long run affecting our community's way of life," said Lester Andrei Lomboy, BYDRRM President. "This is why we are eager to learn new ways to improve our disaster recovery, and make it easier for our fellow Bulakeños to build their lives back up."
Earlier this year, Greenpeace and its partners provided solar panels to Supertyphoon Odette (Rai) stricken areas in Bohol, to demonstrate how renewable energy (RE) can also be a practical solution in post-typhoon scenarios, besides being the answer to climate change mitigation. Youth climate advocates also called for the incoming administration to place climate justice at the top of their agenda.[1]
In the aftermath of Karding's wrath, Greenpeace reiterates its call for the Philippine government to address the climate crisis with concrete action, by providing urgent, long-term, and systemic solutions that need to go beyond business as usual.[2]
Greenpeace Southeast Asia Executive Director Yeb Saño said:
"Karding is yet another wake-up call for world governments to take urgent real action, speed up the transition to renewable energy, and do away with fake solutions to the climate and energy crises. They must heed the loud clamor of vulnerable countries, hold carbon major companies and countries accountable, and drop all fossil fuel expansion to keep the climate impacts from getting even worse.
"Leading up to COP27, Greenpeace believes discussions on instituting loss and damage financing mechanisms must be brought to the world stage to ensure that those further marginalized by climate impacts get the justice and recompense they deserve.
"Although several Filipino communities and local governments have been taking it upon themselves to increase their adaptive capacity and implement solutions on adaptation, preparedness, disaster risk reduction, and recovery, the magnitude of climate impacts are just becoming too severe to bear. Real climate action means the richest nations must provide tangible financial and technical support for countries experiencing severe and devastating climate impacts. The biggest climate polluting companies and countries should pay up for the harms they are causing."
---
Notes to Editors:
[1] Youth groups, Greenpeace, and CORA Philippines partner to provide power to STY Odette stricken areas; Call for urgent, just energy transition – Greenpeace Philippines
[2] Greenpeace Philippines calls on President Marcos Jr for concrete actions on climate and rights – Greenpeace Philippines
Media Contact:
Karl Santos, Communications Campaigner
Greenpeace Philippines | [email protected] | +63 9999932058
Maverick Flores, Communications Campaigner
Greenpeace Philippines | [email protected] | +63 9176211552