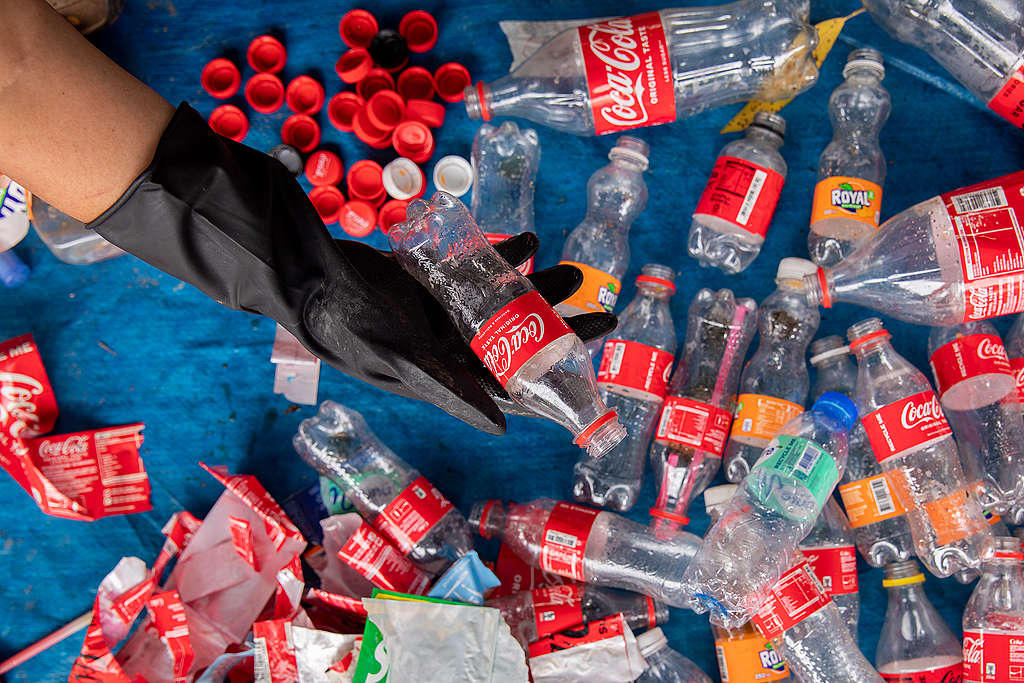 QUEZON CITY, Philippines (15 November 2022) – Break Free From Plastic's 2022 Brand Audit Report revealed that the Coca-Cola Company, Philip Morris International, Universal Robina Corporation (URC), Philippine Spring Water Resources, Inc., and Japan Tobacco International are the worst plastic polluters in the country. Globally, Coca-Cola also leads the list for five years in a row, followed by PepsiCo, Nestle, Mondelez International, and Unilever – all consistently part of the annual top 10.
Reacting to the report, Greenpeace Philippines campaigner Jefferson Chua said:
"What we've been getting from some of the world's biggest corporations are just empty promises. They're supposedly promoting a 'world without waste,' but how will this be possible if they just keep producing massive amounts of plastics year after year?"
"We often see these corporations promoting false solutions disguised as plastic neutrality programs, recycling projects which still remain a myth, and even waste incineration activities which produce more harm to the people and the environment. If there's one thing the yearly brand audits reveal, it's that these false solutions provide little to no benefit in addressing plastic pollution. If they really care about the welfare of their consumers, they must put an end to this plastic crisis by drastically reducing their plastic production."
"This year's report also comes at a crucial time when world leaders have congregated at the 2022 United Nations (UN) Climate Change Conference (COP27), an event ironically sponsored by the world's worst plastic polluter, Coca-Cola. It's high time that governments around the world scrutinize these corporations as they continuously top the list of being the worst plastic polluters every year. The report reinforces the need for companies to facilitate a swift and just transition to alternative delivery systems and zero-waste models."
"Even the Global Commitment 2022 Progress Report by the Ellen MacArthur Foundation and the UN Environment Programme points out that the same corporations – including Coca-Cola and PepsiCo – are almost certain to miss their targets to make plastic packaging more sustainable by 2025. In fact, these companies are using more virgin plastic despite their commitment to reduce its use."

"World leaders must take all these data into account, in preparation for the first Global Plastic Treaty negotiations in Uruguay. We need ambitious goals and a legally binding treaty if we truly want to address the worsening plastic crisis."
"To borrow Coca-Cola's words, 'real magic' will only come when these corporations transition to more sustainable solutions like reuse and refill. A number of small businesses and local communities are doing this already. What's stopping these corporations with bigger budgets to follow suit?"
Since 2018, global cleanups and brand audits have been carried out by more than 200,000 volunteers in 87 countries and territories, including the Philippines, to identify the companies polluting the most places with the most plastic waste. Throughout these five years, more Coca-Cola branded items were collected than the next two top polluters combined. Locally, Philippine companies like URC and Liwayway Holdings Company Limited regularly figure in the top 10 of the worst plastic polluters as well.
In the Philippines, the brand audit was conducted by the Plastic Free Pilipinas network composed of EcoWaste Coalition, Global Alliance for Incinerator Alternatives, Greenpeace Philippines, Health Care Without Harm, and Mother Earth Foundation, all of which are also members of the global Break Free From Plastic movement.
Note to editors:
Last November 4, 2022, Greenpeace Philippines, in partnership with the local government of San Juan and Impact Hub Manila, launched the "Kuha sa Tingi" project. A first in the Philippines, the project was co-developed with communities, aiming to provide people with alternatives to products in plastic sachets and other plastic-packaged goods through affordable and accessible reuse and refill systems. The project installed refilling stations in multiple barangays in San Juan City. Instead of establishing new zero waste stores, the project works with existing sari-sari stores.
Greenpeace believes the project is proof that local communities are leading the way towards a plastic-free future and that it's possible to solve our plastic problem by shifting away from single-use plastics, rethinking business models, and utilizing reusables.
###
For more information, please contact:
Eunille Santos, Digital Campaigner
Greenpeace Philippines | [email protected] | +63 9175411248
Maverick Flores, Communication Campaigner
Greenpeace Philippines | [email protected] | +63 9176211552