#Plastic
Break Free From Plastic
Our coastlines are among the most impacted by plastic pollution in the world. Be part of the solutions!
TAKE ACTION
Lahug, Cebu – Students, government officials, employees, workers and members of civil society organizations came together today, in Lahug River for a clean-up drive and brand audit as part of efforts for Cebu to break free from plastic.
Led by the Cebu City local government, Greenpeace Philippines joined the activity ahead of the March 13 arrival in Cebu of its flagship, the Rainbow Warrior, which just left Manila, as part of the global "Ship It Back" tour against plastic pollution. [1]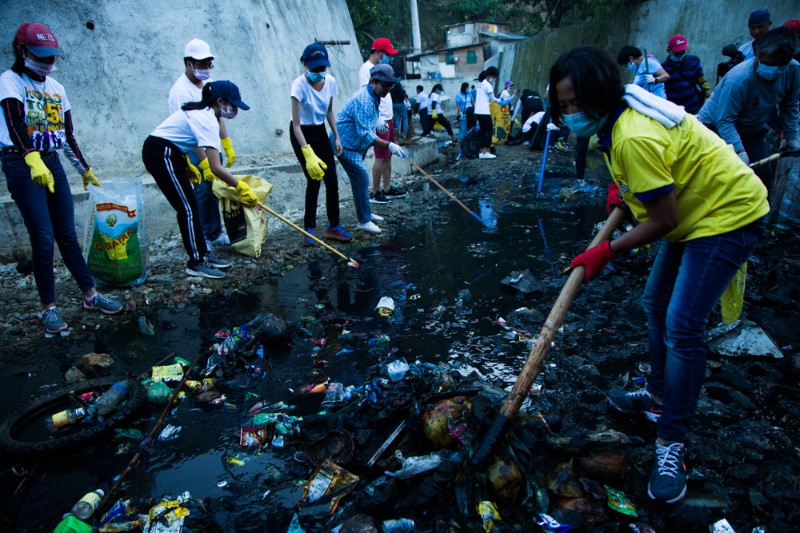 "Cebu City is a very beautiful city, and we are fighting back against plastic pollution that threatens to destroy our homes and communities. This clean-up and brand audit activity with Greenpeace and Break Free from Plastic movement show that we Cebuanos are taking action against the proliferation of single-use plastics in Cebu,"

said Nida Cabrera, Officer-in-Charge of the Cebu City Environment and Natural Resources Office.
Greenpeace and other members of the Break Free from Plastic movement [3] have been pushing for brand audits to be integrated into any clean-up effort, to be able to identify companies most responsible for the plastic crisis and halt the problem at source. Greenpeace took samples of the branded wastes and identified which companies have the most products from the collection.
"Cebu is a prime destination and a growing province with very warm, talented people. But its development and promise is being hindered by the blight of single-use plastic, a monster that itself is growing. A clean-up drive won't be enough to defeat such a monster, but we want to show the world that while citizens and governments are making efforts, big fast-moving consumer goods (FMCG) companies [2] should do their part by reducing their single-use plastic production and instead offer alternative methods of delivering their products to consumers," said Abigail Aguilar, Campaigner of Greenpeace Southeast Asia – Philippines.
"The brand audits have helped unmask the real culprits behind the plastic pollution crisis – the corporations. They must be made accountable for the damage they have caused to the environment and human health including the cost of cleanup and rehabilitation," said Beau Baconguis, regional coordinator for the Break Free from Plastic movement.
Not only does plastic contribute to climate change in its production, it does so during degradation as well. A new study [4] has found that, as plastic is exposed to sunlight, it releases greenhouse gases (methane and ethylene). Plastic producers are set to increase production by an additional 40% over the next decade. [5] Without immediate solutions, the increasing quantity of plastics in our oceans will have severe consequences for biodiversity and human food safety.
The clean-up and brand audit is a prelude to the visit of Greenpeace's iconic ship, the Rainbow Warrior, in Cebu on March 13-16. The Rainbow Warrior will open its doors to the public on March 15 and 16. The event is free, but interested parties should pre-register (shipitback.eventbrite.com).
---

Notes to Editors:
[1] More info on the Ship It Back tour: http://www.greenpeace.org/seasia/ph/press/releases/Rainbow-Warrior-to-bring-global-spotlight-on-the-Battle-for-Manila-Bay-vs-major-plastic-producers/
[2] FMCG includes any product with a short shelf life and typically relatively low cost, such as soft drinks, food or toiletries. They are typically sold at very high volumes, with a high turnover of the product.
[3] www.breakfreefromplastic.org
[4] https://journals.plos.org/plosone/article?id=10.1371/journal.pone.0200574
[5] https://www.theguardian.com/environment/2017/dec/26/180bn-investment-in-plastic-factories-feeds-global-packaging-binge
Media Contacts:
Khevin Yu, Campaigner, Greenpeace Southeast Asia-Philippines
Email: khevin.yu@greenpeace.org | Mobile: +63 998 9664807
Katrina Eusebio, Communications Coordinator, Greenpeace Southeast Asia-Philippines
Email: kat.eusebio@greenpeace.org | Mobile: +63 999 229 6451