Our coastlines are among the most impacted by plastic pollution in the world. Be part of the solutions!
TAKE ACTION
The first step to breaking free is recognizing that we are in chains.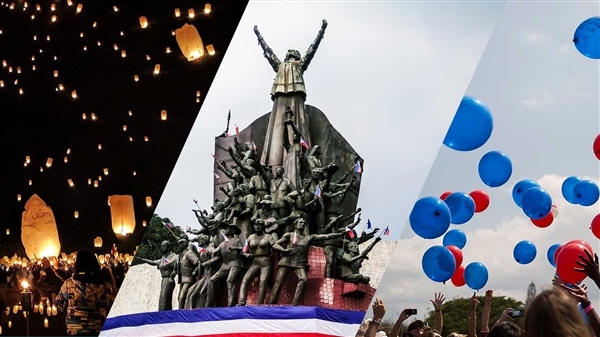 As a people, we pride ourselves in fighting for our freedom. We are a nation that is filled with heroes – from our national heroes Andres Bonifacio and Jose Rizal, the mighty Macario Sakay during the American time, the guerillas during the Japanese occupation, and of course, every one and all who longed – and took action – to free the country from the atrocities of Martial Law in 1986.Oh, the sweet, sweet smell of freedom! In Edsa, during the 1986 People Power Revolution, the world became witness to a modern kind of revolution. Though the road to 1986 was bloody and littered by the dead bodies of activists who sacrificed their youth and their lives for our country to be unshackled from the chains, the 1986 People Power Revolution became globally acclaimed as not a single drop of blood was shed.
EDSA, above all, showed us what courageous collective action can do. The events that transpired on those warm February days showed the world that we are 'not a nation of 40 million cowards', but a country of 40 million heroes. What happened to the tyrant? The tyrant was ousted, and made to face his cases in the courts. However, his family, cronies, and political patrons are moving heaven and earth to get back into the corridors of power. But that would perhaps be for another blog.
The power of collective action has never failed to move us, in ways we never could have imagined. Since 2016, 30 years after the first EDSA revolution, Bataris began its operations. Since then, our signatures stopped the conception of an underwater theme park in Coron. We stopped sky lanterns from wreaking havoc in Cebu and changed the itinerary of a pageant to not disturb the whale sharks in Oslob. Just recently, we stopped Cove Manila's plans to drop hundreds of thousands of balloons in their New Year's Eve party, and other establishments soon followed suit.
We had won battles, but not yet the war. Everyday, when we go out of our houses and into the streets, we often ask ourselves, many times in resignation, if we can create positive change at all for our community? We are but a wee voice in the vast ocean of choruses, to exist only at one point in time. We are only one.
But we are one.
We are the children of the country who ousted a dictator 33 years ago. The blood of heroes flow in our veins, we are born to make the change we are aiming to do.
And now, my friends, let me invite you, let me summon you, to join the fight in slaying the plastic monster.
Plastic pollution, brought about by a systemic disregard for the environment, has dimmed our chances for a better future for our children. We deserve better, and believe me when I say that this crisis can only be stopped by our collective power. We are making great strides as we now recognize this problem and call on each other for solutions, but we must not stop there. Just like how we took on giant companies in the past, the plastics problem can only be solved if all actors – individuals, governments and companies – will make a lasting and actionable pledge to stop it.
We must call on corporations to stop feeding the plastic monster by reducing their plastic production.
The Rainbow Warrior will be here on March 1-16, to amplify our calls for a future free from plastic pollution. Stopping by the world famous Manila Bay, the ship will signify our collective rejection of a resigned stance on plastic pollution. We are fighting, and with everybody onboard, I can see no reason why we will lose this battle. We need you with us onboard.
Yeb Saño is the Executive Director of Greenpeace Southeast Asia, former Philippine Climate Change Commissioner, and one of the Kaisa ng Bayan awardees for 'keeping the EDSA spirit alive.'