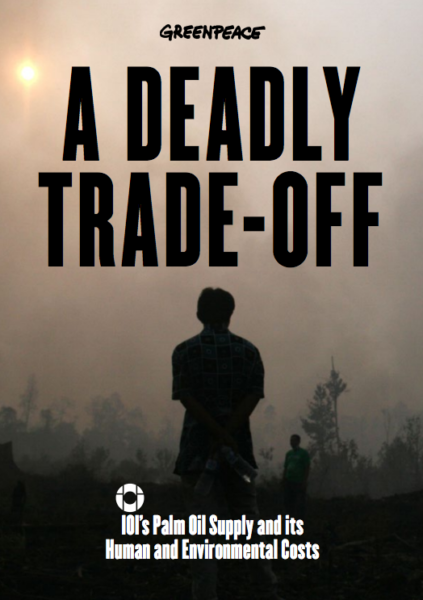 This Greenpeace report demonstrates that palm oil giant IOI is still involved in deforestation and draining of the rainforest – this time through their third party suppliers. The continued drainage of peat lands link them to the devastating fires in Indonesia.
Following IOI's Sustainable Implementation Plan, announced on August 8th this year, we have moved fast to meet one of our primary objectives, which is to build a traceable, transparent and sustainable Palm Oil supply chain.
In addition to our on-site mill verification program we are taking a number of risk mitigation actions.
Firstly, we have requested third party suppliers to the group to confirm their commitment to our new Sustainable Palm Oil Policy. All third party suppliers already confirmed their commitment to the previous IOI Loders Croklaan Sustainable Palm Oil Sourcing Policy.
Secondly, we take direct responsibility for ensuring that directly sourced mills are compliant to our Sustainable Palm Oil Policy by direct engagement with these mills. […]
We continuously monitor our third party suppliers and the indirectly sourced mills. If issues arise, we will regularly contact the relevant third party supplier and monitor the actions they take to address these issues.
Thirdly, we are now engaging with suppliers at group level. Based on further research (including stakeholder reports, grievance procedures of third party suppliers and the IOI weekly alert system) we have identified a number of mills in our supply chain with reported issues. […]These parent companies include, but are not limited to, Felda, KLK, Sime Darby, Wilmar, AAA and Genting. Since we have a direct relationship with these parent companies, we will engage with them directly to resolve the reported issues.