Grant Robertson
1971 – 2065
Aotearoa's green flag is at half-mast across the country this morning for the man the country knew as Rich Uncle Grant.
Grant Robertson was finance minister for four remarkable decades, through multiple pandemics, a climate crisis that came perilously close to cooking humanity, and unprecedented prosperity.
It nearly never happened. After the Covid-19 pandemic, the nation was absolutely mired in debt. There was nothing to look forward to but the possibility of one day seeing Super rugby again and in the meantime queuing for KFC and going to the pub to sit at a table with 9 of your mates and keeping your hands off each other.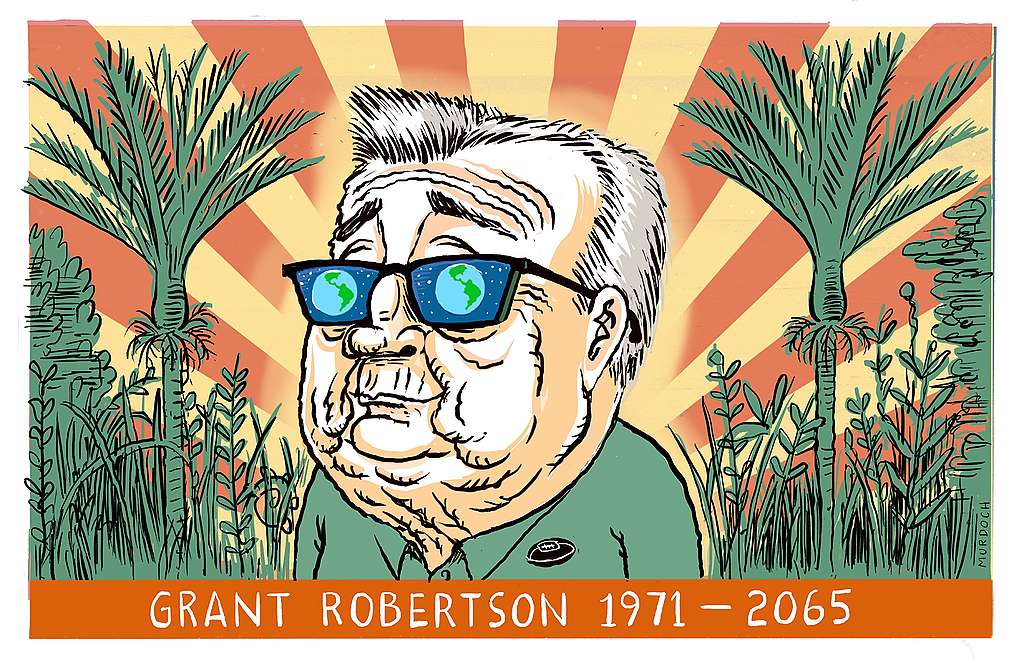 People had the greatest of hopes that Robertson's recovery budget would abandon the fiscal caution hitherto deemed electorally necessary and just go for the absolute doctor. They hoped for action on the climate crisis; they hoped for action on inequality; they hoped for action on housing affordability, they hoped for action on sustainability, they hoped that this would be a borrowing of billions to finally do what desperately needed to be done
Hopes melted away on budget day as fast as snow off a barbecue. If the collective sigh had words they would have been: "FFS even when the gate's wide open they won't walk out of it. How cautious can you be? I mean seriously, we're cooking the atmosphere and you're still just making jobs by building more roads are you kidding me right now?"
But Uncle Grant had a trick and a treat waiting. 20 billion of the budget was not yet committed. After an agonising wait, the minister made his move. He got fully stuck in with vast sums for worthy projects. And the criterion for such projects was simple: would it bring us joy? He had turned himself into a clean-tech Marie Kondo. He made it suck to drive a car. He made it suck to plough your money into houses. He made it suck to be a polluter and an emitter.
He picked out the best of what people had been through in their lockdown experience and he made it last.
He put a carbon tax on emissions to pay for a Universal Basic Income (UBI). He electrified trains, buses, anything that would take a current. He put Manapouri hydropower into the grid for free energy. He broke the cycle of people trying to get rich out of houses and making them ever more unaffordable. To achieve the unachievable he simply flooded the market with affordable houses and apartments built by a 21st century Ministry of Works.
In hindsight, it was all so predictable. He was a happy man. He exuded so much good cheer, people wondered if he really worried about things enough. He liked his beer, liked his sport, liked his music, liked talking about super rugby and the Barretts and the Clean, and fair pay for women in sport and never really seemed to get very rattled. And he was canny: the King's High head boy who lived and breathed politics his whole life: at University; at MFAT; working in PM Helen Clark's office. He knew what you needed to say, and he knew when you needed to say it. And the sports fan in him liked to make it a bit of a cliffhanger.
And so began a cycle that would set New Zealand on a course toward unimaginable prosperity and contentment, even as the world grabbed with wave upon wave of anguish.
The coronavirus of 2019 proved impossible to beat with a vaccine and was followed by fresh waves in the years that followed. During Covid-23 and Covid-29 and Covid-35 the gradual realisation came that life would forever be a surreal combination of despair, fear and joy because the minister would always manage to carry people through like the Rich Uncle you turn to whenever things get a bit too tough.
The nation loved him because he kept making things free: an e-bike, an e-car, a place to live. Adding to healthcare and education came transport, housing, food, broadband – everyday essentials available to all.
First would come the fresh disaster, next the underwhelming business-as-usual budget response and then… the flourish. It was reminiscent of Steve Jobs in the Apple glory days and his the "one more thing" when he would add an apparent afterthought. Oh by the way, here's the iPhone, oh by the way, here's the Macbook.
Rich Uncle Grant would do the same: "oh by the way here's another 20 billion, and here's how we're going to make these things happen." It would come to be known as Classic Uncle Grant; every time a barnburner: solar panels on every house; the world's largest battery in Hamilton, the Auckland underwater tunnel for e-bikes, scooters and strollers, with a perspex tunnel and beautiful tropical fish gliding about in a warm water membrane where people would go to enjoy their legal weed before they came back out to enjoy some world-class food from the nation's world-renowned regenerative farmers.
He had nothing against private enterprise. On the contrary, he believed it should flourish. But he believed it should happen from the foundation of an economy where many more things were abundant and free, and everyone's basic needs were met and assured, all of it taking place in a sustainable way where mindless consumption was just a bad memory.
They laughed, they mocked, but the more he spent, the better things got. What he produced was a just transition to a carbon-neutral world, borrowing and investing to put the economy onto an ever more sustainable, more equitable foundation. By the end of his four-decade run, the nation could not believe its good fortune, even in a time of plague.
It was just a shame that after fifty years, they still hadn't got the virus under control. "He just wanted to get out and have a game of bullrush with his old rugby mates, one for old times sake," said the nation's four-decade prime minister Jacinda Ardern, "even if it meant catching the Rona."