The following is the Greenpeace Aotearoa submission on the 2023 Auckland Council budget review.
In 2019, Auckland Council declared a climate emergency.
In 2023 we've seen record rainfall, flooding and a cyclone.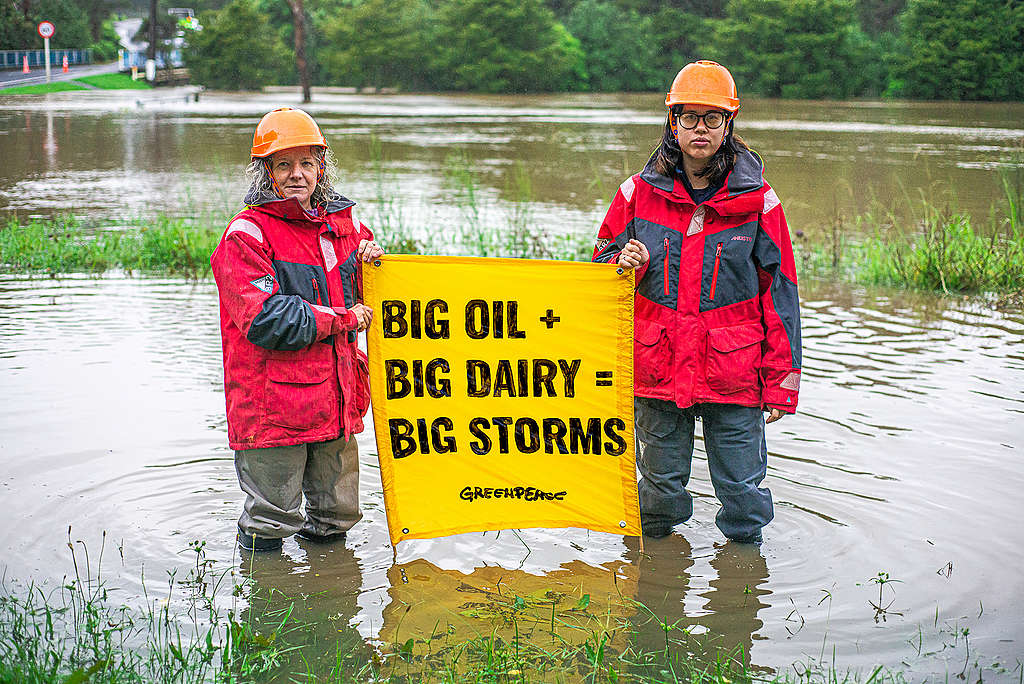 This is not a time for an austerity budget. Identifying, developing and scaling up projects towards climate mitigation and adaptation should be an urgent priority.
However the 2023 Auckland budget review proposes sweeping cuts to services, community programs and ecological restoration.
This proposed budget would maintain a fragile, short term status quo that would leave us less prepared for the extreme weather events to come.
Auckland has bold climate targets, for example the Transport Emissions Reduction Plan goal to halve emissions by 2030. If approved, this proposed Budget will likely mean we won't reach that goal.
The Annual Budget 2023/2024
We fully support the Council's stated directive to prioritise projects that will make Auckland a resilient city. To make Auckland a resilient city will need investment and smart design. We need to align transport, sustainable housing, new development, water and energy use in a way that protects people, and works interconnectedly with the ecosystems we depend on.
We are opposed to Council reducing the Water Quality and Natural Environment Targeted Rates by two-thirds. This is especially irresponsible in the wake of substantial damage to our local environments and waterways caused by recent flooding. Work must continue to protect kauri and our natural environment.
We support an increase of the operating budgets, or 'storm response investment'. We must build back better. By protecting and restoring natural ecosystems like urban forests and wetlands, we can protect our communities.
We are opposed to the 'reprioritisation' of $10.5m of Climate Action Targeted Rate (CATR) funds. These funds are meant to provide for the expansion of buses, ferries, walking, cycling and the urban ngahere (forest). These funds should be used to expand the bus and cycle networks, and help grow use of public transport.
We are opposed to any reduction of bus services, and opposed to increasing the cost of catching them. We support increased investment to encourage the growing use of accessible public transport. We need to enable more people to use public transport in order to transition to a low-carbon transport system, reduce emissions and unclog our motorways.
We support increased investment in parks and community facilities, urban regeneration and cultural development, and environmental management.
We are opposed to the proposed reduction of community and education programmes, arts and culture programmes, and social services activities such as homelessness funding, community empowerment and funding for youth centres.
Scaling back public transport options and community services will mean Auckland loses momentum towards building towards resilience. For example less bus services will decrease confidence and use, and increase more use of fossil fueled private vehicles, clogging up the highways.
Even worse, cutting, delaying and avoiding effective policies and projects could remove the ability communities already have to support themselves, that can't be replaced.
Why is a strong, connected community important? The physical infrastructure of our cities are important, but less visible are the social infrastructure that allow cohesion. Because they aren't visible they can be taken for granted.
Invest in social infrastructure
To highlight one effective and essential service – Greenpeace Aotearoa is opposed to ending the funding of Citizens Advice Bureaus (CABs) in Auckland. CAB Auckland is halfway through their funding round and this Budget pulls the rug from underneath them.
The Auckland CABs are run by 900 trained volunteers who help around 160,000 Aucklanders every year. The CAB service maximises their time and skills. The Auckland CABs enable community empowerment by giving people independent information and advice about their rights and how to find a way forward when they feel stuck.
Council funding also takes advantage of part funding from the central government. Ending its funding would remove a layer of volunteer activity from the region.
Ending the funding for Auckland CABs would harm the social fabric of the city at a time when community resilience is most needed.
Leave no one behind
We need to invest and expand this city's transition for a safe climate future in a way that is just for all. Social equality and taking climate action goes hand in hand.
Strengthening social infrastructure means including all voices. Council needs to make decisions in equitable and inclusive ways and work in partnership with mana whenua, local communities, the private sector, science bodies and traditionally marginalised groups, including youth, disabled communities and ethnic minorities.
Prosperity, not austerity
Council can meet its climate goals with better activity, not less activity. Council needs to take advantage of opportunities to invest in policies and projects that will save lives and future costs. The dollar amounts are easy to measure, and need to balance – but lack of investment now would be disastrous long term. A more resilient city will have advantages in the future that are priceless.
In this way we will protect people and step towards a thriving future.
In the face of new challenges our governance needs to adapt and get up to speed quickly. We need vision and leadership. This is not the time to scale back and go on 'as normal'. If we don't change, we will be changed.
Thousands of people take action with Greenpeace Aotearoa every month to ensure Earth's ability to nurture life in all its diversity. The largest number of Greenpeace members are based in the Auckland region.