In 2016, I embarked on a creative journey, a quest fuelled by a deep-seated concern for our oceans – choked with plastic. The Great Pacific Garbage Patch had recently commanded international attention, inspiring me to contribute my voice and vision to this critical issue.
That voice took form in a haunting image – a mermaid ensnared in 10,000 plastic bottles. This image captivated millions, amassing over 35 million views, and sparking significant conversation about our disposable culture.
The success of this campaign, and others that followed, transcended the realm of online chatter, ushering tangible change. These projects acted as catalysts for policy discussions, stimulated shifts in consumer behavior, and raised public consciousness about the unchecked consumption of single-use plastic.
Despite increased awareness, the plastics crisis continues to worsen
Yet despite the growing awareness and palpable desire for reform, plastic production has shown no signs of relenting. The challenge has become clear: the culture of convenience that underpins our society is stubborn, its roots deep and resilient. Our efforts must rise to meet this daunting reality.
In response to this, last year I embarked on a monumental project – a symbol for the Global Plastics Treaty. I constructed a towering 4-story giant faucet, a torrent of plastic debris cascading over the United Nations headquarters.
This art installation bore witness to 1,500 delegates from 193 countries united in their call for global restrictions on plastic production. Yet, there emerged an unanticipated issue – the call to "Turn Off The Plastic Tap" was misconstrued by some stakeholders, deflecting the focus from plastic production to clean-ups.
To address this, I've partnered with Greenpeace to craft a new message, one impossible to misinterpret: A colossal five meters tall machine, endlessly churning out plastics starkly laying bare the toxic union of fossil fuels and plastic production.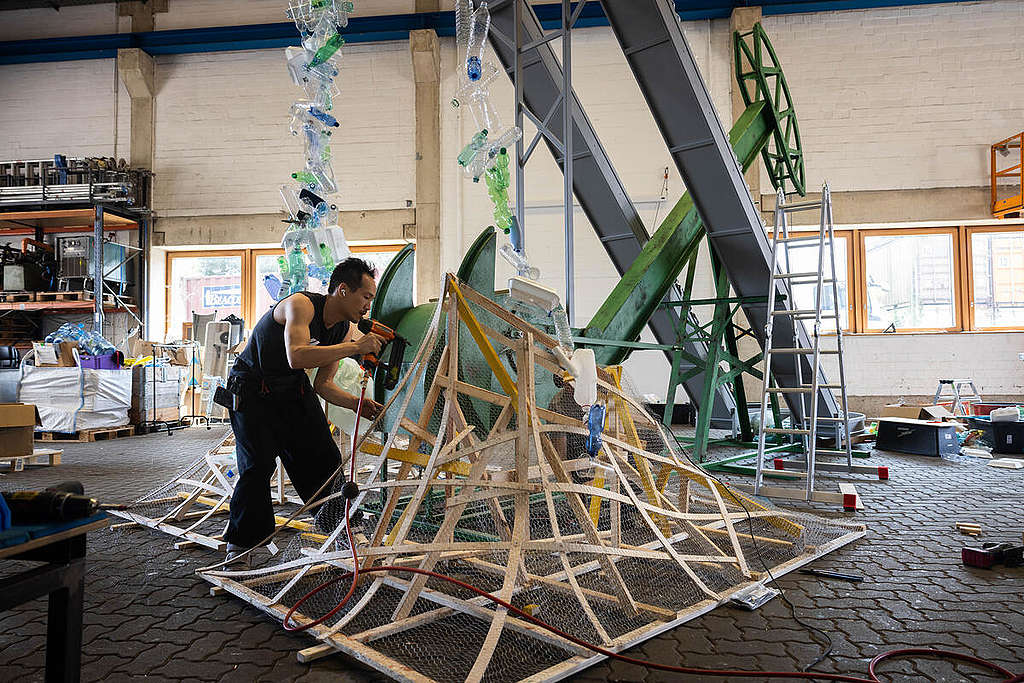 Over 99% of plastic is made from fossil fuels: plastic pollution is also a climate issue
This perpetual plastic machine physically illustrates the destructive lifecycle of plastics – from extraction to disposal – relentlessly producing plastic, echoing the relentless rhythm of the industry it represents.
Art, in its essence, is a translator. It deciphers the complex, making it accessible and evocative. This machine, for instance, transforms the intricate narrative of plastic production and pollution into a stark, visceral display, inciting an emotional response and a call to arms.
As we stand on the precipice of INC-2, where the details of the Global Plastics Treaty will be deliberated, we hope this machine will serve as an unflinching visual reminder of the urgency of this issue.
We call on you – individuals, organizations, and governments alike – to stand beside us and this symbol of relentless plastic production. Take action. Advocate for a strong Global Plastics Treaty that calls for a moratorium, a limit on virgin plastic production.
Join us in calling for big oil and big plastic to stop the perpetual plastic machine.
Benjamin Von Wong is an artist, activist currently collaborating with Greenpeace.