The oceans are facing more threats now than at any time in history. Cumulative pressures from overfishing, climate change and pollution are putting our big blue backyard and all the marine life that finds a home there, at risk of collapse. Seabed mining and deep-sea mining are relatively new additions to the list of threats facing the oceans, but their affects could be catastrophic.
What is seabed mining?
Seabed mining is a method of extracting metals and minerals from the seafloor. It's used to describe both deep sea, and shallower mining techniques, although the former tends to be referred to as Deep Sea Mining (DSM).
Seabed mining is similar to techniques that have been used for extracting sand to make concrete or to replenish public beaches. However, as well as dredging up seafloor, seabed mining involves dumping unwanted matter back into the sea, smothering the surrounding area with the sediment plume. Increasingly, mining companies are on the hunt for sand that has specific and valuable properties; minerals and metals that can be used to create profitable products for use in other industries. This sees the miners taking aim at mineral rich areas of the sea – these are also areas that support some of the most unique and least understood biodiversity on the planet.
How does seabed mining work?
Seabed mining involves a suction pump that pulls sand up from the seabed to a dredger ship above. The sand will often then be sorted while still at sea, with the valuable minerals or metals extracted and exported offshore, while whatever's left is dumped back into the water causing a 'sediment plume.'
This diagram from Kiwis Against Seabed Mining (KASM) is a good illustration of how seabed mining works.
What risks does seabed mining pose to the ocean?
Because this is a relatively new and experimental technique, much of the science around the environmental impacts of seabed mining is incomplete or unproven. But scientists have expressed serious concerns over the multiple potential impacts of seabed mining, from the noise of the machinery affecting wildlife, to the activity killing animals and plants on the seabed.
There are also worries that the sediment plume (unwanted sand dumped back in the water) would smother marine life.
In addition to the direct impacts of the mining activity, there are also knock-on effects that can take longer to recognise. The marine food web is a delicate and complex thing; impact one creature and you are also impacting others in the food chain.
As well as the technique being new, little is known about the environments and biodiversity that lives in many of the areas being eyed for mining. We know less about the seafloor than we do about the surface of the moon, but seabed mining is set to destroy what we haven't even understood yet.
Is there seabed mining in New Zealand?
Trans Tasman Resources (TTR) is an international mining company that has been fighting to open a mine off the coast of Patea in the South Taranaki Bight for several years. If this goes ahead, it would be the largest project of its kind anywhere; an underwater open cast mine that would pull millions of tonnes of iron sand from a 66-square-kilometre area.
TTR wants to extract various things from the rich iron sand off Taranaki, which they would export to China.
Magnetite: An iron oxide which is a key component in steelmaking
Titanium Oxide: Required for making titanium used to make alloys used in high-tech applications such as aviation, defence and medical equipment
Vanadium Oxide: Used to increase the strength, heat and corrosion resistance of steel.
Local iwi, community, fishing and environmental groups (including Greenpeace) have been vigorously opposing the mine since its inception, and so far have held TTR off at the pass.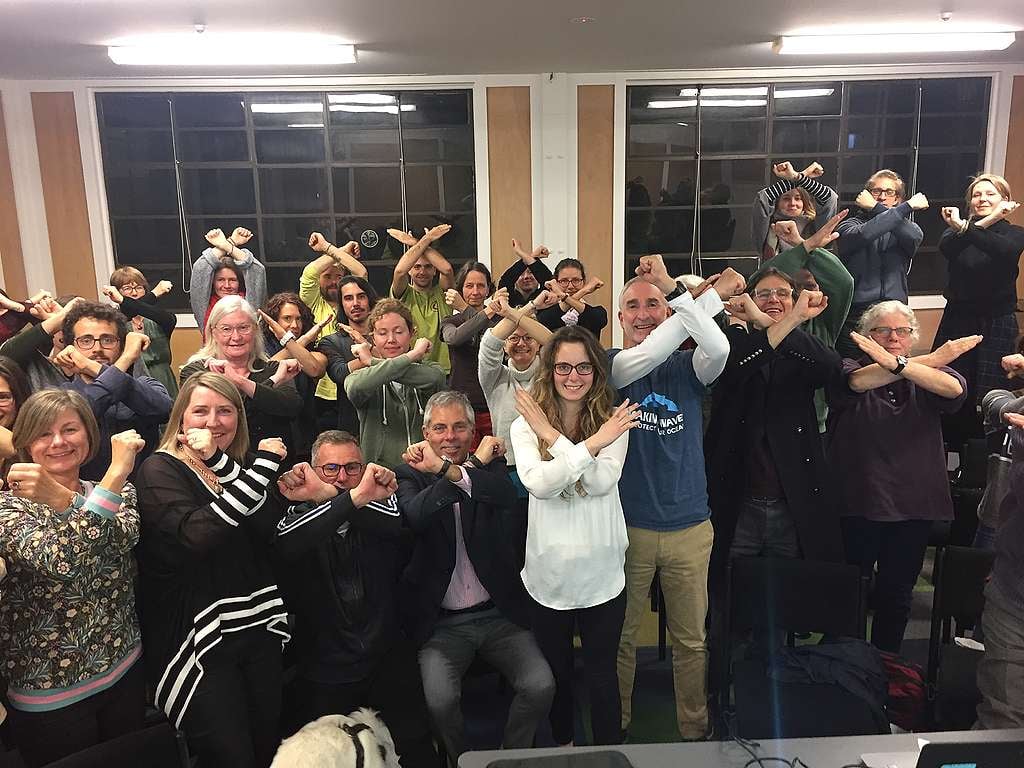 Watch Oceans Live: Resisting a Seabed Mine in the South Taranaki Bight
At Greenpeace, we believe the Bight is simply too precious to mine, and that at times like these we should be protecting the oceans from experimental and damaging industries, not opening them up to new ones.
The South Taranaki Bight is home to a diverse array of marine life, from endangered Māui dolphins to New Zealand's own population of pygmy blue whales, NZ fur seals to little penguins. We are lucky to have coastlines with such diverse and unique wildlife, but we could lose them if we don't protect the oceans.
Head to KASM for more info on seabed mining in New Zealand.
Photos taken by citizen science group Project Reef Life also reveal that the waters of South Taranaki are home to bright and beautiful coral reefs, frequented by fish and other marine creatures. Places like this could be gravely affected by seabed mining, and they should be protected.
Other seabed mining companies such as Chatham Rock Phosphate, have been waiting in the wings to see if the TTR mine will be permitted, paving the way for others. Massive international mining companies like Nautilus and Rio Tinto have previously started the process for permits to mine in New Zealand waters. If we open Pandora's box on seabed mining we can expect a flood of seabed miners to be gunning for access to the seabed in Aotearoa.
Learning from the past, planning for a green future
We have the benefit of being able to learn from the past. We know that burning fossil fuels has contributed massively to anthropogenic climate change, and that we must urgently transition to clean energy in order to reduce climate impacts for the future. We also know that the way we've been fishing, farming and producing has caused widespread biodiversity loss, and we've got to change those too for the health of everything on the planet.
With these things in mind, we have to be wary of giving another extractive industry the green light. Margarida Mendes and João Martins point out in Muddying the Waters that seabed mining is just another form of resource extraction, and warn against giving it the go-ahead before truly understanding its environmental cost. They write:
"The lack of knowledge about oceanic systems and their eco-systemic complexity and richness is enormous. It is only with profound ignorance that the practice of deep-sea mining can be adopted. And, as we know from other forms of resource extraction such as fracking, once a technology becomes commercially viable and has the backing of both powerful industrial lobbies and national governments (and the "revolving door" between the two), there is no going back."
"Ecosystems that are thousands of years old cannot be remade. Systemic tipping points cannot be uncrossed."
This is indeed the moment for us to learn from our previous mistakes and put protecting nature before mining company profits.
What you can do
The fight continues to prevent TTR from opening a giant seabed mine off the Taranaki coast. Together with our allies, Greenpeace is prepared to fight them every step of the way. But fighting an international mining company in court is costly. Right now, two of the best ways to support this campaign is to share this blog to raise awareness, or to donate to the campaign here. Together, we can protect the oceans and everything that calls it home.
Read more: Latest on TTR seabed mining court case.
Read more: How the deep ocean is helping the fight against Covid-19