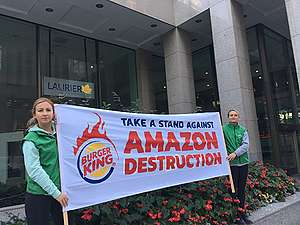 Toronto – Greenpeace activists are delivering a message inside and outside the global headquarters of Burger King owner Restaurant Brands International. 
"The Amazon is still on fire and fast food companies like Burger King can't stay silent anymore. So today we are delivering a message directly to the company's owner in downtown Toronto," said Shane Moffatt, Head of Nature and Food campaign at Greenpeace Canada. 
Greenpeace activists inside the building are delivering a giant sign reading 'Don't Flame Grill the Amazon'. 
"These fires are no accident. The forests are being deliberately set on fire to open up more land for cattle and industrial agriculture. A company like Burger King that purchases meat from Brazil can't continue business as usual while the biggest rainforest in the world burns down for cattle farms. That's why we are taking action today at the owner's headquarters right here in Canada," Moffatt added. 
In response to the crisis in the Amazon, Greenpeace has launched a global campaign urging fast-food giants Burger King, McDonald's and KFC to reject President Jair Bolsonaro's anti-environmental agenda and goods linked to destruction of the Amazon. Since the fires started, over a quarter of a million people have signed a petition calling on these companies to take a stand. 
Close to 2.5 million hectares of land —including significant new deforestation — was burned in Brazilian Amazon during August, according to new data published by INPE on September 3. The number of fires in the Amazon increased by 111% since the start of President Bolsonaro's presidency. According to the IPCC, animal agriculture — the production of livestock and animal feed – is responsible for 60% of food-related greenhouse gas emissions as well as being the leading cause of deforestation.
-30-
For more information and images please contact:
Mojgan Mohammad, Communications Officer, Greenpeace Canada
[email protected], +1 514 400 3313