Over 1,000 people attend emergency rally against Kinder Morgan in Montreal urging Trudeau to make a decision in line with the Paris Agreement
Access photos at www.act.gp/2LCla4f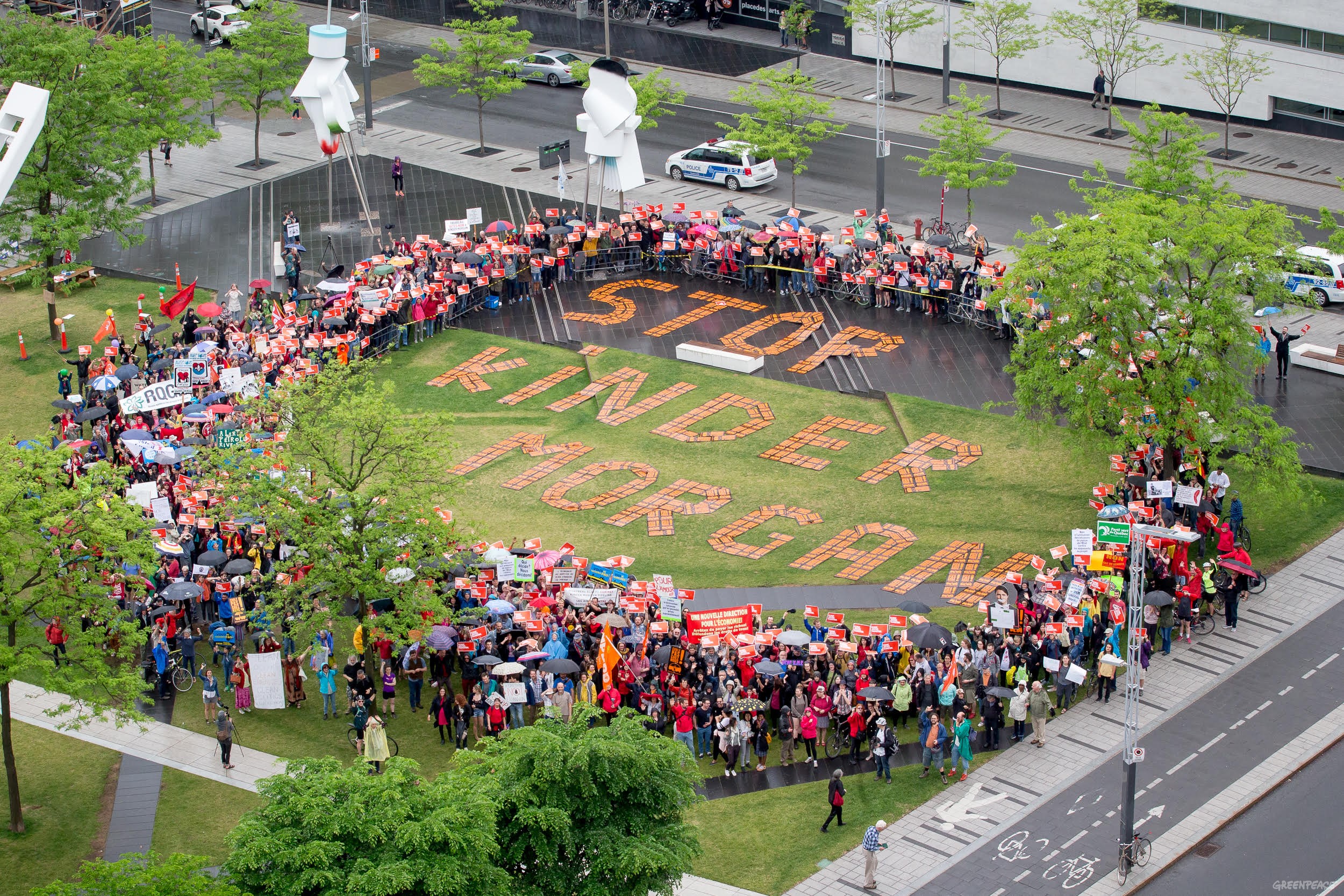 27 May 2018 (MONTRÉAL) — More than 1,000 people, including First Nations leaders, local artists and thought leaders, gathered at the Quartier des spectacles in downtown Montreal this afternoon to reiterate their opposition to Kinder Morgan's new Trans Mountain pipeline and tanker project.
Following the announcement of a formal declaration against the Trans Mountain Expansion Project by Quebec personalities 10 days ago, the declaration signatories came together today in an emergency rally ahead of the May 31st deadline Kinder Morgan has set to determine whether or not it will proceed with its embattled project.
Among those participating are Regional Chief Ghislain Picard from the Assembly of First Nations of Quebec-Labrador; Grand Chief Serge 'Otsi' Simon of the Mohawk Council of Kanesatake; Chief Jean-Charles Piétacho, Council of the Innu of Ekuanitshit; Idle No More Co-founder Melissa Mollen-Dupuis; and representatives from Greenpeace Canada, 350.org, unions and other groups.
Participants in today's rally are voicing their opposition to any use of taxpayer money to fund Kinder Morgan's controversial project, which has failed to obtain consent from impacted First Nations, undermines Canada's obligations under the Paris Agreement, and poses significant threats to marine life and clean drinking water.
Today's rally is part of a continuing national and international wave of solidarity for communities impacted by Kinder Morgan's pipeline and tanker project. Recently, protests have happened across Canada and in Seattle (U.S.A.), the UK, and Switzerland.
Quebecers have been demonstrating their opposition to Kinder Morgan's pipeline for months and are standing up once again to a new tar sands pipeline — just as they did to help defeat TransCanada's Energy East pipeline last year.
QUOTES FROM THE ORGANIZERS / PARTICIPANTS
Regional Chief Ghislain Picard from the Assembly of First Nations of Quebec-Labrador:
"First Nations in Quebec fully support the First Nations in British Columbia who oppose Kinder Morgan's Trans Mountain Expansion pipeline and tanker project, and we continue to strongly denounce the financial contributions made to the project by both Desjardins and the Caisse de dépôt et placement du Québec. The Kinder Morgan saga is a good illustration of how you absolutely need the consent of First Nations to carry out projects on our territories and that consent will be very difficult to obtain for dangerous and risky projects like Kinder Morgan."
Grand Chief Serge 'Otsi' Simon of the Mohawk Council of Kanesatake:
"B.C. First Nations are not standing alone in their fight against the Kinder Morgan project: the rest of the Treaty Alliance Against Tar Sands Expansion, made up of 150 First Nations and Tribes in the US and Canada, will do what it takes to help them stop the pipeline – so anybody looking to buy or invest in this project better beware. Prime Minister Justin Trudeau needs to also understand that we're not going to tolerate him promising to respect our rights on the one hand, and on the other, ignoring the major First Nation opposition to the Kinder Morgan project."
Chief Jean-Charles Piétacho, Council of the Innu of Ekuanitshit:
"I know the importance of standing up to Big Oil. We won our battle against fracking in our traditional territory on Anticosti Island in Quebec. Solidarity can help overcome the odds against foolish mega-projects, just as was the case against Energy East and just as it will be the case against the Kinder Morgan tar sands pipeline and tanker project."
Melissa Mollen-Dupuis, Co-founder of Idle No More:
"What worries me most today is seeing how accepting these pipeline projects are being made a condition for reconciliation. I fear that promises to rectify human rights issues will not be fulfilled because of such projects.  The messenger has changed and yet Canada continues to stall on its commitments to First Nations."
Serge Cadieux, Secretary General of the Fédération des Travailleurs du Québec (FTQ):
"The FTQ believes any money promised to Kinder Morgan should instead be used to support a just transition toward renewable energy that supports both workers and communities. The federal government's move to force this project onto British Columbia's government breaches provincial jurisdiction and their liberty to choose what's best for their populations."
Pierre Patry, Treasurer, Confédération des syndicats nationaux:
"It is both urgent and possible to work towards an energy transition that is just and respects the rights of workers, communities and the general public. At the Summit for a Just Transition (Sommet sur la transition juste), which took place on May 23rd and 24th in Montreal, participants called on Québec's governments and political parties to move in this direction."
Patrick Bonin, Climate and Energy Campaigner at Greenpeace Canada:
"The federal government can never buy out the opposition to this pipeline, not when it is so deeply rooted in values of respecting Indigenous rights, protecting the environment, and addressing our responsibilities under the Paris Agreement. Prime Minister Justin Trudeau must realize the depth and breadth of the opposition to new tar sands pipelines, from Energy East to Trans Mountain. Funding this project, ignoring science and overriding First Nations' opposition will only fuel the crisis. This pipeline will not be built. First Nations have not given their consent, the solidarity is stronger than ever, there are over a dozen legal cases outstanding and the economic and reputational risks for those involved in this project continue to grow."
Anne-Céline Guyon, Coordinator of the Front Commun pour un transition écologique:
"Quebecers fought against the Energy East pipeline with all their might. And we won that battle thanks to solidarity. A united front of First Nations, grassroots groups, environmental organizations, municipalities, and unions rejected Energy East because of the negative impact it would have had on efforts to fight climate change and respect Indigenous rights, and because of the risks it posed to the Saint Lawrence River and to drinking water. Today, this same solidarity will stand in the way of Kinder Morgan's new Trans Mountain project and will help to accelerate the transition to a carbon-free economy. To solve the climate crisis, we need to work together, now more than ever."
Aurore Fauret, 350.org Tar sands campaigner:
"In recent months, hundreds of people have resorted to civil disobedience in British Columbia, there have been dozens of rallies targeting Members of Parliament in the Trudeau government across the country, and now hundreds of people are gathering in Montréal to continue this movement. All over Canada, and Québec, people would like to see promises held when it comes to environment protection, fighting climate change and respecting First Nations' rights — and this can only happen by rejecting Kinder Morgan's project."
-30-
For more information or to contact spokespeople, please contact:
Loujain Kurdi, Greenpeace Canada communications advisor, loujain.kurdi@greenpeace.org, 514-577-6657.
Jesse Firempong, Greenpeace Canada, 778-996-6549, jesse.firempong@greenpeace.org