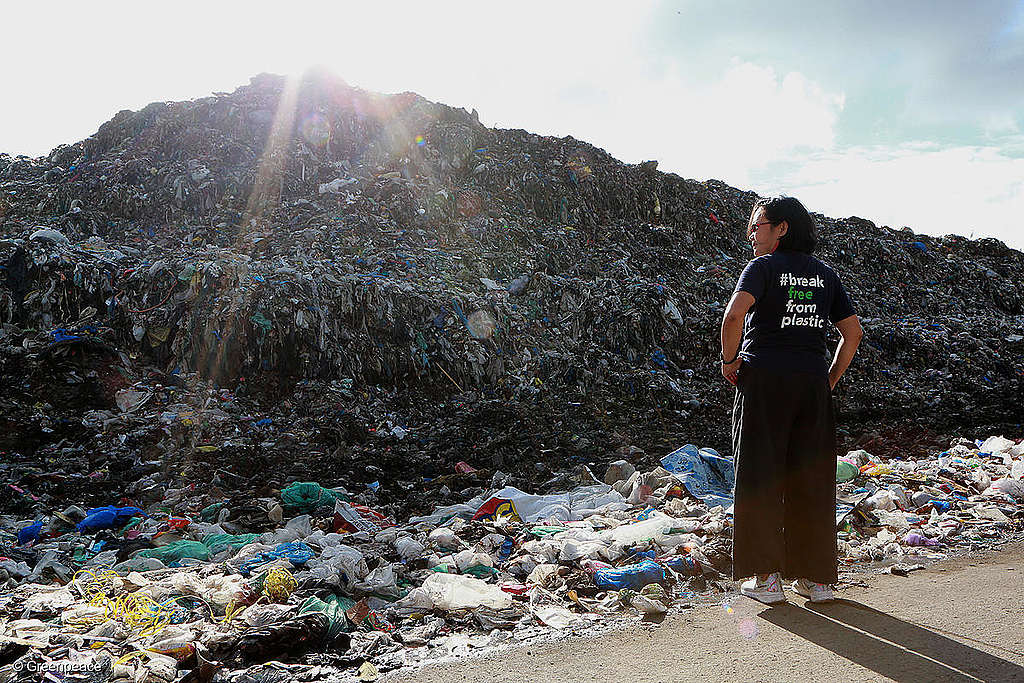 VANCOUVER / AAMJIWNAANG — A new Greenpeace investigation reveals that Canada can't handle the plastic trash companies generate. Findings demonstrate that the federal government's new approach for achieving zero plastic waste by 2030 is likely doomed to fail, leaving households, communities and the environment to deal with the consequences.
As waste is set to increase over the holidays, following higher than usual plastic use and disposal during the pandemic, Greenpeace Canada's new report, Plastic Recycling: That's Not a Thing, shows that the country is equipped to recycle less than a fifth of its plastic trash. Greenpeace analyzed the capacities of top recycling centres, the shortfalls of current and so-called "advanced recycling" technologies and continued federal investment in plastic production.
"Plastics do not just go away, pollutants will only continue to accumulate, just like the colonial violence in Aamjiwnaang. Aamjiwnaang has been the frontline impacted but the pollution and plastics are now impacting the world", said Beze Gray, two-spirit youth advocate from Aamjiwnaang First Nation, which is impacted by petrochemical and plastic production in Sarnia's Chemical Valley (for more, see the Foreward of the report).
"By letting Canadians believe that recycling is the solution to the plastic pollution crisis, the federal government may as well tell them to believe in Santa Claus. Despite Canada's abysmal recycling capacity, millions of dollars in public money is flowing to plastic producers. Politicians' refusal to turn off the funding tap and eliminate single-use plastics once and for all shows that they care more about industry backlash than communities and the environment paying the price," said Laura Yates, a report contributor and Plastics & Oceans Campaigner at Greenpeace Canada.
Key findings of the report:
The current federal Approach is not equipped to get us to zero plastic waste by 2030. To meet its ambitious recycling targets, the Approach assumes a rapid expansion of unproven recycling technologies over the next decade. The Approach fails to provide adequate measures to curb virgin plastic production and focuses on handling the waste; this does not put Canada on a path toward a circular economy.
Canada is not equipped to recycle even a fifth of current plastic waste. The biggest mechanical and chemical recycling facilities in Canada, in a best-case-scenario, are only equipped to recycle less than 17% of the more than 3.2 million tonnes annual of plastic waste produced in Canada (based on last available data in 2016).
Even the better-case scenario in British Columbia is failing. B.C. is still losing more than half its plastic waste to landfills and an additional 30% turning plastic into fuel, annually. That's despite having a more well-established Extended Producer Responsibility program.
Investments in more recycling and so-called "advanced recycling" aren't the solution. Not only would chemical recycling likely take more years to scale than there are years left to meet the 2030 deadline, but often chemically "recycled" plastics are turned into fuel, generating emissions. This is a non-circular end-use Greenpeace does not consider recycling.
Governments are spending hundreds of millions on plastic production, while pursuing the recycling myth. The report found that at least $334 million in public money (federal and provincial) has been given to virgin plastics producers since 2017, plus millions more allocated to the plastics industry after the covid-19 pandemic was declared.
"Instead of pursuing industry's false recycling solutions, the government should ring in the New Year by going back to the drafting table on a plan that isn't doomed to fail. That means eliminating plastic waste, curbing plastic production, and making a truly circular economy part of its promised green and equitable recovery from covid-19," said Yates.
The Greenpeace report warns that the federal government's proposed approach to plastic waste and pollution further entrenches Canada in a linear and fossil fuel dependent system that prioritizes industry, not people. It emphasizes that a focus on improving recycling and ensuring plastic is a mainstay in the economy fails to meet basic principles of the zero waste hierarchy, a truly circular economy, and environmental justice. Greenpeace is calling for the federal government to strengthen its new approach to plastic waste and pollution, investing in developing and scaling reuse/refill product delivery models, and supporting Indigenous and community-led solutions to the harm caused by petrochemicals and plastics.
ENDS
Note to editors:
Greenpeace Canada report: Plastic Recycling: That's Not A Thing. How the federal government's proposed approach to plastic waste leaves the public holding the bag on industry pollution. See Appendix 1 for more on the methodology.
Greenpeace submitted a version of this report to the federal government as part of the public consultation on its proposed plastics management plan which closed on December 9th.
For more information, please contact:
Laura Bergamo, Communications officer, Greenpeace Canada
[email protected] ; +1 438 928-5237
To reach Beze Gray, please contact them at [email protected] or (519) 312-3096.