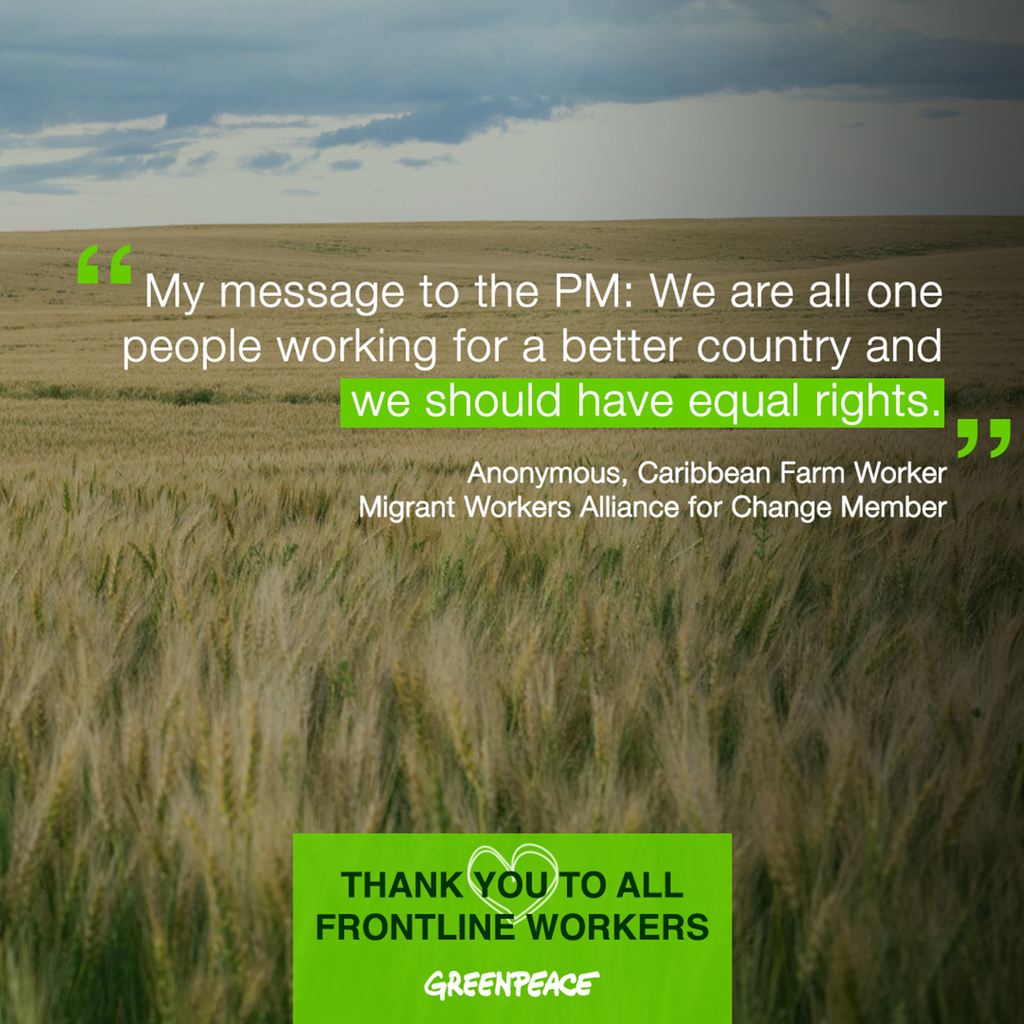 Over the past few weeks we've all been stunned to see another outbreak of COVID-19 impacting hundreds of essential migrant workers, this time in southern Ontario. The total is now 343 migrant workers in the Windsor-Essex region who have tested positive for the novel coronavirus. It was devastating to learn that two young men from Mexico have also died. I have family their age.
This tragedy follows on the heels of a previous outbreak at a Cargill meat processing factory in Alberta which saw almost a thousand workers contract the virus, many of them Filipino, new to Canada and without adequate social support.
Again, we are seeing the most vulnerable and essential people in our society most impacted by covid. In this case, the very people who are putting food on our plates.
The cracks in our broken food system are being exposed, along with the huge profits corporations are making on the backs of hard working people – from migrant farm workers to those on the frontlines of our grocery stores.
The Migrant Rights Network, their members and frontline workers, have been doing a heroic job exposing the recent outbreak in Ontario and calling for immediate, swift action to support vulnerable workers.
Their number one ask to Prime Minister Trudeau right now? Ensure #StatusForAll migrant workers. This is the most effective and fair way to ensure these hard working people have the protections they deserve and can get the support they need to do their difficult jobs in a safe and healthy environment. To learn more about what Status For All means, click here.
Greenpeace Canada wholly supports this ask to the Prime Minister. I encourage you to sign up here and call Justin Trudeau's office directly today to add your voice! His government is late in addressing the issue.
As the federal government plans a long term recovery from this crisis, it's important to recognise that migrant, poor, and racialized communities have been excluded from many response measures while being the worst affected by the economic downturn. Status for All envisions a Just Recovery for All, giving low-waged, racialized, workers – many of them women, all of them essential – access to stability and dignity.
You can see a full range of measures Greenpeace is supporting, and add your own name, here. Or check out this great conversation we hosted with Syed Hussan, the Executive Director of the Migrant Rights Alliance for Change, and others exploring the impacts of the covid crisis onour food system.
This is what it means to "build back better." A sustainable, resilient food system that cares for both people and the planet. Are you with us?
Click here to call Justin Trudeau and ask for #StatusForAll now.