Our 2017 Canned Tuna Sustainability Ranking is out and with it comes more intel than ever before about the state of canned tuna aisles in well-known supermarket chains across Canada. There's some good and some bad news to share, but overall Greenpeace is happy to report that there has been progress by ranked brands when it comes to offering more sustainable, socially responsible tuna. And so many of you have helped to make this happen!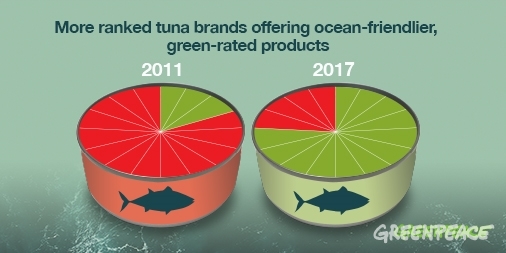 Who's offering better tuna?
The number of responsibly-caught tuna products available to consumers in Canada has actually quadrupled since we first exposed the destructive practices behind the bulk of Canada's well-known brands in 2011.
Raincoast Trading, ranked first this year, Wild Planet, ranked a close second, and Whole Foods Market, ranked third and a new addition to the Canadian ranking, were the first of the ranked companies to offer more sustainable products six years ago. Since then, 12 of the 16 companies now have at least one better option on offer under their brands.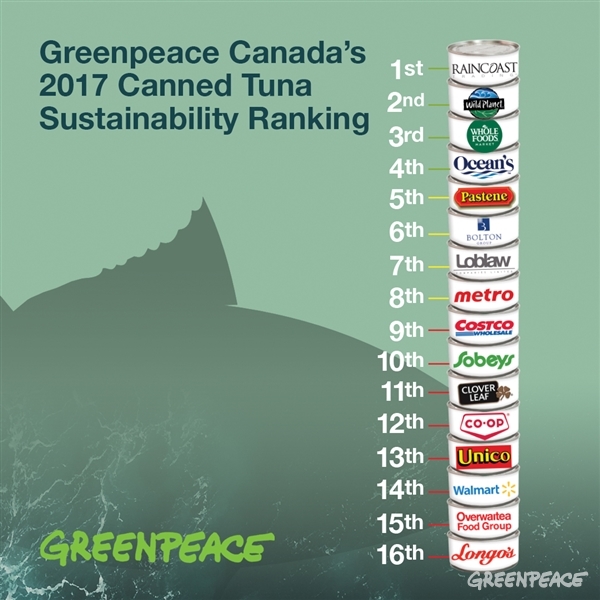 The biggest impact we've seen on store shelves comes with Canada's second biggest brand, Ocean's, completing its full switch to only responsibly-caught "light meat" products across its brand and its increase of pole and line "white meat" products offered to its customers. This move caused Ocean Brands to teeter into the green category in fourth place of this year's ranking.
Pastene (ranked 5th) products now only contain skipjack caught by purse seines without the use of harmful fish aggregating devices (FADs) and even Clover Leaf Seafoods (ranked 11th) introduced pole and line caught skipjack under its Wild Selections brand, but you need to look closely on the label to realize it is owned by this company. Of the retailers, Co-op (ranked 12th) and Sobeys (ranked 10th) were the latest to offer a better option under their house brands, joining Metro (ranked 8th), and Costco (ranked 9th) that introduced responsibly-caught products since the 2013 ranking.
These products, with the exception of Pastene's, are labelled with pole and line, pole caught, FAD-free or free swimming, differentiating the way the tuna in these cans is caught from the tuna caught with more destructive fishing methods like purse seines using fish aggregating devices and longlines. The tuna in these products comes from various stocks, but most of the responsibly-caught tuna currently available comes from stocks in better shape.
Compared to where companies were even at the time of the 2013 ranking, these are positive steps forward indicative of a more attentive approach to canned tuna sourcing.
It ain't easy seeing green
BUT, and this is a big but, even though national brands and supermarkets are offering eco product lines, the tuna aisles in some of Canada's biggest and well-known supermarket chains are still full of destructively-caught tuna. The chains are not doing enough to prioritize, stock and feature better tuna. Eco products may be available, but customers are not being directed toward them and, instead, unsustainable products and brands are being promoted and put on sale, focusing customer's attention in the wrong places and allowing tuna aisles to be stocked full of products that are wasting tonnes and tonnes of marine life, including threatened species.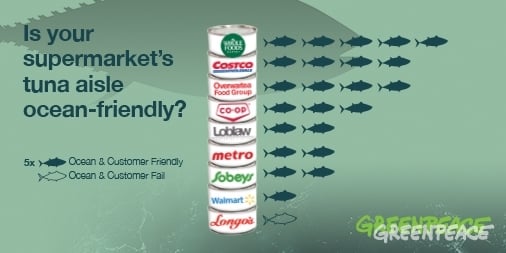 In-store surveys and customer interviews across the 9 ranked supermarket chains found that products labelled with a more sustainable fishing method were less available and less prominent in the three biggest Canadian chains – Loblaw (ranked 7th), Metro and Sobeys. Customers reported the worst experiences in Walmart (ranked 14th) and Longo's (ranked last), with Longo's surveys revealing no eco options available at all. Respondents noted that better options were more plentiful and prominent in Whole Foods, Federated Co-operatives (Co-op), Overwaitea Food Group (Save-on-Foods)(ranked 15th), and Costco.
A key finding from the surveys was that poorly rated chains' shelves tended to be dominated by Clover Leaf, a brand with no responsibly-caught options under its extensive flagship brand, whereas people reported that Ocean's or the supermarket's private label brand was the most prominent and the better options were featured at eye level in the more favourably rated chains.
Retailer responsibility
Retailers often say that it is up to the customer to decide, but if the customer doesn't even know it's there or that one product is a more responsible choice over another, how can they be expected to make those choices? Ultimately, customers should only be offered more sustainable and socially responsible products that they can feel good about. People want to make the right decision, but the onus is on major buyers and sellers of tuna to help them make it because it's the right thing to do for their customers, our oceans and the people who work to bring these products to store shelves.
How to find better tuna
To learn more about how each ranked brand is doing to not only offer more sustainable tuna but tuna that is sourced ethically, check out our 2017 ranking. If you're looking for some guidance in the tuna aisle, consult our newly updated Tuna Guide for Healthier Oceans that rates dozens of products beyond those included in the ranking.
Help us continue to push the retailers to green their tuna aisles and push for positive change across the tuna industry by asking your retailer what they are doing to clean up their tuna supply chains and protect ocean life.