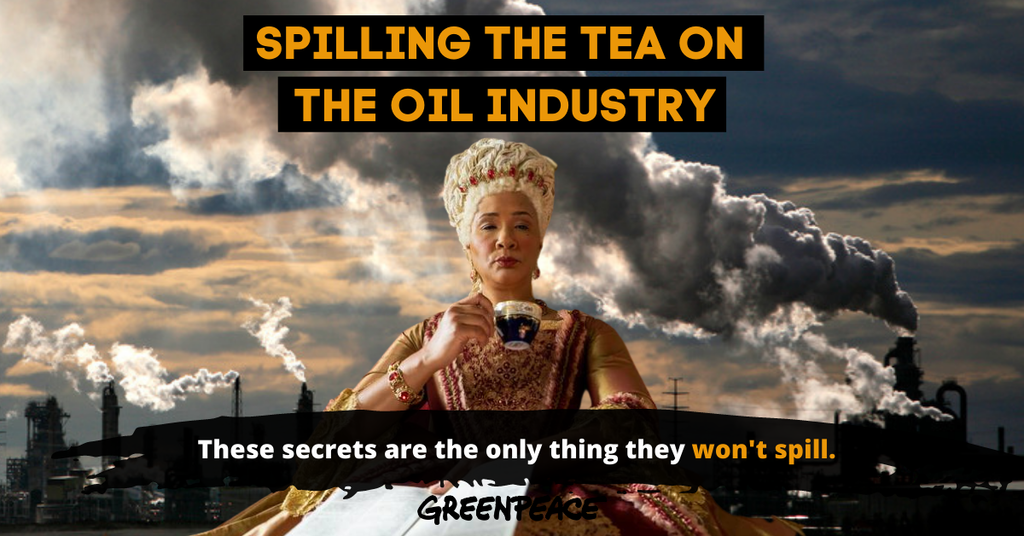 Move over Lady Whistledown and Gossip Girl, because we're spilling the tea on the hot gossip climate change activists are really looking for. Want to know what the biggest fossil polluters in Canada are up to? Need to decode industry spin? We've got you covered!
We've decided to invest some time in tracking the oil, gas, and coal companies that continue to cook our climate despite the fact that we're in the middle of a climate emergency. Every week, we'll collect our hot tips and news from around the web to give you the low-down on industry's corporate scandals and bad behaviour — plus, we'll give you ways to push back against their dirty agenda.
Why? The Alberta tar sands (oil sands) are the fastest-rising source of greenhouse gas emissions in Canada. Meanwhile, fracked gas pipeline companies continue to plough through Indigenous lands without consent (and no, for the oil execs in the back, consultation does not equal consent). If that weren't enough, coal production threatens to contaminate our fresh water.
The science overwhelmingly shows that we still have time to stop runaway climate change and biodiversity collapse — but that window is closing fast. Despite this, industry is still opposing climate policies and might even be trying to convince the public to give up fighting for the climate altogether.
We won't let that stand. Knowledge is power. So keep checking this blog to stay up-to-date on the fossil fuel sector's latest tricks and tactics, and take action to make sure our politicians stay accountable to people, not polluters.

Canadian gas companies part of secret anti-climate campaign
If you buy your gas from Enbridge or FortisBC, you are helping fund a campaign by the gas industry to block the switch to renewable energy.
In a powerpoint presentation that says all the usually-quiet bits out loud, the Consortium to Block Electrification acknowledges that "Natural gas (fossil fuel) in for fight of its life" and that "Everyone needs to contact legislators in support of NG."
The two Canadian companies join 13 U.S.-based gas distribution companies in the consortium whose mission, according to the presentation obtained by E&E News, is to "create effective, customizable marketing materials to fight the electrification/anti-natural gas movement."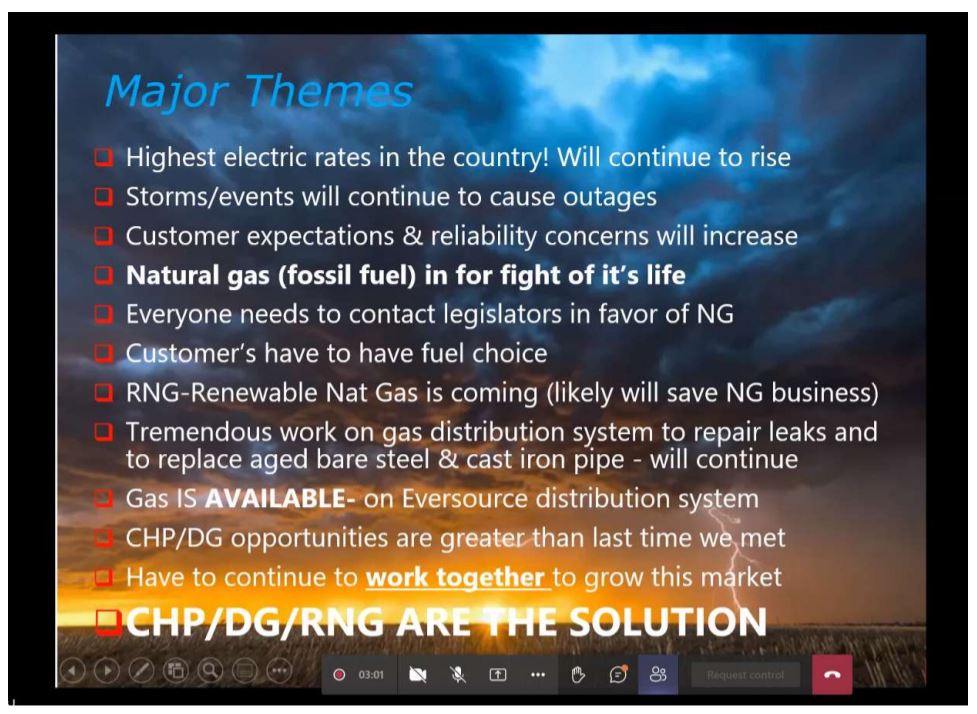 That is a fight the gas companies need to lose.
Our best shot at avoiding catastrophic levels of warming, according to experts, is to electrify (almost) everything. That is why over 40 U.S. municipalities (and Vancouver) are moving to ban new fossil fuel-powered space and water heating systems in new buildings, and planning to replace existing systems with renewably-powered, cleaner alternatives. 
The fear of losing market share to non-fossil alternatives terrifies the gas companies, but it should delight the rest of us. 

The oil industry is lobbying the Trudeau government over its net-zero goal and tagging in NRCan to be its 'man on the inside'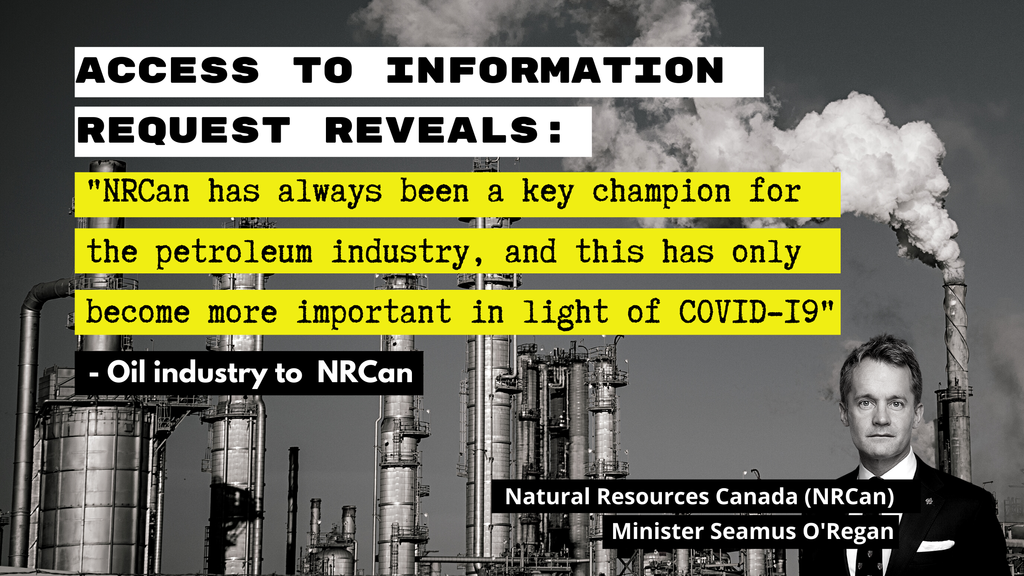 We obtained the notes from 5 meetings between the top bureaucrats at Natural Resources Canada (NRCan) and representatives of the 13 main oil and gas industry lobby groups. The documents are noteworthy because they show the industry consistently looking to NRCan to be the oil and gas industry's champion in the Trudeau government while expressing concern over what Canada's net-zero commitment and green economy goals mean for them. Worryingly, NRCan underscored the desire to continue serving as the industry champion in government (p.37).
Here are just a few snapshots from the notes we obtained:
The Day after the September 2020 Throne Speech, a dozen industry groups met with NRCan officials. Tim Egan, President of the Canadian Gas Association, said on behalf of industry: "NRCan has always been a key champion for the petroleum industry, and this has only become more important in light of COVID-19." (p. 38).
Similar sentiments were shared by the Explorers and Producers Association of Canada (p. 31) and the Canadian Energy Pipeline Association (p. 35)
At that same meeting, the Canadian Association of Petroleum Producers said, "There is a need for clear definitions of 'net zero by 2050' and 'energy transition' to ensure that it is understood and everyone is working toward the same objectives." The Canadian Energy Pipeline Association also worried about the impacts of net-zero on the regulatory process, while adding that "there are elements within the government that do not want to see the success of the oil and gas sector in Canada."
Why this matters: NRCan asked the oil industry for feedback on its Speech from the Throne, which outlined a suite of promises for building back better with an equitable and green economy. With industry increasingly holding these kinds of joint meetings with the government and clocking 1,100+ lobbying meetings or communications with federal officials since the pandemic began, we have to wonder how this will affect the Liberals' policy choices. The upcoming Budget 2021 is supposed to put some meat on the bones of the Throne Speech promises. Has industry lobbying derailed the government's green recovery commitments?
Oil execs asked
@NRCan
to be their "champion" in the federal gov't … and NRCan confirmed a "desire" to do so. Paging
@SeamusORegan
&
@JustinTrudeau
: go fix your ministry so it's fit for
#Budget2021
& a green
#JustRecovery
. People > Profits.
https://act.gp/3wHqESM
#cdnpoli
First the good news:
So, you may have noticed that there's an abundance of environmental news this week—and a lot of it is good news! The federal bill on environmental racism passed its second reading, the Supreme Court upheld the carbon tax and ruled against the provinces fighting it, and Quebec's environmental review board released a scathing assessment of the risky GNL gas project … But that doesn't mean that the oil lobby has been resting on their laurels.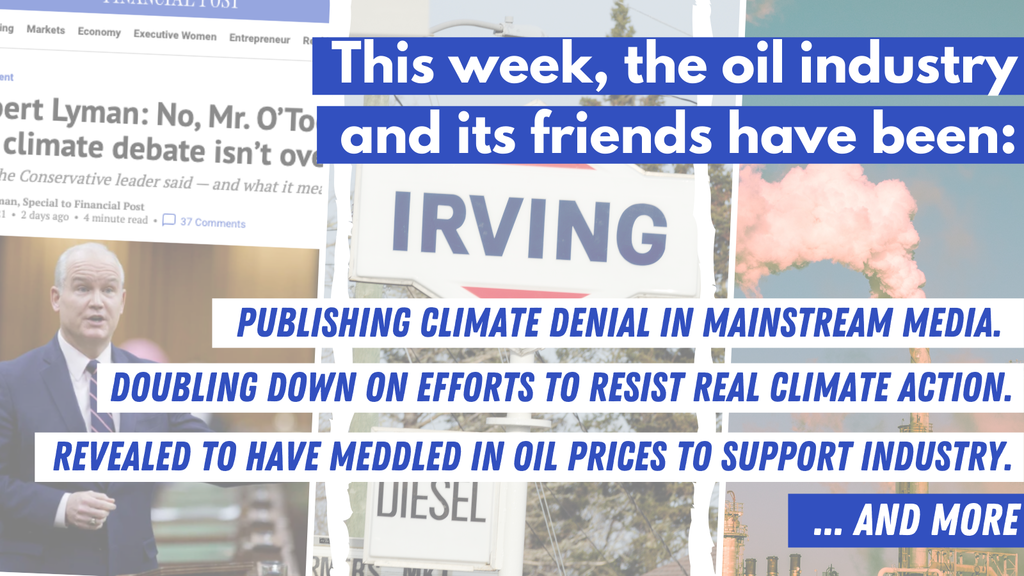 Since it's been so busy, here's a quick roundup of what you might have missed with the flood of victories this week!
Share on Facebook:
On my reading list this week: Greenpeace Canada's weekly blog exposing the oil industry's lobbying, bad behaviour and efforts to resist real climate action. Highly recommend. Don't miss this week's reveals!
#BuildBackFossilFree
https://act.gp/3fgWiAm
Share on Twitter:
On my reading list this week:
@GreenpeaceCA
's weekly blog exposing the oil industry's lobbying, bad behaviour and efforts to resist real
#ClimateAction
. Highly recommend. Don't miss this week's reveals!
#JustRecovery
#BuildBackFossilFree
#cdnpoli
https://act.gp/3soaXxx
EXCLUSIVE: We caught the Canadian Association of Oilwell Drilling Contractors (CAODC) asking the federal government to use public money (ahem, that would be our money) for a $240 million subsidy.
What happened: We obtained a June briefing note and letter from the CAODC to Natural Resource Minister Seamus O'Regan asking for a $240M non-repayable grant that would allow them to recertify yet more oil rigs (this amount is way more than the $55M they publicly asked for in August). Minister O'Regan was instructed to raise questions about the risk that recertified rigs could end up out of commission, but to still express the ministry's "keen interest" in the proposal.
Why it matters: The oil industry is awash in public subsidies: $18 billion since covid-19 began, to be exact, including $1.7 billion from the federal government last year to clean up abandoned oil wells. The last thing we need are more orphaned wells. Plus, not only did the federal government promise to end fossil fuel subsidies, but the UN warned us this week that the world is far behind its promises on a green recovery. Canada in particular is way behind. It's time to stop adding fuel to the fire.
The oil industry is asking
@NRCan
for a brand new subsidy for oil rigs. Get the details exclusively w/
@GreenpeaceCA
in their weekly scandal blog, and tell
@cafreeland
to
#endfossilfuelsubsidies
in
#Budget2021
. We need to
#BuildBackFossilFree
!
https://www.greenpeace.org/canada/en/story/46333/spilling-the-tea-on-climate-change-villains-your-weekly-gossip-on-oil-and-gas-industry-scandals
EXCLUSIVE: We've got the goods on Natural Resources Canada's (NRCan) meeting with oil executives the day after the Throne Speech last fall, and it shows that this government ministry is a weak link in the federal government's climate fight.
What happened: A request we filed under Access to Information legislation led us to this document, talking points for Minister Seamus O'Regan's meeting with oil executives from Husky, Suncor and Equinor. The document suggests that the Minister make the point that "We cannot achieve Net Zero without our oil and gas sector", for example. Overall, the NRCan point of view seems to boast about giving oil industry exploration subsidies.
Why it matters: Not only does NRCan seem unaware or unphased by Canada's economic over-dependence on oil in a world transitioning to clean energy, but remember: every dollar and ounce of talent spent exploring for oil steals money and talent needed for the transition. NRCan should be playing a central role in tackling climate change and guiding a rapid transition off fossil fuels, and it's a serious failure on their part that they're so captured by industry that they're actually working, in effect, to slow and undermine the transition we need.
Read and RT our campaigner Alex Speers-Roesch's Twitter thread for the whole story 👇🏾
EXCLUSIVE: Oil industry logs more than 1,000 federal communications since the pandemic began one year ago this week.
What happened: We did some digging in the federal lobby registry and found that key oil and gas industry associations and companies have been clocking roughly three communications per day, on average, with federal Cabinet Ministers and their staff since the pandemic was declared. We looked at a couple dozen majors players like the Canadian Association of Petroleum Producers, Imperial Oil, Shell, Chevron, TC Energy, Suncor, Cenovus, Enbridge, CNRL and several more.
Why it matters: No wonder Canada and the world are lagging behind on a green recovery, as a United Nations study published earlier this week showed. We're seeing federal Ministers promote tar sands pipelines, fracked gas, and other industry demands left, right and centre. It's time to end industry's harmful influence over our elected officials, who should be accountable to the people, not polluters.
Take action: Share on Twitter:
Canada's oil companies & lobbyists met with federal officials 1,000+x since the
#covid19
pandemic began – that's 3x/day. Learn more 👇🏾 & demand
@JustinTrudeau
#BuildBackFossilFree
to stop industry from undermining
#ClimateAction
! pic.twitter.com/Scl6Vg6Cua
https://www.greenpeace.org/canada/en/story/46333/spilling-the-tea-on-climate-change-villains-your-weekly-gossip-on-oil-and-gas-industry-scandals/?_thumbnail_id=46362
Oil companies' "purple-washing" exposed: How Canada's oil industry players appropriated International Women's Day
What happened: Major players in Canada' oil industry (Imperial, LNG Canada, Suncor, CAPP, Coastal GasLink and many more) touted their support for women's leadership, despite the fact that violence against Indigenous women has been directly linked to the tar sands and natural resource projects like oil and gas extraction and pipelines.
Why it matters: "Purplewashing" — deceptively representing something as feminist or good for women to distract attention from underlying bad behaviours — allows companies to continue harmful behaviour while improving their reputation by being perceived as part of the feminist movement. It's important to expose this since women are among those who will worst affected by climate change, which has been driven by fossil fuel companies.
… and so much more
We're keeping an eye on plastic lobbyists trying to fight new regulations to curb single-use plastics (remember, the plastics industry is expected to make up 45-95% of future global oil and gas demand growth). We're also monitoring a move by Ottawa and Alberta to launch a Steering Committee to advance carbon capture and storage, which could easily turn into a license to pollute with no guarantees of carbon neutrality (learn more in this blog). Also on our radar? Alberta's government using "sneaky accounting" to quietly cut the war room's budget and big banks like the Bank of Montreal promoting their "net zero" plans while funding major fossil fuel projects, like TC Energy's Coastal GasLink pipeline.
The oil industry's pulling strings at a local city council
What happened: Our friends at Press Progress found out that oil lobbyists and Saskatchewan Premier Scott Moe pressured the City of Regina to drop a motion that would have barred oil companies from event sponsorship and having buildings named after them.
Why it matters: Sponsorships like that give industry a lot of social acceptability and political influence, so cutting them off is an important move for reducing the cultural power the oil industry has bought for itself.
Canada's biggest oil lobbyist lauds sustainability…to sell more oil
What happened: The Canadian Association of Petroleum Producers (CAPP) applauded Alberta's newly created sustainability secretariat, telling the Globe & Mail that it hopes new sustainability data will "set the right tone" to "attract capital" from international markets. 🙄
Why it matters: Promoting sustainability to attract money to the industry responsible for climate change? Sounds like greenwashing to us, especially since Alberta cut the environment department's budget by $23 million and allocated only $2 million to the new office.
Quebec's government is financing another fracked gas pipeline
What happened: Quebec Premier François Legault has decided to spend public money on a new fracked gas pipeline called Énergir, finds a scoop by Quebec newspaper Le Devoir. That's another $ 10.6 million (90% of the total cost) in the pockets of Quebec's biggest gas provider.
Why it matters: The Legault government, like the Trudeau government, tout "natural" (fracked) gas as a climate solution. While that used to be thought true, we now know that gas is much dirtier than we thought … not that industry cares. Just this week, at a global energy conference, gas company Enbridge promoted gas as "a big part of the climate change solutions."
…and so much more.
We're also dishing about lobbyists not disclosing conflicts of interests in TV appearances, federal "green" spending going to yet another pipeline technology company and Canada's environment minister calling for a coal phase-out here at home … while still exporting millions of tonnes of it to South Korea, Japan, Chile, Hong Kong, and Vietnam. The federal government is also willing to intervene in the same cross-border gas pipeline fight that saw Sarnia's City Council going to bat for industry, despite the harm fossil fuels cause for nearby Indigenous Peoples. Meanwhile, as post-pandemic emissions rise, we're seeing Shell tout its process for becoming a "cleaner energy provider" in Canada despite its efforts to foist carbon reduction costs onto consumers while growing its global gas portfolio.