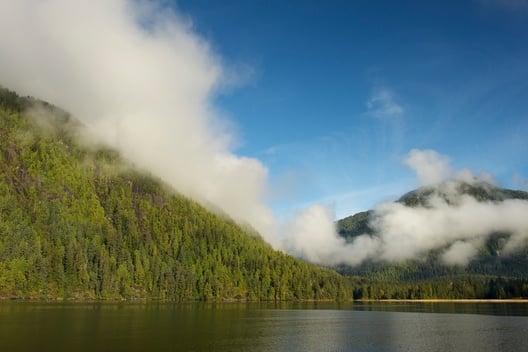 * Guest blogger Liz Sparkes is an environmental science student and nature advocate from Vancouver Island.
It is no secret that Earth's forests are in crisis. Enormous fires in the Amazon Rainforest, Australia, and California all made international headlines in the last two years. What doesn't get as much press, though, is the crisis happening in forests right here in Canada. We can see it all over the country, from Jacob Fillmore's hunger strike to save old growth in the Maritimes, to the protests in British Columbia as the last of the province's once expansive ancient forests are being clear cut into oblivion. Everywhere Canadians turn, the trees are disappearing at an alarming rate.
British Columbia, where I live, is home to 60 million hectares of temperate rainforest. In fact, it is part of the largest temperate coastal rainforest in the world: The Great Bear Rainforest. Yet, despite B.C.'s vast sweep of woodlands, ancient old growth forests that have never been logged are astonishingly rare. A recent study found that highly productive, intact old growth ecosystems make up less than 1 per cent (860,000 hectares) of B.C.'s remaining forests. Distressingly, these ancient trees are still being cut down regardless of their rarity and importance.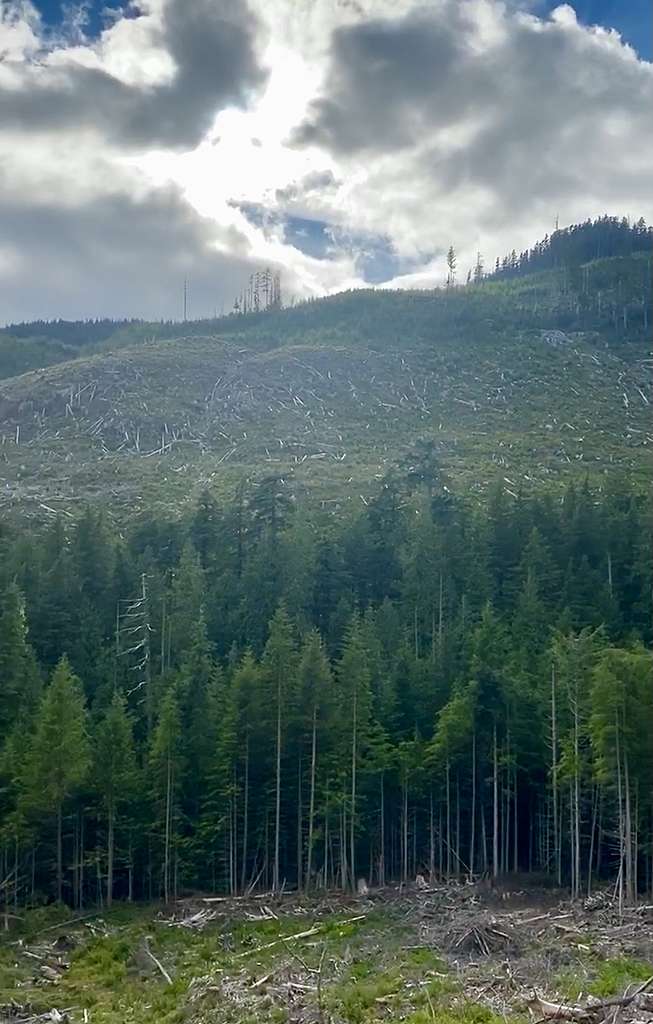 The Struggle to Protect Ancient Forests
In the last few years there have been many promising reports and agreements centered around the protection of B.C.'s forests, but government action has been sluggish. The Great Bear Rainforest agreement was signed in 2016, an Old Growth Strategic Review Panel assessment was completed in 2019, and in 2020 the B.C. NDP made an election promise to honor that panel's recommendations and protect the most at-risk ancient forests within six months of receiving the report. Yet here we are in 2021, and the few remaining old growth trees are still being destroyed by logging every day.
Now, amid growing frustration at the loss of these invaluable ecosystems, a group of activists on Vancouver Island have taken it upon themselves to do what the NDP promised but failed to do: protect the ancient trees from logging. A group called the Rainforest Flying Squad has blockaded the Fairy Creek watershed on unceded Pacheedaht First Nation's territory for nearly eight months. Their objective is to stop the logging company Teal Jones from destroying this last precious 5150 acre area of rare intact old growth forest. At the time of writing this piece Teal Jones, the company intent on logging Fairy Creek, has requested an injunction to remove the blockades. A judge will be rendering a decision on April 1 2021. If Teal-Jones is granted the injunction, it means a court order could be used to break the blockades, cut down those last stands of ancient forest, and subject forest defenders to arrest for contempt of court if they refuse to allow the logging company access. Obviously, these are not ideal outcomes for Canadians or the planet.
Government Inaction on Forestry Management and Protection
To understand how it got to this point, one only needs to look to the B.C. NDP's track record on forestry in the province. They were in power during the War in the Woods at Clayoquat Sound in the early 1990s, and are about to be the cause of yet another showdown between environmentalists and the forestry industry. Why? Because they refused to participate in much needed forestry reform policies and are not keeping the promises they made to voters. In 2019, the B.C. NDP set up the Old Growth Strategic Review Panel to do a deep dive into the issue of old-growth logging. The panel's report was not released to the public until right before the 2020 provincial election, but during their campaign the NDP promised to enact all of the panel's fourteen recommendations. One of those recommendations was to ban logging in at-risk old-growth forests within six months. The government has had the report in their hands since April of 2020 and has done nothing to meaningfully protect the last of the ancient forests or stop the clear cuts.
It does not have to be this way, and the government has the authority and an obligation to fulfil the promises they made to voters by protecting the remaining old growth. They are fully capable of putting a moratorium on old growth logging until agreements regarding protection of those lands can be reached. Instead, John Horgan and his government are allowing the logging to continue unabated. The provincial NDP is wasting so much time, allegedly planning to do something about this issue, that many of the trees will all be gone before they take action to protect them. Forest Minister Katrine Conroy keeps saying "we can't rush" to save these irreplaceable forests. Meanwhile, they are being logged at a rate of 150,000 hectares per year. With only about 860,000 hectares of old growth remaining, 415,000 hectares of which is highly productive and extraordinary, time is running out.
Indigenous Land Rights
Considering the fact that the Union of BC Indian Chiefs passed a resolution last year calling on the BC Government to put a moratorium on old-growth logging, while encouraging the premier to engage with and support Indigenous communities, it seems that the NDP is not taking environmental justice and reconciliation seriously. The government will cite consultation with First Nations as a reason for delays in protecting old growth while continuing to cut it down. This excuse is pernicious. First Nations certainly must be consulted, but nothing should be happening to their lands until meaningful consultation has occurred. Claiming that lands cannot be protected without consent while continuing to log them without consent is unconscionable. Increased Indigenous involvement was one of the Old growth Panel recommendations, and it should be heeded.
Preserving Forestry Jobs and Old Growth
When discussing the forestry industry, it is important to note that many companies have not expressed a desire to protect jobs long-term by transitioning to an eco-forestry model. In its response to the Old Growth Panel, Teal Jones Group said "if the harvesting profile were limited to the harvest of second growth it would not currently be economically viable." Essentially, they are saying that once the old growth is gone, so are the jobs. That wouldn't be fair to forestry workers or to the British Columbians and First Nations who will be left to deal with the environmental impacts of timber extraction. If we want to protect forestry jobs, we need to transition to a sustainable model with long-term economic viability. Currently, BC has the lowest number of jobs per tree cut in Canada. That is ridiculous. The government and forestry CEOs surely love the fact that environmentalists and industry workers are fighting with each other instead of holding the people in power accountable. It is time to change that, especially given the imminent threat of climate change and the protective attributes old growth offers.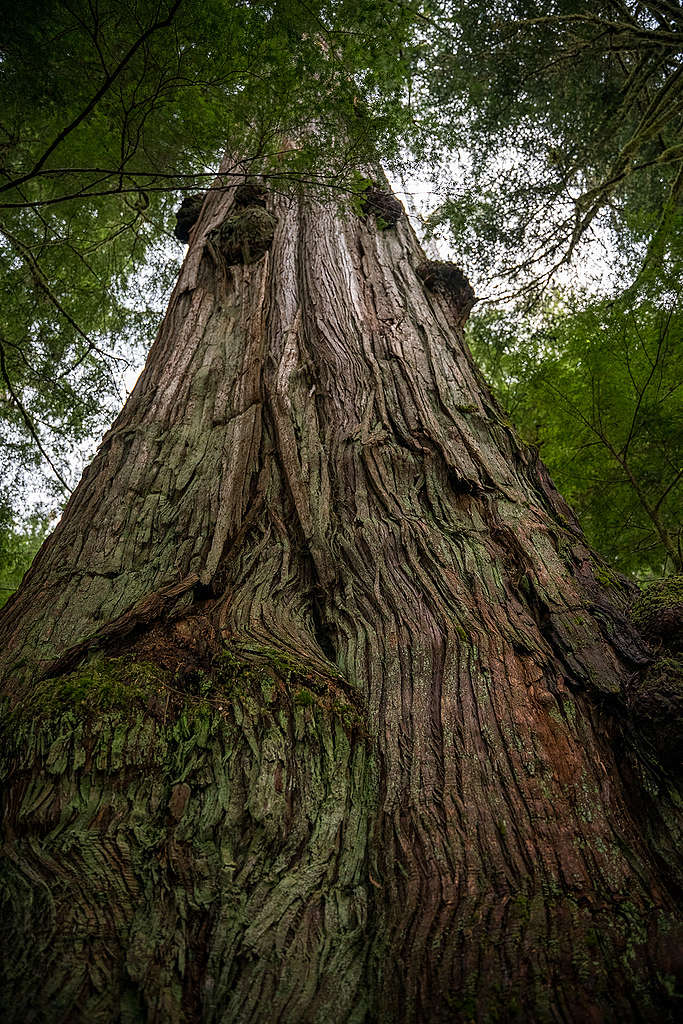 The Role of Forests in Mitigating The Climate Crisis
Climate change poses a huge threat to all of humanity, and one of our best defenses against it are old growth forests. Ancient trees are great at sequestering carbon. In fact, the rate of carbon accumulation in trees increases continuously as they grow in size. However, when they are cut that carbon is released into the atmosphere. Old growth ecosystems are also vitality important for maintaining biodiversity. Certain species, like Canada's critically endangered Northern Spotted Owl, will only nest in old growth forests. These forests also prevent flooding and provide excellent filtration and protection for the watersheds that Canadians rely on. In terms of mitigating the threat of wildfires, old growth is much better at keeping them at bay than younger trees are. Considering all the important ways giant trees benefit us, it is obvious that an immediate moratorium on old growth logging is essential to protecting us from the worst effects of climate change.
How Can We Protect Old Growth Forests?
Now is the time for Canadians to pressure our governments to act on preserving our last ancient forests.
These are some actions British Columbians, Canadians, and even international allies can take to make a difference and convince the province to put a moratorium on old growth logging. If enough people work together to defend these last standing old growth forests in BC, our elected leaders will have to listen. We need to put pressure on all levels of government to make them keep their promises to do everything possible to mitigate the climate crisis. Saving our forests is a huge step towards achieving that goal. Canadians need to tell governments enough is enough.
Here is how you can help:
Support Indigenous communities in regaining sovereignty over their ancestral lands
Phone calls and emails to the premier and MLAs (Premier John Horgan 1-250-387-1715, Minister of Forestry Katrine Conroy 1-250-387-6240)
Sign all the petitions:
If you are a forestry worker, put pressure on your union or company to transition to an eco-forestry model and to stop exploring raw logs. This will ensure long term employment opportunities.
Engage in peaceful protest
Use TikTok, Instagram, Youtube, Facebook, and other platforms to share the petitions, photos, and info that inspires others to join the movement to save old growth #OldGrowthBlockade #SaveFairyCreek #WorthMoreStanding #LandBack
Visit the Fairy Creek blockade page on Facebook or at https://laststandforforests.com/ 
Donate directly to Fairy Creek at https://fundrazr.com/last_stand_for_forests?ref=ab_4AJXQ4_ab_33ZVbv6Ss1U33ZVbv6Ss1U and to organizations like Greenpeace, Leadnow, Ancient Forest Alliance, Wilderness Committee, and Sierra Club.
Visit Fairy Creek in person if you can and join the movement to defend forests directly
Have your municipal government put forward a resolution to the province asking for a moratorium on old growth logging. Powell River just did this and other cities are following suit.
Petition your local government to increase the Parcel tax budget so that regional districts and municipalities can purchase more parkland and preserve sections of old growth.
If all else fails:
12. WE HAVE A RECALL OPTION IN BC FOR MLAS. We are the only province in Canada with this ability to hold MLAs accountable for broken promises. If an MLA is not keeping their promises, citizens can petition to have them removed from office. Go to https://elections.bc.ca/recall-initiative/recall/ for more information.
If politicians like John Horgan do not want to keep their promises, they need to be held accountable. Waiting for the government to act has not worked, and working alone has not helped, so it is time to work as a community to save our forests. They are Canada's lungs. They are our water filters. They are our protection from climate change. They are #worthmorestanding and together, we will save them.