Decision on eligibility of gas and nuclear postponed
Brussels – The European Commission has greenwashed green investment rules published today under the EU's so-called EU taxonomy, said Greenpeace.
Greenpeace EU climate and energy campaigner Silvia Pastorelli said: "The Commission has missed an opportunity to use the taxonomy to secure truly green investments, stalling a decision that would help Europe move ahead quickly with much needed climate action. We simply cannot afford to lose more time debating the sustainability of false solutions like fossil gas, nuclear power and the burning of trees for energy. Green finance cannot be a lifeline for polluters. It must focus on the restoration of forests and the deployment of genuinely renewable energy sources."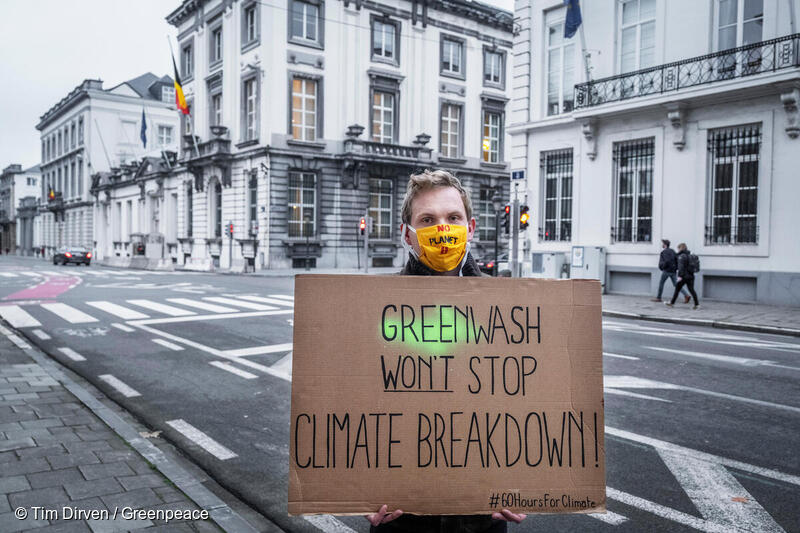 The EU Commission has left a decision on the thorny issue of whether to include fossil gas and nuclear energy in the taxonomy for later in the year. The proposed rules still include controversial criteria on forestry and bioenergy, which have been widely criticized by scientists and experts.
Greenpeace EU agriculture and forest campaigner Sini Eräjää said: "Not all that is green helps to fight climate change, especially if you burn it. The Commission gave in to pressure from Sweden and Finland and their industries, and the proposed criteria for forests and bioenergy are nothing but greenwash, encouraging financing for practically any tree cutting and burning, against the advice of scientists and experts. The European Parliament must reject the delegated acts and send the Commission back to the drawing board if it doesn't want to be an accomplice."
Greenpeace calls on the European Parliament and government to reject these implementing rules and rewrite the rules for forestry and bioenergy activities. 
Contacts:
Silvia Pastorelli – Greenpeace EU climate and energy campaigner: +32 (0)496 12 20 94, [email protected]
Sini Eräjää, Greenpeace EU agriculture and forest campaigner: +32 476 975 960, [email protected]
Greenpeace EU press desk: +32 (0)2 274 1911, [email protected]
For breaking news and comment on EU affairs: www.twitter.com/GreenpeaceEU
Greenpeace is an independent global campaigning organisation that acts to change attitudes and behaviour, to protect and conserve the environment and to promote peace. We do not accept donations from governments, the EU, businesses or political parties. We have over three million supporters, and offices in more than 55 countries.
EU Transparency Register: 9832909575-41