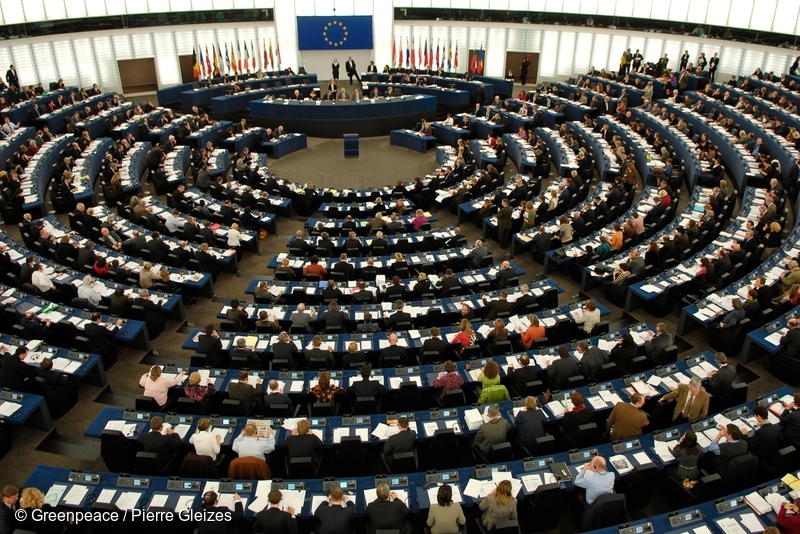 Brussels, 2 June 2022 – In response to the decision by the European Parliament to strip lobbyists representing Russian state interests of their access to European Parliament buildings, Greenpeace EU sustainable finance campaigner Ariadna Rodrigo said:
Greenpeace EU sustainable finance campaigner Ariadna Rodrigo said: "Making sure that Putin's cronies can no longer hang around the corridors of power is the right thing to do, and other EU institutions should now follow the Parliament's lead. But these moves won't change the fact that Putin's fingerprints are all over the EU's plans to add fossil gas and nuclear energy to the EU's taxonomy of green investments. Russia could earn billions from this greenwashing, and Putin's lobbyists won't care that they've lost their badges if they can tell their boss that they still got the job done."
Greenpeace France published a detailed investigation in May exposing how Russian companies used subsidiaries and lobbyists to influence the decision to add gas and nuclear energy to the EU taxonomy.
The report also revealed that Russia stands to be one of the main winners from the greenwashing of gas and nuclear energy, earning up to €4 billion extra from a taxonomy-driven expansion in gas capacity and a significant slice of an estimated €500 billion in taxonomy-related nuclear investments.
Next steps
MEPs from the joint ECON and ENVI committees will vote on a draft resolution to reject the Commission's plan to greenwash gas and nuclear energy on 14 June. The full European Parliament will then vote on the taxonomy plan in Strasbourg in early July.
Contacts:
Ariadna Rodrigo, Greenpeace EU campaigner: [email protected]
Greenpeace EU press desk: +32 (0)2 274 1911, [email protected]
For breaking news and comment on EU affairs: www.twitter.com/GreenpeaceEU
Greenpeace is an independent global campaigning network that acts to change attitudes and behaviour, to protect and conserve the environment and to promote peace. We do not accept donations from governments, the EU, businesses or political parties. Greenpeace has over three million supporters, and 26 independent national and regional organisations with offices in more than 55 countries.
EU Transparency Register: 9832909575-41