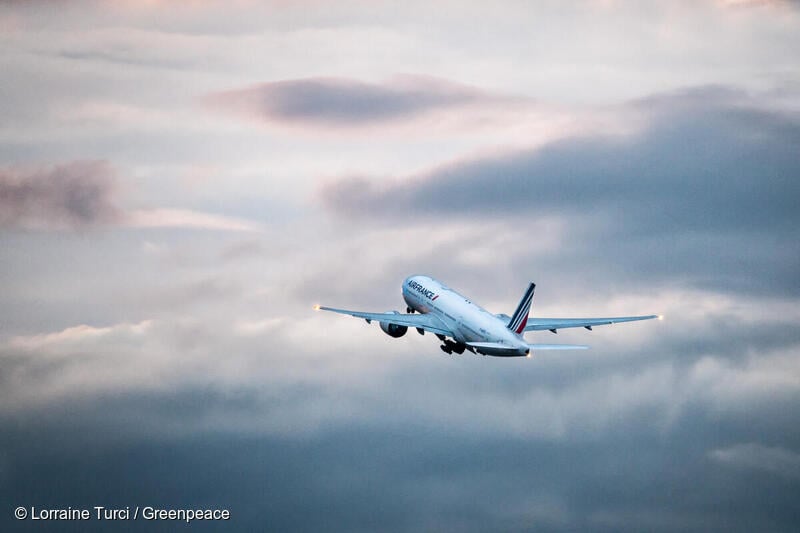 Brussels, 20 July 2023 – As Europe braces for record-breaking temperatures, a new study by Greenpeace Central and Eastern Europe reveals the shocking extent to which people in Europe are being perversely encouraged to fly rather than take the train. Policies at the EU and national levels have created an unfair competitive advantage for climate-wrecking airlines, the report finds.
The report compares the costs of flight and train tickets on 112 routes in Europe at 9 different points in time. Tickets for trains are on average twice as expensive as for flights, according to the report. On the London-Barcelona route, the cost of taking the train is up to 30 times as much as the cost of a flight.
Flying can be more than 80 times worse for the climate than taking the train. Despite this, airlines are exempt from paying tax on kerosene, a petroleum product which is the main ingredient in jet fuel. Transport & Environment recently estimated that taxpayers in Europe lose out on a total of €34 billion a year thanks to this and other tax exemptions. Railways have no equivalent exemptions for any energy that they consume. A plan to revise the kerosene tax exemption for airlines has stalled at the EU level.
Greenpeace EU senior climate campaigner Lorelei Limousin said: "Airlines benefit from outrageous fiscal advantages. Planes pollute far more than trains, so why are people being encouraged to fly? Low-cost airlines, in particular, have exploited every loophole and trick in the book. €10 airline tickets are only possible because others, like workers and taxpayers, pay the true cost. For the planet and people's sake, politicians must act to turn this situation around and make taking the train the more affordable option, or else we're only going to see more and more heatwaves like the one currently wreaking total havoc in Spain, Italy, Greece and elsewhere."
Key facts and findings
The report analyses 112 routes in Europe (EU, UK, Switzerland and Norway) at 9 points in time. 94 of the routes analysed are cross-border connections, while 18 are domestic
Train tickets on these routes are on average twice as expensive as flight tickets, and around four times as expensive in the UK and Spain
Flight tickets are cheaper than train tickets on 71% of the routes analysed
Only 23 European routes are almost always cheaper by train than by plane
Low-cost airlines operate 79% of the routes analysed, and are in most cases cheaper than rail thanks to their unfair and aggressive pricing strategies
Shift public money to help people shift to rail
In order to make rail more affordable than air transport, Greenpeace calls on all European national governments to introduce climate tickets, affordable and simple long-term tickets valid on all means of public transport in a country or a defined region. Together with the EU institutions, they should also cooperate for the implementation of a cross-border climate ticket. Windfall profit taxes, the phase-out of airline subsidies, and a fair taxation system based on CO2 emissions would make revenues available for funding climate tickets while improving public transport networks.
In recent decades, aviation has been the fastest-growing source of greenhouse gas emissions in Europe, increasing 29% between 2009 and 2019.
Air traffic is even now reaching its pre-pandemic levels, at the exact same time when people are facing destructive fires and droughts across the planet.
Contacts:
Lorelei Limousin, senior climate campaigner for Greenpeace EU: +32 477 79 04 15 ; [email protected]
Greenpeace EU press desk: +32 (0)2 274 1911, [email protected]
For breaking news and comment on EU affairs: www.twitter.com/GreenpeaceEU
Greenpeace is an independent global campaigning network that acts to change attitudes and behaviour, to protect and conserve the environment and to promote peace. We do not accept donations from governments, the EU, businesses or political parties. Greenpeace has over three million supporters, and 26 independent national and regional organisations with offices in more than 55 countries.
EU Transparency Register: 9832909575-41