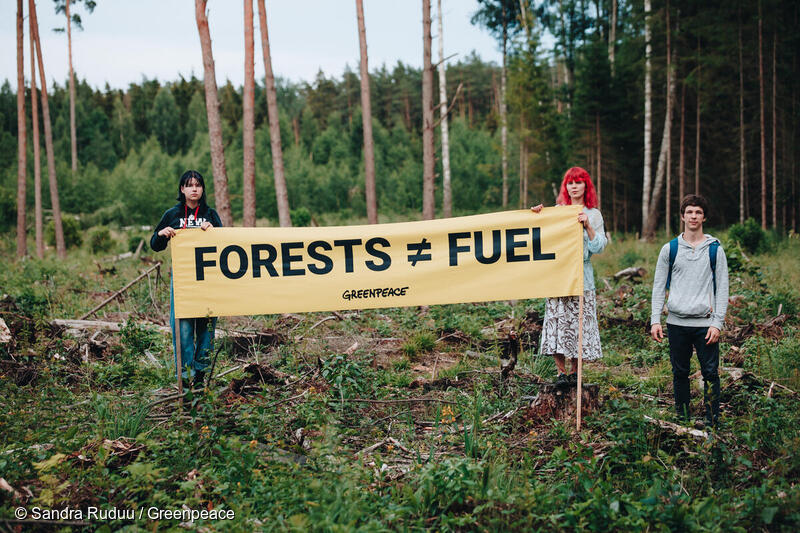 Brussels – EU rules and national subsidy schemes that encourage the use of wood pellets to meet renewable energy targets are driving the destruction and degradation of forests in Estonia, new research commissioned by Greenpeace Netherlands has found. The study found that EU sustainability criteria, and even the more comprehensive Dutch sustainability rules, were not enough to stop destruction of nature in Estonia, the EU's second-largest exporter of wood pellets.
Taking the logging and degradation of forests into account, the use of wood for heat and power production has an often similar climate impact to the fossil fuels they are intended to replace. EU rules currently allow for the burning of wood for energy to be counted towards renewable energy targets, regardless of whether the wood is from trees cut just for burning or is waste wood from other processes.
Greenpeace EU agriculture and forest campaigner Sini Eräjää said: "We can't fight climate change by chopping down trees to burn them – so renewables rules that encourage this are not fit for purpose. Even the best sustainability criteria in the EU hasn't kept forest destruction out of energy production. The EU must stop counting wood straight from the forest towards renewables targets, and national governments must stop subsidising this destruction."
The report found how Graanul Invest, Europe's biggest pellet producer, headquartered in Estonia, is linked to the logging of high-conservation-value forests, draining of peatland forests, clear-cutting trees along waterways and damaging soils. Pellets produced in Estonia are burned and counted towards renewable energy targets across the EU, primarily in Denmark, the Netherlands, Belgium and Italy, as well as in the UK.
The European Commission is currently working on an update of the EU's controversial biomass sustainability criteria. Leaked drafts show that the Commission is only considering cosmetic changes that would bring the EU rules closer to the Dutch criteria the researchers investigated.
Following the release of evidence gathered in this study, Greenpeace Netherlands and other environmental NGOs are today walking out of an agreement on biomass made with the Dutch government and biomass industry.
The Commission will publish its 'FitFor55' package of updates to EU climate and energy legislation on 14 July, which will include a revision of the EU's renewable energy directive and its bioenergy rules.
Greenpeace is calling on the European Commission to stop counting the burning of wood taken directly from the forest as renewable energy, and to end the incentives for this destructive practice.
Contacts:
Sini Eräjää, Greenpeace EU agriculture and forest campaigner: +32 476 975 960, [email protected]
Greenpeace EU press desk: +32 (0)2 274 1911, [email protected]
For breaking news and comment on EU affairs: www.twitter.com/GreenpeaceEU
Greenpeace is an independent global campaigning network that acts to change attitudes and behaviour, to protect and conserve the environment and to promote peace. We do not accept donations from governments, the EU, businesses or political parties. Greenpeace has over three million supporters, and 26 independent national and regional organisations with offices in more than 55 countries.
EU Transparency Register: 9832909575-41