Seoul, Korea – South Korea became the first country in East Asia whose ruling political party publicly announced a climate manifesto and embraced the idea of a comprehensive Green New Deal in response to the ongoing global climate crisis. Today, the Liberal Party – South Korea's current ruling political party – announced its climate political manifesto for the upcoming general election and its strong will to achieve a carbon zero society by 2050.
"Today's announcement is essential to tackle the most urgent environmental disaster humanity faces – the climate crisis. South Korea is one of the top seven CO2 emitting countries in the world. The ruling party finally recognises its responsibility to not only tackle the climate urgency but also boost the domestic economy while battling this crisis," said Jinsun Lee, campaigner at Greenpeace Seoul.
The manifesto includes a series of policies, including but not limited to: legislation of the Green New Deal Act, discontinuation of coal project financing, and introduction of a carbon tax. These policies are crucial measures to deliver net zero emissions by 2050, which is in line with recommendations made by the scientific community to reduce the risk of climate crisis.
Due to decades of inaction on climate change, a comprehensive green new deal which includes large scale investment in green energy infrastructure and the complete phase out of coal power generation has become a necessity. A revenue-neutral carbon tax – which does not increase the public's overall tax burden – is also an essential part of the solution. One policy that is not mentioned in the current manifesto, yet important in creating a zero carbon society, is the complete phase-out of internal combustion engine vehicles.
Since delivering the Climate Emergency Policy Proposal to the three largest political parties in South Korea between December 2019 and January 2020, Greenpeace Seoul has been campaigning for the adoption of five key climate policies so major parties may create a realistic plan to achieve net zero emissions by 2050.
Greenpeace Seoul welcomes the Liberal Party's announcement but strongly recommends the development of a concrete and feasible plan – including a clear roadmap, timeline, and policies – to achieve net zero emissions by 2050. Greenpeace Seoul will continue to campaign to ensure successful implementation of the announcement made today and also strongly urges the United Future Party, the second largest political party in South Korea, to announce its own policy manifesto to tackle the climate crisis.
The climate crisis is the largest challenge humanity faces in the 21st century and requires strong, active leadership across all political spectrum around the globe.
ENDS
Notes:
On 15 March, Greenpeace's climate suffrage campaign team in Korea conducted an action, beaming a projection at the ruling party's potential presidential candidate's office building. The action called for the ruling party to take drastic measures against the climate crisis.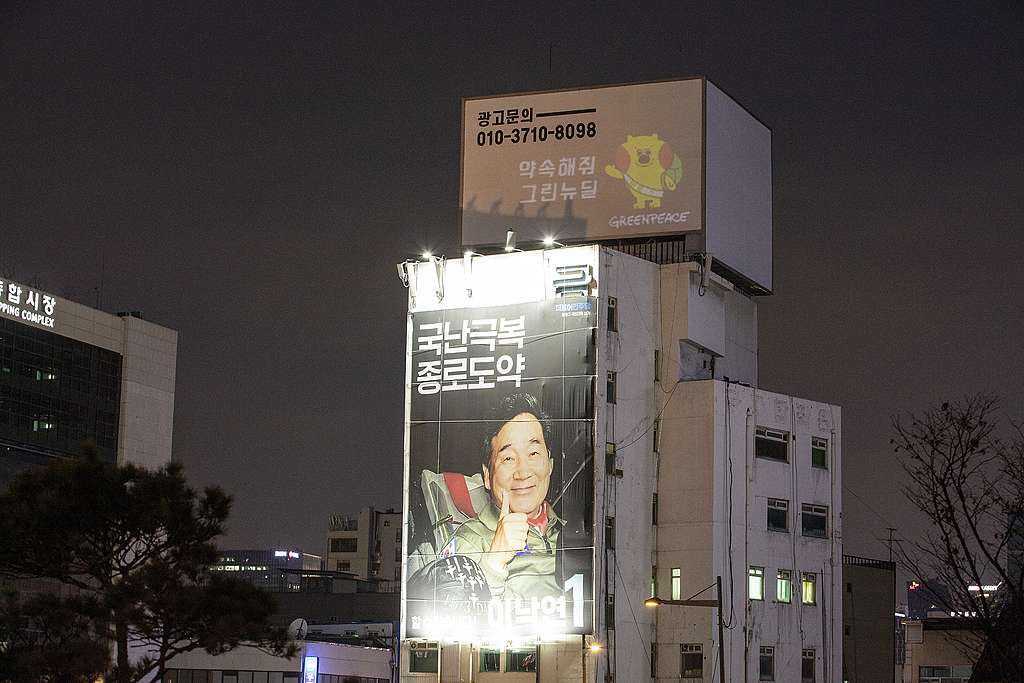 Contacts:
Jinsun Lee, Campaigner, Greenpeace Seoul: +82-10-9117-3437, [email protected]
Sean Lee, Communication Lead, Greenpeace Seoul: +82-10-9998-2414, [email protected]