Citizen Climate is an on-going series about global citizens taking action, big and small, for the sake of a healthier planet for us all.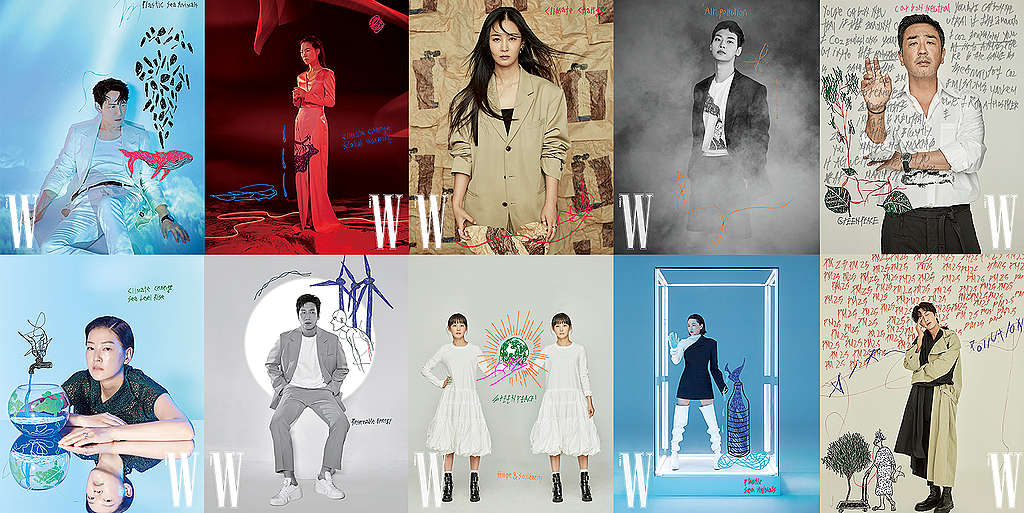 The Citizen: Cho Sun-Hee, a celebrity photographer based in Seoul, South Korea
The Action: Collaborated on a photo shoot with Greenpeace Korea for W magazine and utilized the power of celebrities to bring attention to environmental issues and to inspire action.
How did the collaboration with Greenpeace and W magazine come about?
I've always been interested in environmental campaigns by Greenpeace, visiting the website and reading up on the issues. My son also has a keen interest in environmental issues. He said to me one day, "Mom, you're so lucky." I asked him why and he answered, "You were born before my time and had more fresh air to breathe." It was heartbreaking to hear that. He has been a great influence on me without realizing it.
I was then asked by Greenpeace to collaborate on a project. Although it is important to practice small efforts for the environment in our daily lives such as recycling, I thought it would be great to donate the talent I have to help more people learn about environmental issues and to join the movement for change. I didn't need to think for long and told Greenpeace to count me in, for sure. I thought it would be meaningful to utilize the power of celebrities to highlight climate change issues and as a way to relate the issues in our daily lives. As a photographer, that's what I thought to do.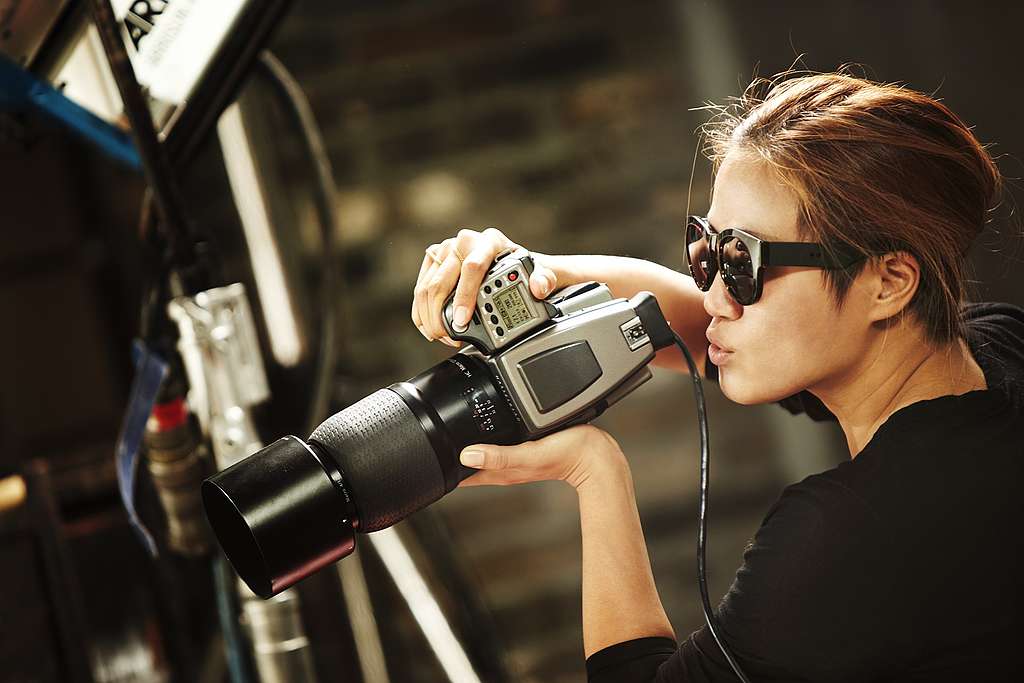 How were you able to work with some of the biggest celebrities in South Korea to advocate for climate awareness?
Although the campaign was for a good cause, celebrities have busy schedules and the COVID-19 pandemic was in full swing last year. The campaign wouldn't have succeeded without their commitment and sincerity. Photoshoots involve so many things that need to be sorted out like arranging the schedules, coming to the set, and hair and make-up. Celebrities would've declined to do the campaign from the get-go if they hadn't been genuinely committed to the cause. I believe those who participated in this campaign did so because they were personally interested in environmental issues and wanted to do the right thing for the planet.
Lee Jung-Jae is an actor who has earned global stardom recently and won prestigious international awards with Squid Game. (He has long been an A-list star in Korea.) We've been friends for 27 years, but I was surprised by how eager he was to join the campaign. It made me see him in a different light as I was unaware of his interest in environmental issues. He was the first to be shot for the campaign and I was very nervous that day. Not only because I wanted to do a good job but because I was seeing him in a different way. I've worked with him many times before but I've never felt more nervous than that day. I might have let my passion get the better of me (chuckles).
What inspired the concept of the photoshoot?
I had many discussions with Greenpeace about how to represent the environmental issues visually. The obvious way would be photographing the celebrities sporting t-shirts but that was a concept I wanted to avoid. Maybe it could have worked out just fine but I wanted the campaign to go beyond the simple message of celebrities doing good deeds. There were a lot of discussions on ways to educate the public by raising awareness on various problems and proposing solutions. We had ideas to build sets but abandoned them because that would've produced too much waste. That decision was very meaningful because it eventually led us to come up with an idea to digitally edit environmental issues and solutions onto the photographs. Climate change? Rising sea levels? Renewable energy? Energy transition? All those prompts about environmental challenges would be small stepping stones that would lead to more questions and hopefully action. That's what I had in mind.
When the actors were posing in front of the camera, I tried to zoom in on their sincerity without being too emotional. Photos can be dramatic if the models create exaggerated poses and facial expressions like tears coming down, but taking photographs without props and frills to communicate an authentic emotion like sincerity is very difficult.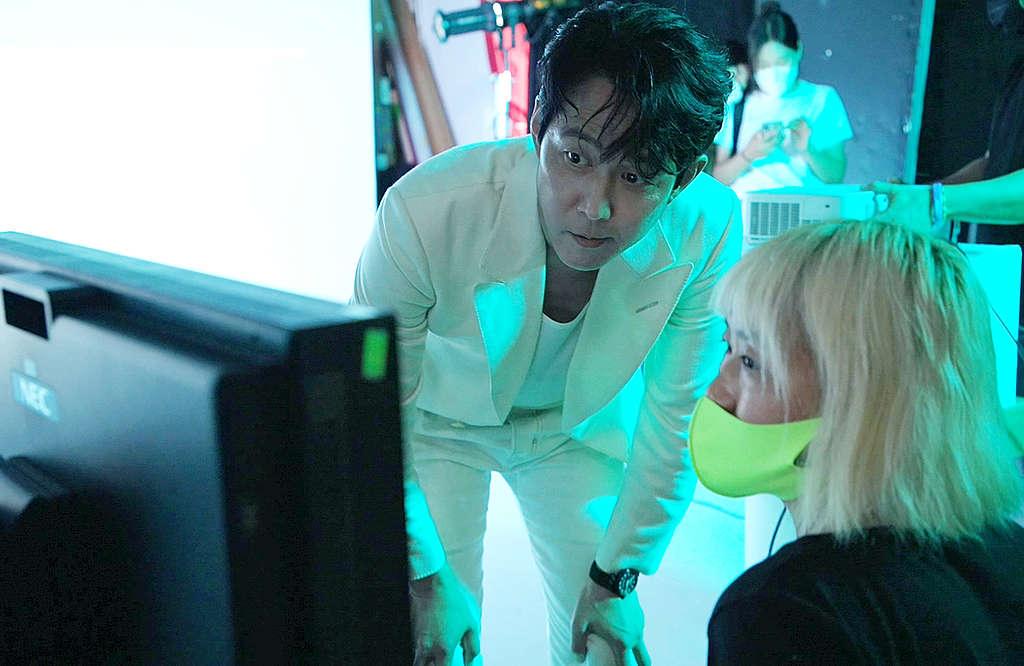 What happens when more cultural icons start talking about climate change?
One reason why I worked with actors and celebrities on this photoshoot is because they have the power to draw people's attention. The public is attracted to them. It is my hope that the photos will make the public look deeper into the environmental message, provoke them to know more about the issues and hopefully, to take action.
What environmental issues are important to you?
I think that single-use plastic is a serious problem. We use too much plastic and make too many excuses about using them. For example, in a photo shoot like this with so many people involved, it may be impossible to eliminate disposable plastics. However, we made conscious efforts to limit our daily use of disposables to just one plastic item, which I think is a positive step. It inspired me to apply the idea to my other jobs. Doing this shoot has been a great learning experience.
Why is civil participation in climate advocacy important?
Doing this project with Greenpeace has made climate change more personally relatable for me. Global warming used to be a vague concept but its impact has made worsening summer heatwaves, longer rainy seasons and extreme typhoons a new norm. And how about winter? It is no longer the winter I remember growing up.
Climate change is a tragedy created by human greed and consumption. I also realize that governments and companies must change because they have the power to lead more important changes than the actions of individuals. We need interest and support from the public more than ever to make that happen.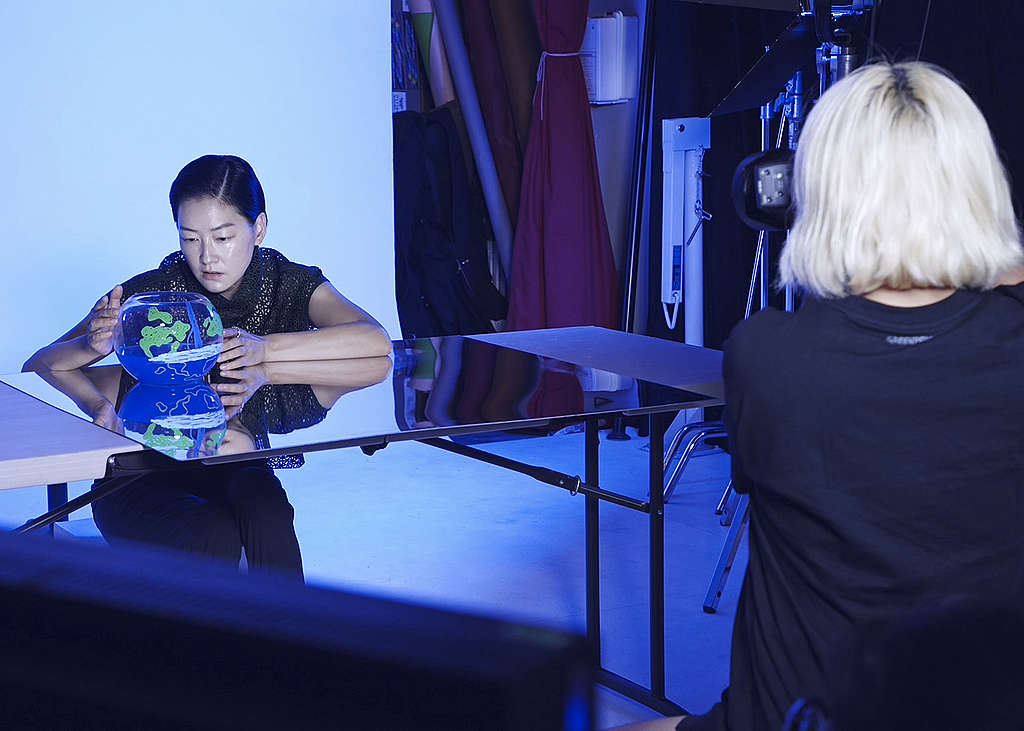 What hopes do you have for the future?
I had asked the celebrities during the photoshoot, why did you agree to do this project? What do you do for the environment in your daily lives? I asked because I wanted to learn. It disheartened me to find out that we were pretty much in the same place in our efforts, as in we try to use less plastic and recycle.
I think we need public education to learn definitive ways in which individual efforts can lead to greater impact. It should be the same for Korean school education. If our children learn about the environment and how to care for it from an early age, they would embrace the idea in their bodies and minds. We have to teach them about the threats that endanger our Earth and what actions we can take to tackle the climate crisis.
Are you working on any environmental-related projects currently or in the future?
It is always on my mind. While I was working on this project, I was asked to archive my works related to environmental issues. I would have been reluctant in the past, thinking about the extra work involved going over all my photos or clearing copyright issues. But this time, I was eager to say yes despite my hectic schedule and dedicated three days to select photos that fit the concept.
The environment was an idea that used to be vague and not relatable to my own life but this project had brought it closer to my heart and strengthened my commitment, knowing that the Earth is home to my son and daughter. If there is an opportunity to educate the public and raise awareness, count me in! I will do what I can.
Visit Greenpeace Korea for more information on its campaigns and ways in which you can get involved.