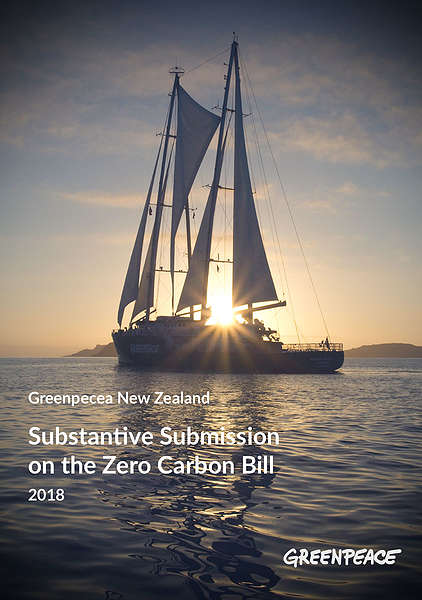 Greenpeace New Zealand Substantive Submission on Zero Carbon Bill
Key Recommendations
New Zealand's goal must be to limit global warming to no more than 1.5o C by the end of this century. This goal should be stated in the Zero Carbon Bill.
New Zealand's climate law must be fair, ambitious and consistent with the latest climate science and international frameworks, such as the Paris Agreement, by including all greenhouse gases.
A target of net-zero by 2040 better reflects the latest science and the need to achieve rapid, substantial reductions in emissions than does a target of net-zero by 2050.
Legally-binding climate targets should be legislated now, and a Climate Commission established whose role should be to devise legally-binding budgets.
The primary focus of five-year budgets should be gross emissions cuts, while offsets should occur as a secondary or separately reported budget.
The ZCA should adopt a 'firewall' principle: that New Zealand's targets must be achieved by actual cuts in our own emissions, and offsets within New Zealand, not through the purchase of international carbon credits.
To achieve significant gross cuts in methane and nitrous oxide emissions requires reducing ruminant livestock numbers and cutting synthetic fertiliser use.
While cross-party consensus is a desirable long-term goal, any such consensus should not be prioritised over the achievement of strong climate law today.
Adaptation should not be the responsibility of the Climate Commission.