QUEZON CITY, Philippines — Greenpeace today warned that Republic Act 8749 or the Clean Air Act of 1999—the country's foremost law to protect Filipinos from the adverse effects of air pollution—is under threat. The environmental group is calling on Senators to defend the health of Filipinos and uphold one of the country's most important environmental laws.
In November 2020, the House of Representatives hastily passed House Bill No. 7829, which will allow waste incinerators to operate by repealing critical provisions of the Clean Air Act as well as RA 9003 or the Ecological Solid Waste Management Act of 2000. The Senate version of HB 7829, Senate Bill 1789 is currently pending second reading [1].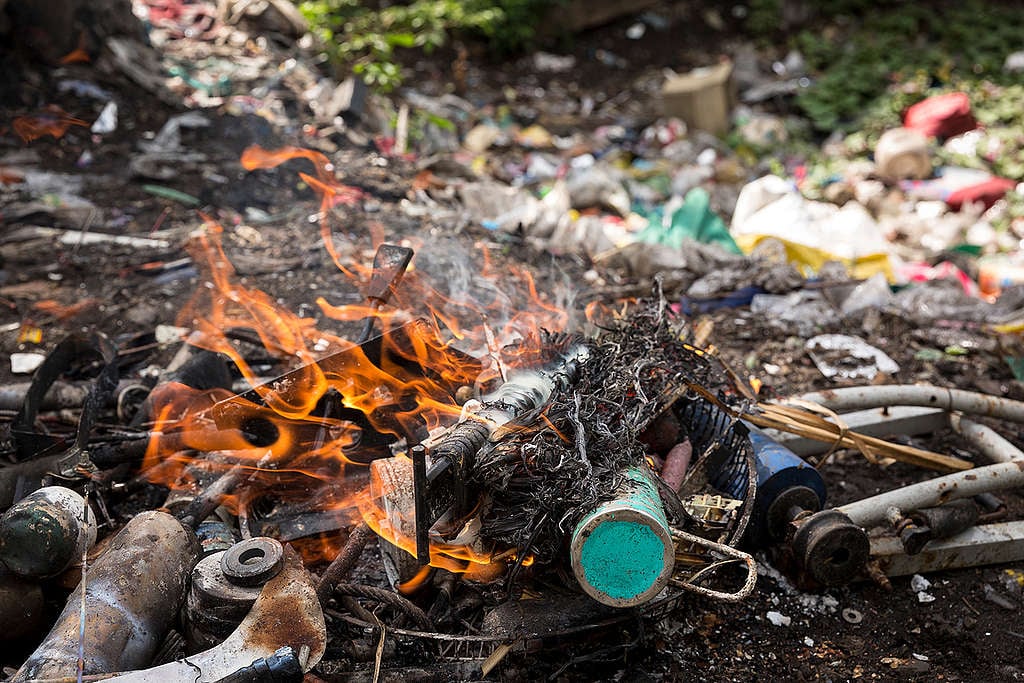 "Repealing provisions in our laws that protect people's health is an example of perverted lawmaking—particularly at a time when our country is struggling with the COVID pandemic," said Greenpeace campaigner Marian Ledesma. "Our Senators must put to right their approach on sustainability and ensure that the well-being of waste-infested communities is not based on quick-fixes and false solutions."
Section 20 of the Clean Air Act prohibits waste incineration because of its toxic and poisonous emissions. Scientific studies show that incinerators are major sources of cancer-causing dioxins and furans, which pose serious health risks even in low concentrations [2]. Studies also show a significant increase in the risk of dying from cancer in areas near incinerators [3]. Incinerators are also known to emit mercury, a powerful neurotoxin that is now regulated internationally through the Minamata Convention, as well as particulate matter, including PM 2.5, which is not adequately monitored in the Philippines.
A 2020 Greenpeace report [4] in air pollution showed that an estimated 27,000 Filipinos already die from air pollution caused by burning fossil fuels, such as in coal plants, as well as from transport pollution. Allowing waste-to-energy (WTE) incinerators to operate will add to the harm and deaths air pollution brings to people.
Proponents of waste incineration claim that WTE incinerator facilities are environmentally sustainable and can contribute to energy security. However, Greenpeace maintains that WTE incinerators put Filipino communities at a disadvantage because they emit significant amounts of greenhouse gases that drive the climate crisis. Experiences from Europe show that the amount of energy generated by these facilities are negligible [5], while the costs to construct and operate the plants are excessive [6].
Greenpeace said that the government must prioritize ecological and safe solutions to manage waste and produce electricity, which are also cost-effective, such as investing in energy grids powered by renewable technologies, shifting to zero-waste systems in cities and municipalities, and through strict enforcement of the Ecological Solid Waste Management Act.
"It's a travesty of lawmaking that our congress is considering bills that weaken safeguards to protect public and community health. We should remember that the country is in its worst economic downturn in decades because of a health problem," Ledesma said. "We urge our Senators to stand for what is right and junk the bill. Protecting people's health and promoting ecological solutions to waste and resource management must be the direction of our country's green recovery post-COVID, towards a better normal."
---
Notes to editors:
[1] An Act Establishing A National Energy Policy And Regulatory Framework For Facilities Utilizing Waste-to-energy Technologies
[2] Emmanuel, J. (2017). Report and recommendations on the NSENGI waste-to-energy technology and the Kitakyushu waste management system. Unpublished report submitted to the Davao City local government.
[3] Garcia-Perez, J., Fernandez-Navarro, P., Castelló, A., López-Cima, M., Ramis, R., Boldo, E., & López-Abente, G. (2012). Cancer mortality in towns in the vicinity of incinerators and installations for the recovery or disposal of hazardous waste. Environment International 51 (2013), 31–44.
[4] Toxic Air: The Price of Fossil Fuels | February 2020
[5] European Commission. (2017). Communication from the Commission to the European Parliament, the Council, the European Economic And Social Committee and the Committee of the Regions: The role of waste-to-energy in the circular economy. Brussels: European Commission.
[6] US EIA (2013). Updated Capital Cost Estimates for Utility Scale Electricity Generating Plants. Washington DC: US Energy Information Administration.
Media contact:
Angeli Cantillana
Communications Campaigner, Greenpeace Southeast Asia – Philippines 
[email protected] | +63 998 595 9733
---
Sign the petition calling on Members of the Philippines 18th Congress to scrap the harmful Waste-to-Energy bill >> https://www.bataris.org.ph/petitions/scrap-waste-to-energy-bill