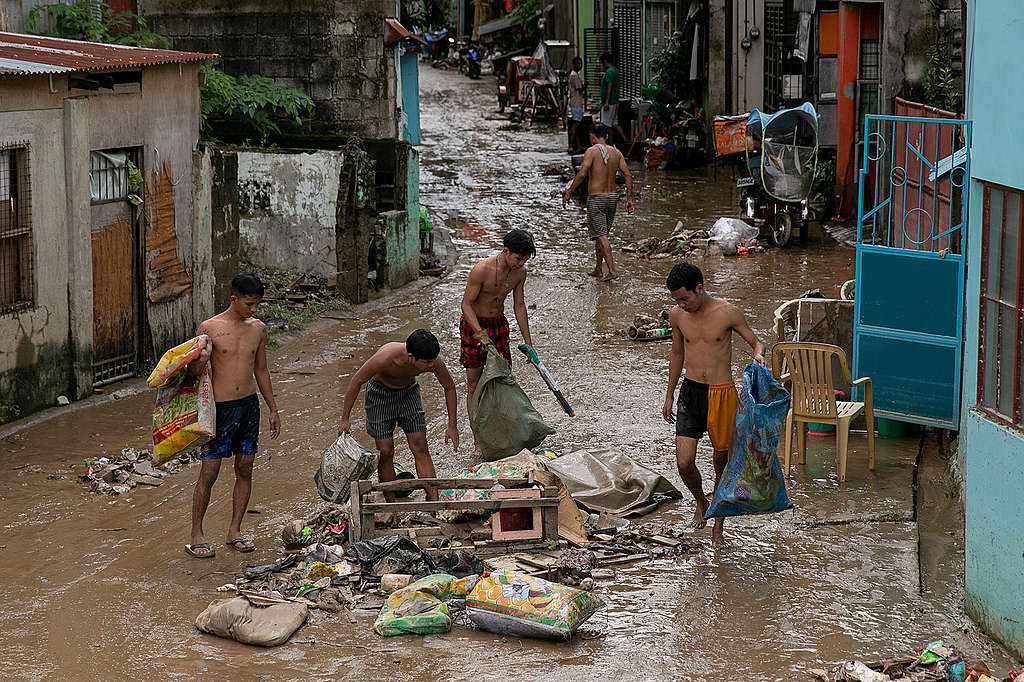 QUEZON CITY, Philippines (26 Sep 2022)—Supertyphoon Karding (Noru) struck the country on the eve of the 13th anniversary of Typhoon Ondoy (Ketsana). According to Pagasa, Karding is the third supertyphoon to have entered the Philippine Area of Responsibility this year. Earlier this year, Greenpeace warned that the Philippines is already a supertyphoon hotspot, and that data from the past six years has shown that out of the average 20 typhoons we experience every year, as much as six of these can be supertyphoons.
Greenpeace Philippines country director Lea Guerrero said:
"In a climate crisis, we need more than just preparedness. Supertyphoons and other extreme weather events have shown us that no matter how prepared we think we are, we always wind up getting the short end of the stick — counting damages to homes, lives, livelihoods, crops and infrastructure.
"Karding is the 14th super typhoon to make landfall in the Philippines since 2016. Scientists predict that we will continue to experience stronger and more frequent typhoons as global temperatures increase. If the climate crisis is our new normal, it's time to ask ourselves if this is something we want to merely accept and endure year in and year out — or if we want to call for accountability from those most responsible for carbon emissions, particularly fossil fuel companies.
"The Philippine government has already set out the Final Report of the National Inquiry on Climate Change, which gives solid legal basis for asserting that the climate-destructive business activities of fossil fuel and cement companies contribute to human rights harms. In backing up their verbal promises of climate urgency, our government must lead the call to hold the world's biggest climate polluting businesses, particularly fossil fuel companies, accountable — and prioritize long-term, coherent plans for climate action."
Karding, which swept through Central Luzon's farmlands during harvest season, also comes closely after TY Ma-On (Florita) which devastated farmlands in Northern Luzon last August, creating an additional strain on the country's food security. Last May, the Department of Agriculture warned of a looming food crisis by the end of 2022, and at present Filipinos are already feeling the pinch from rising food prices and shortages of supply.
Greenpeace says that the climate crisis will heavily impact food security, as well as other fundamental issues such as water, energy, health and poverty alleviation. The group is calling for the government for a coherent strategy that mainstreams climate action and climate justice across all local and national government policies and programs.
"President Ferdinand Marcos Jr spoke of climate justice just last week at the UN General Assembly, but his actions belie his words: we're seeing the rabid promotion of dangerous and expensive nuclear energy as well as fossil gas which both have no place in a world assailed by the climate crisis. Instead, he needs to ensure a just energy transition and live up to his promise of promoting renewable energy," Guerrero said.
"In the lead-up to COP27, he also needs to call on rich countries for more ambitious emissions reductions targets, more money for climate finance, and compensation for loss and damage."
###
Media Contact:
Maverick Flores, Communications Campaigner
Greenpeace Philippines | [email protected] | +62 9176211552