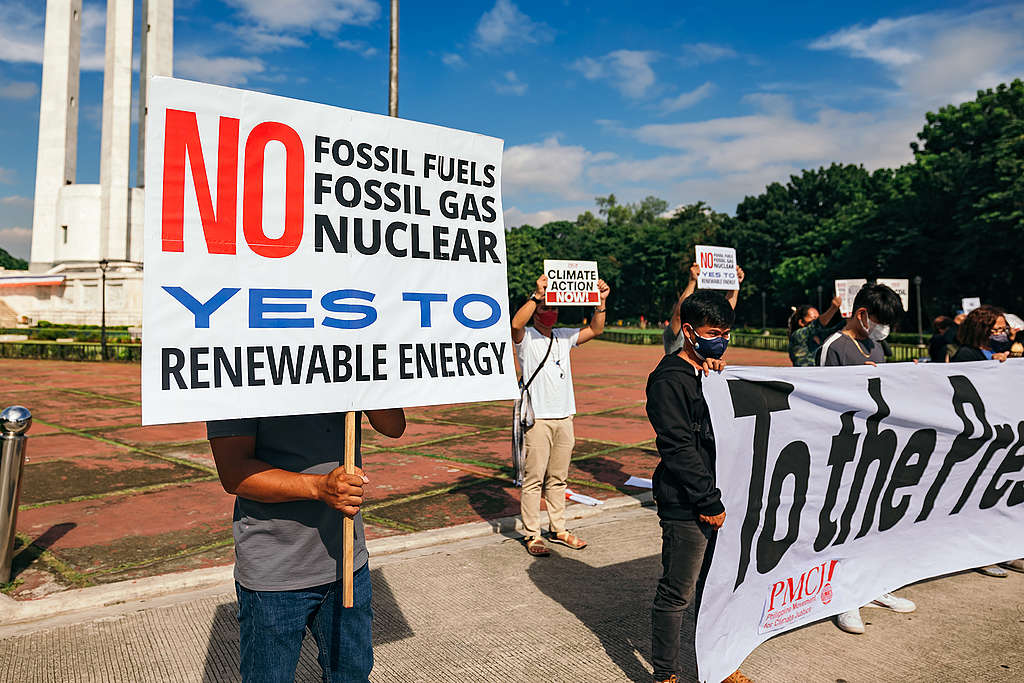 QUEZON CITY, Philippines (02 May 2023) — During a meeting with President Marcos Jr. in Washington, US-based nuclear energy firm NuScale expressed interest in investing over USD 6 billion (more than PHP 300 billion) in the Philippines, and is looking to conduct a study on the location of a potential site in the country.
Reacting to this, Greenpeace campaigner Khevin Yu said:
"We should be worried as nuclear energy companies are practically making the Philippines the guinea pig for untested risky technologies to promote their business, despite our country being highly abundant in safer and cheaper renewable energy. These foreign companies keep on trying to shift our country into nuclear energy to make themselves relevant again and we should not let it happen.
"For one, this goes against current progressive developments in the rest of the world, as many developed countries such as Germany just recently phased out nuclear energy. Risks related to nuclear technology remain unresolved. Small modular reactors (SMR) are still untested and unproven, and there is currently no way to safely store nuclear waste.
"Even if they actually succeed in putting up nuclear plants, it will take a long time before we are able to use it. Furthermore, we will be stuck with maintaining a ticking time-bomb, which will endanger the lives of nearby communities should an accident occur.
"Nuclear energy is an expensive and risky investment. Capital costs for building a plant is among the highest for electricity generation, and there are additional equally high costs for security and management, as well as decommissioning. Permanent nuclear waste storage and its management are perpetual costs that the government needs to plan for centuries, shouldered by consumers, and using taxpayer money.
"Ultimately, nuclear power is just not worth it when we already have a vast potential in wind and solar energy waiting to be tapped. During their meeting, US President Biden and President Marcos Jr. committed to expanding the countries' collaboration on renewable energy production. This needs to be the focus of the current administration. Instead of entertaining the expensive distraction of nuclear power, it would be much faster, cheaper, and better for Filipinos — and our environment — for the government to just focus on the transition to renewable energy.
"Our energy must serve the best interests of the Filipino people, not any other country, and certainly not the interests of corporations looking to expand their destructive profiteering."
###
Media Contact:
Maverick Flores, Communications Campaigner
Greenpeace Philippines | [email protected] | +639176211552