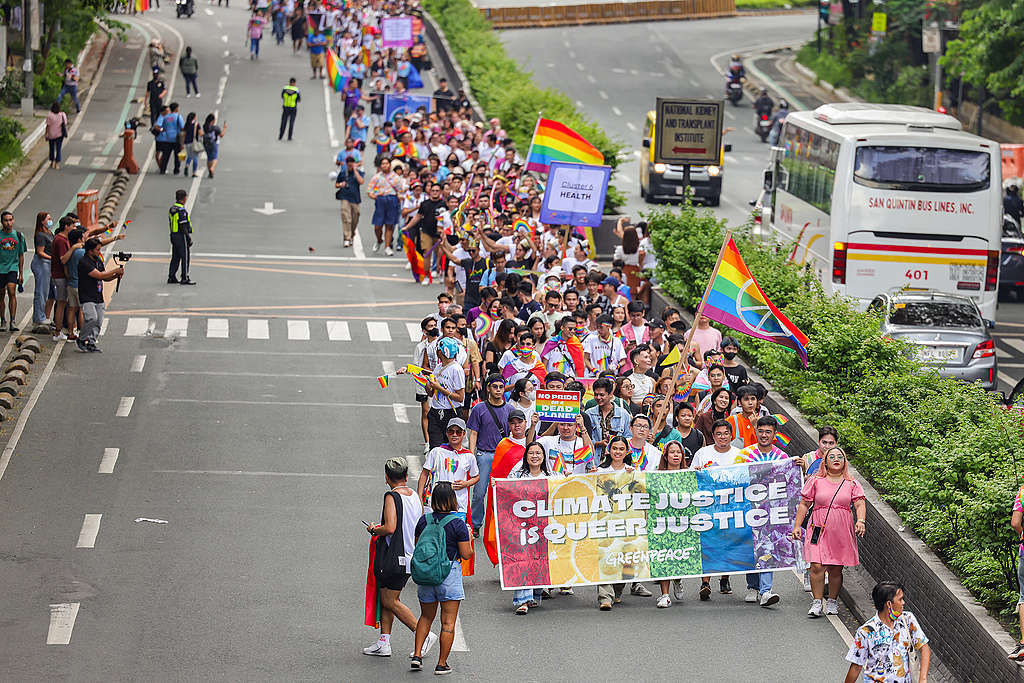 This is Greenpeace Philippines' second time joining a Pride March, and like last year, we bring the same call: Climate justice is queer justice. But what does it mean, anong konek?
On this day, we stand together in a struggle for equality and inclusivity—but with the backdrop of a global climate crisis, worsening by the day. The discrimination, inequalities, and injustices that marginalized groups experience in their everyday lives also occur during climate disasters–even magnified tenfold–when members of the LGBTQIA+ community are disrespected and mishandled, denied transitional homes, or are refused the same services given to "traditional" families during recovery and relief efforts.
For years, Greenpeace and climate advocates have been calling for climate justice. According to the Intergovernmental Panel on Climate Change, climate justice "demands fairness and equity in the way people are treated."[1] This means no one should be left behind when addressing the urgent issue of climate change. Our institutions must consider, if not prioritize, the concerns of sectors such as the LGBTQIA+ community when it comes to dealing with a crisis of this magnitude; this includes finally passing the SOGIE Equality Bill.
This is also why we are joining Pride festivities. Not only do we have a lot to learn from the movement when it comes to struggling for our rights, but we also believe that, with the LGBTQIA+ community's help, we can have a stronger voice calling for a just transition to a safer and more sustainable planet. We are one with this community in demanding a better future for all of us—where everyone is treated equally and, more importantly, is assured safety—but we can never be truly safe so long as the climate crisis continues as it is, and destructive corporations remain business-as-usual.
There is no pride on a dead planet. We have to build a future where our loved ones, and the next generations of Filipinos, will enjoy freedom without fear of it being snuffed out by the world we live in.
Like the rainbow flag, climate justice should not just be "green;" it must be everyone's fight, and everyone's victory. Let all of our colors quell the darkness of climate change, and our love outshine the black hearts of those greedily destroying our planet. Join our call: QUEER JUSTICE NOW. CLIMATE JUSTICE NOW.
---
[1] IPCC, AR6, WGII, SPM, supra note 281 (as cited in the Commission on Human Rights' National Inquiry on Climate Change Report).
Note to Editors:
Please attribute this statement/any quote derived from it to Greenpeace campaigner Eunille Santos.
Media Contact:
Eunille Santos, Digital Campaigner
Greenpeace Philippines | [email protected] | +63 9175411248
Maverick Flores, Communication Campaigner
Greenpeace Philippines | [email protected] | +63 9176211552