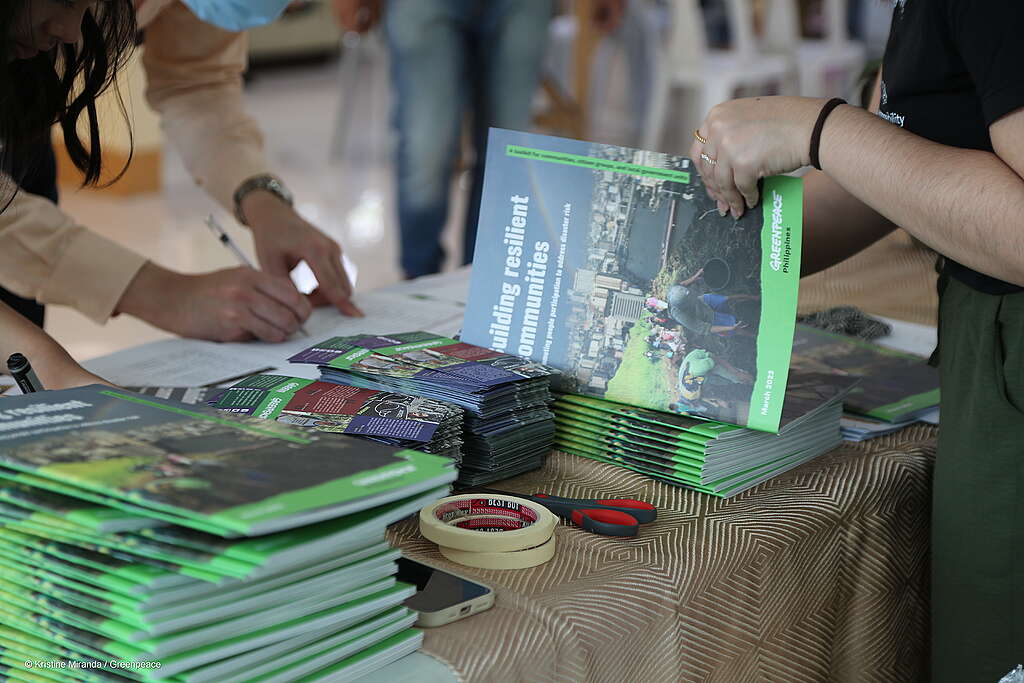 QUEZON CITY, Philippines — In time for the National Disaster Resilience Month, Greenpeace Philippines launched a disaster risk reduction (DRR) toolkit for communities, citizen groups, and local government units (LGU) titled, "Building resilient communities: Promoting people participation to address disaster risk," at the Community Center Building in the Quezon City Hall. The toolkit aims to show how empowered communities are an LGU's best defense in an era of climate crisis. 
The DRR toolkit was co-created with civil society organizations (CSO) such as Good Food Community, Tanglaw Kabataan ng Pinagbuhatan, United Architects of the Philippines, Kawayan Collective, Interfacing Development Interventions for Sustainability, Curiosity Design Research, Disaster Busters, Move As One Coalition, and with LGUs from Barangay Potrero, Malabon, and San Juan City Disaster Risk Reduction & Management Office.
The material features stories of hope, leadership, and community collaborations which produced localized solutions in addressing climate risk at the height of the COVID-19 pandemic. By laying out how these grassroots initiatives contribute to local resilience building, the toolkit hopes to provide a framework for action in implementing climate-friendly and people-centered DRR and climate change adaptation and mitigation (CCAM) practices at the local level.
"Being in a climate crisis means being in a constant state of emergency," said Greenpeace campaigner Rhea Jane Pescador-Mallari. "We need DRR strategies that support people participation and assert constant preparedness and urgency. In this toolkit, we showcase emergent, innovative, and grassroot-led programs and practices in order to inspire and motivate local government units and community groups to work together towards climate solutions and climate resilience."
The toolkit features 11 case studies from provinces and cities across the country, all of which showcase how DRR and CCAM programs benefit greatly from local indigenous knowledge and practices and localized solutions, via including grassroots groups in planning, fostering these partnerships, and enabling conditions that promote their growth.
During the launch, stakeholders highlighted the call for urgent climate action, especially in communities that have been reeling from the effects of climate change such as strong typhoons, the looming El Niño, and urban heat. Partner LGUs and CSOs shared their realizations and best practices on resilient food systems, sustainable shelter and housing after a disaster, inclusive mobility, people-oriented planning, and community-managed DRR initiatives. Aside from LGUs and CSOs, policy-makers and national government agencies (NGAs) were also invited to provide their insights on participative DRR policies and programs.
"Community-led resilience is the foundation for a thriving and empowered society, where individuals come together, harness their collective strength, and build a future that is resilient, sustainable, and inclusive," said San Juan CDRRMO Chief, Saripada 'Tong' Pacasum Jr.
The DRR toolkit is free to download from http://act.gp/drrtoolkit. The aim is to engage the public in building their own resilient cities and communities, and to encourage collaboration among government institutions, local government units and local community groups.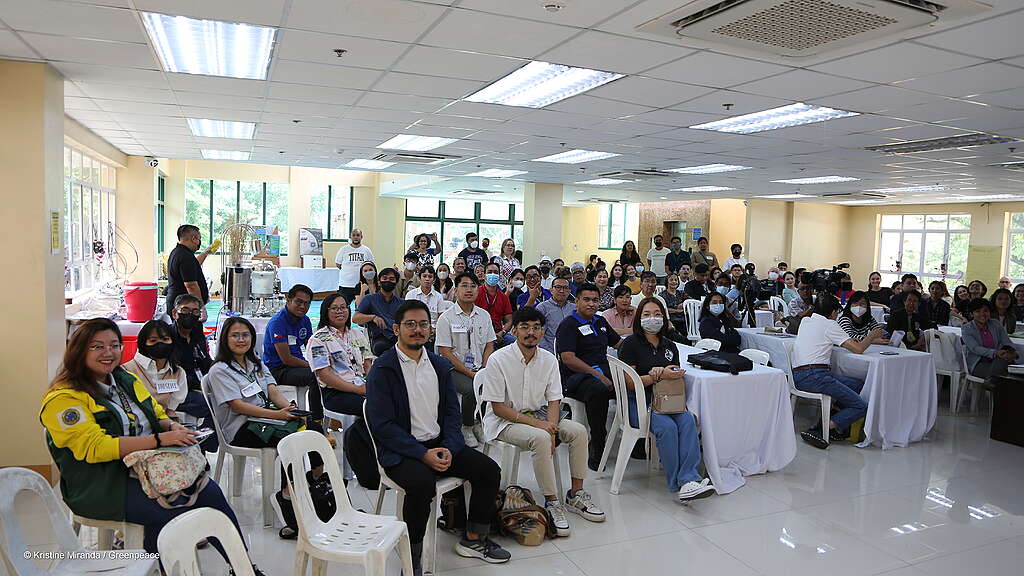 Mallari concluded: "In the future world we all deserve, Filipinos are able to mitigate the risk of being flooded, despite the heavy downpour, we can safely stay in our houses and eat healthy meals despite strong winds and typhoons, and we can have a reliable source of electricity during and after hazards. This will be a reality once every sector of society is involved, not just consulted; when the most marginalized are co-powered, not just supported; and when every Filipino's right to participate in the community is recognized."
---
Media Contact:
Karl Orit, Communications Campaigner
Greenpeace Philippines | [email protected] | +63 9194571064
JM Sagum, Communications Campaigner
Greenpeace Philippines | [email protected] | +63 99989659573