#Climate
#Justice
Demand Climate Justice
Filipinos are enduring the worst impacts of climate change, caused by greedy corporations. It's time to hold them to account!
TAKE ACTION
Climate change is personal. This was the common and very clear message that the first-time filmmakers from Eastern Visayas voiced in their entries to the very first Climate Justice Short Film Festival, entitled "Lamrag: Stories of Hope and Inspiration in the Time of a Changing Climate".
Seven short film entries had a free screening at SM Megamall Cinema 12 on Earth Day (April 22nd), and attracted people from all walks of life. Many were film enthusiasts, while some were eco-warriors.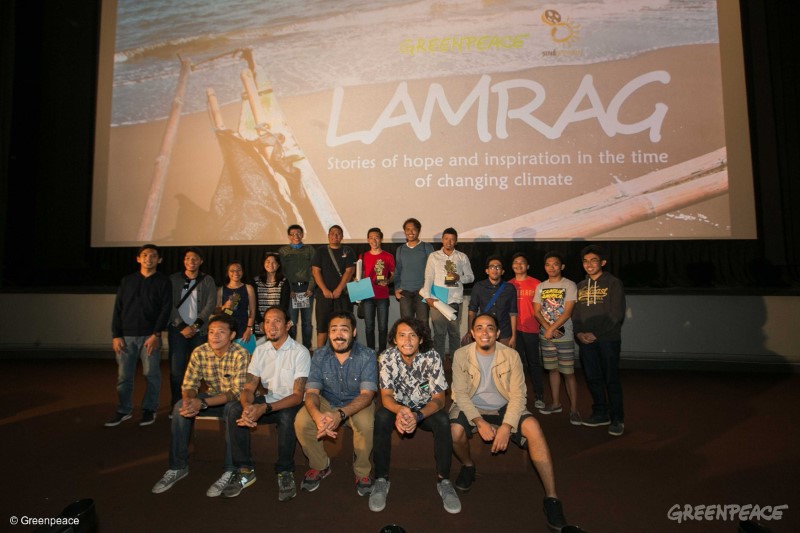 For many, climate change is an abstract concept–something to do with the sudden rise or the dip in global temperatures. But for a good number of Filipinos, climate change is seen and felt during extreme weather events that either trigger super typhoons, or devastating droughts.
For the vulnerable sectors of society, climate change brings with it harsher and unreliable weather patterns that oftentimes result in hunger, hardship or death. From recent years, this has now become our new normal, hence the need for the Philippine government to end the country's dependence on dirty and polluting fossil fuels that cause global warming.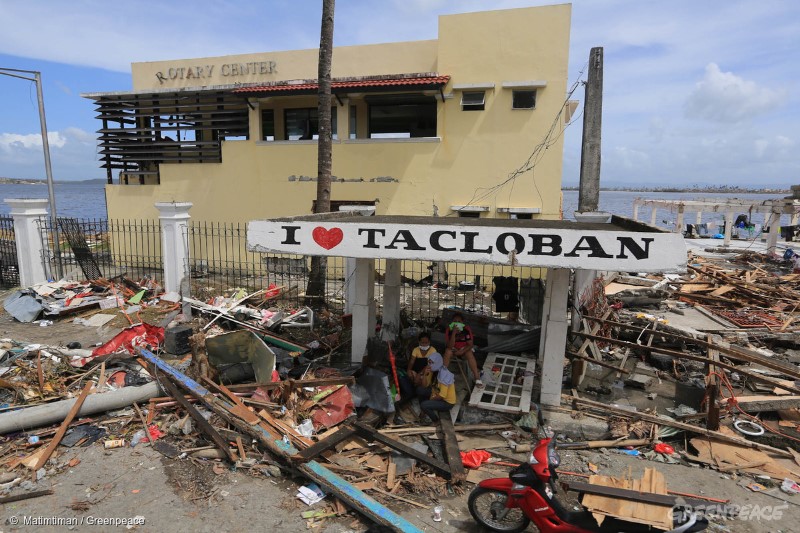 Eastern Visayas is a hotspot for extreme weather events. There was tropical storm Uring (internationally, "Thelma"), which claimed more than 8,000 lives in Ormoc in 1991. And who can forget super typhoon Yolanda ("Haiyan"), characterized as the most devastating storm to ever make landfall in recorded history, that killed more than 6,000 people?  But in true Pinoy form, these filmmakers that have been changed by climate change, want to focus more on moving forward and learning from the past instead.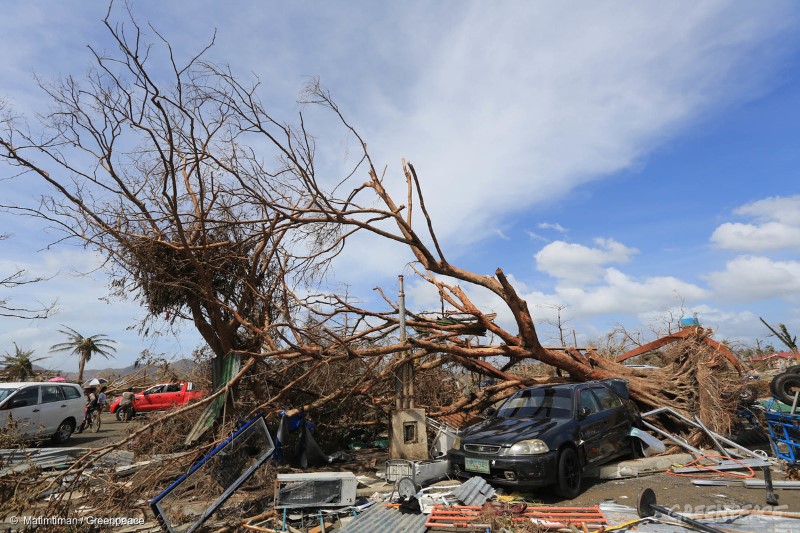 "The things we see in the films being screened [in this festival] are uncommon. I am thankful that my work got included, because our films serve as a reminder to the current generation: we have to look at the past to understand what is happening now," says newbie director Jonas M. Juntilla, speaking in his native dialect. His short film, "Gugmang Walay Sukod" (Love Without Measure), which focused on the personal losses experienced by individuals who lost friends and family to Uring, as well as to Yolanda, received both the "Best Human Portrait" and "Best Film" awards in the Festival.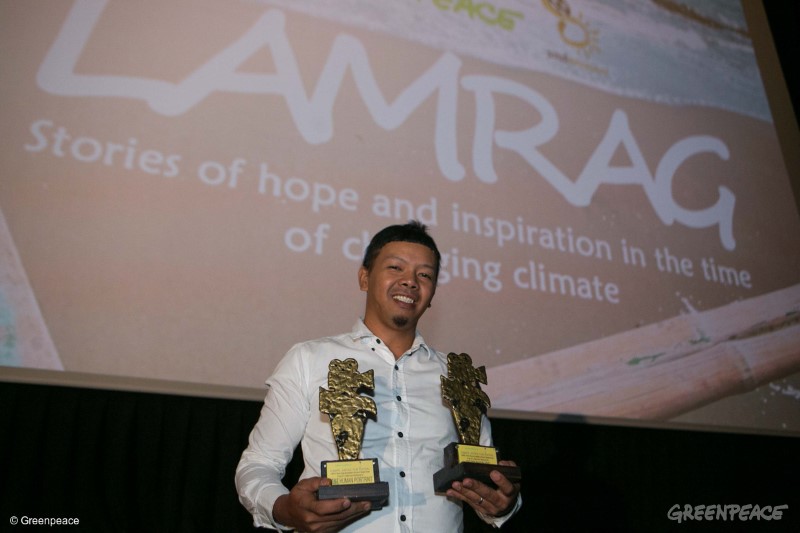 The films screened were mostly the product of a workshop held in Tacloban in November 2016, incidentally held during the  anniversaries of both Uring and Yolanda. The workshop was organized by local filmmakers' collective, SINErangan, and supported by Greenpeace Southeast Asia- Philippines.
"Our view of the world is changing because of climate change. And if history, as they say, is written by the victors, who wins with climate change? What we want to make sure of is that people from impacted communities find their voice, so that humanity's story isn't shaped just by those entities who are most responsible historically for carbon emissions, the main cause of climate change," said Desiree Llanos Dee, Climate Justice Campaigner of Greenpeace Southeast Asia – Philippines.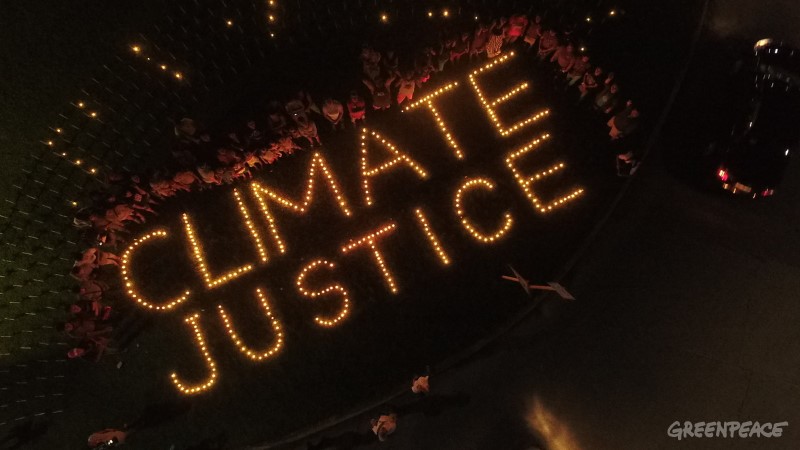 Greenpeace observes that, in the absence of psychosocial services that would have helped the millions affected by events such as Yolanda, people are turning to sports, culture and the arts, not only to help them deal with the trauma and making some sense of their experiences, but also to tell their stories and send their messages to the rest of humanity.
Stories about Yolanda, for example, have been told by journalists and other people visiting Eastern Visayas. But, more and more, it is the people from the communities themselves who are now telling their stories.  The tale of climate change is far from over, and our generation has to make sure the voices of the people are heard. The films screened during this first ever Climate Justice Film Festival in the Philippines reveal just a handful of many stories yet untold. But one common message is clear: we have to be the generation that says 'no' to climate change because lives, livelihoods and ways-of-life are at stake.