We all know about Patreng Non and how she sparked the community pantry phenomenon with her Maginhawa Community Pantry about a month ago. It was a simple, brilliant idea that prompted thousands of similar efforts across the country in a matter of days! But the question that has probably crossed our minds is: how long will it last, and can it create lasting change?
Perhaps the answer lies in the real experiences happening at the micro level, in each neighborhood where a pantry has been put up. After all, the community pantry characterizes and demonstrates local, decentralized solutions, collective action, and of course, the Filipino value of bayanihan—which becomes most apparent within communities. So we talked to some organizers to ask them about their story, and what they think should come next.
When Kris Zoleta took the initiative to put up a simple pantry in their area with items she could find in their own pantry, she didn't expect that other members of the community would step up to support her. Now she's witnessing an active "ecosystem," in her words.
Tell us something about yourself.
I am a marketer by profession and my chosen and beloved industry is healthcare. This pandemic season is so far the most exciting and challenging time in my career. We never stopped working while most were on WFH arrangements and though I am not a physician, I am glad to be part of the front lines in my own capacity. I am glad that I can be of service during this crisis.
What made you decide to start a community pantry in your area?
I've heard of a similar initiative years before the pandemic started. I don't remember which country exactly but the concept was the same. Someone left a cabinet in a corner with fresh produce, canned goods, and other food items. The neighborhood can drop their excess or clean leftovers for the homeless to take. It never left my mind and it made an impact on me. I always thought of it but I just didn't know how I'd execute it here. Admittedly, our culture is different, and I wasn't sure if it will be understood.
But fast forward to Ms. Non initiating it with a cart in Maginhawa. I finally said to myself, "This is it! Kaya dito sa Pilipinas. Now or never. Bahala na!" Immediately after seeing it on the news, I started visualizing it for my community of choice. And three Sundays ago, I started the A.T Reyes St. Community Pantry.
Can you share your experience in organizing a community pantry?
I started really small. It was my own money and I had a mindset: I'm willing to cover the first 2-3 days. If it will not be replenished and if no one will help, I will stop. I still have other ways to help anyway, but to run the CP, it must be sustainable and it must be supported by the community itself.
The first day was really simple: a dozen eggs, 8 packets of rice, 40 pieces okra, a few biscuits, milk and choco milk sachets, and canned goods that I got from our own pantry! It was really just a few items and it was gone in less than 30 minutes! The pantry concept wasn't even that viral yet. People were just passing by, some were saying "nahihiya po ako kumuha."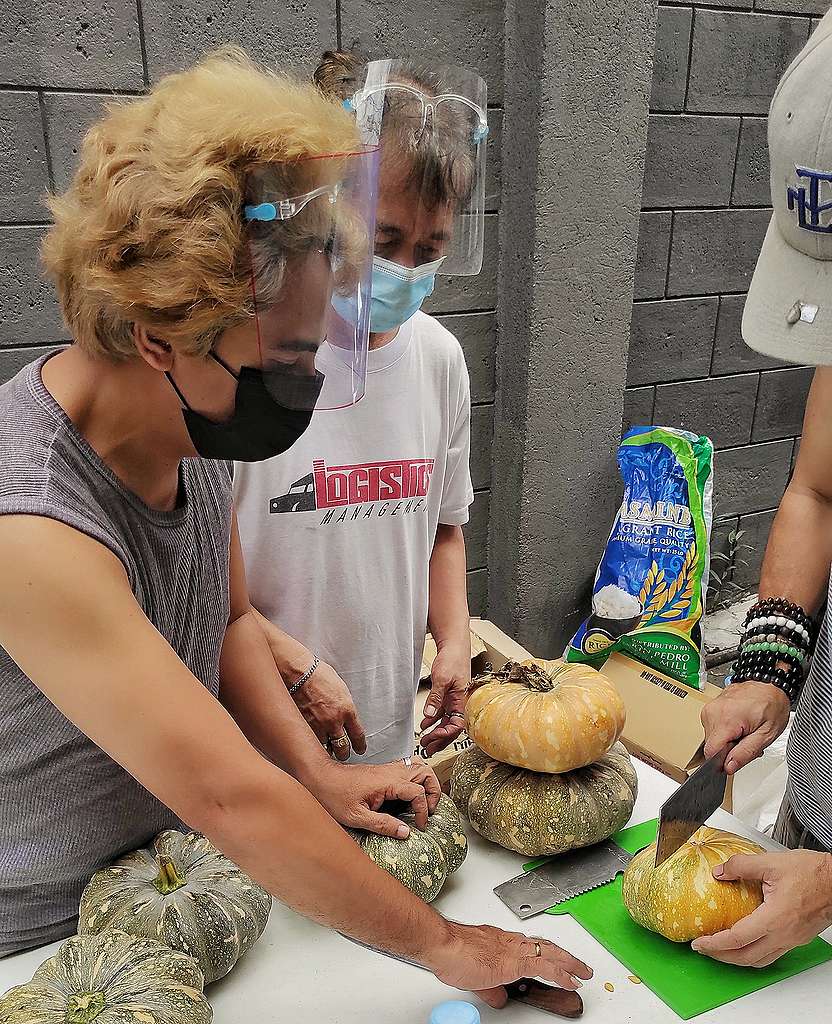 Basically, not everyone knew what it was about. I was even the one persuading people to get from the table. But in the past 11 days of holding a CP in two locations and also sharing to other CPs what I'd receive in ours, the biggest learning is this: JUST CONSCIOUSLY MAKE IT EASY. Avoid complicating things, and be guided by paninindigan, malasakit, and tiwala sa masa. 
What have been some challenges and solutions?
I keep it fuss-free and easy or else it won't be sustainable.
I work full-time, in healthcare. So I open the pantry at 7am, but I also have to be at work between 9 and 10 a.m.. If I complicate it with repacking, printing stubs, assigning pointing systems, etc., then it will be hard for me. So even if the pantry has volunteers, I am still the one who picks up the rice, eggs, & produce after work. I take care of storage and allocations. I have to make daily budgets to ensure the donors' hard-earned money will also go a long way. So if I make it complicated, I might get burned out.
And we also have to empower and trust our beneficiaries. I refuse to tolerate the dole-out mindset that they have been so used to. Honestly, ayoko yung sinasanay sila sa stubs, na pinapaayos na nasisigawan, naka-plastic na (ration) etc., because that takes away their dignity. Nakakababa ng sarili yung ganun, parang palimos. So what we do in our pantry is we ask them to form a line (inevitable naman yan,) and we talk to them. They are individuals with a capacity to hear out explanations, empathize, and understand. So we say to them that we will try our best to give something to everyone. I always go to the end of the line and say, "pasensya na po sa nasa dulo haa.. baka itlog or bigas na 'lang' po, wala nang gulay". And to my surprise, their response is so heartwarming. "Ok lang po! Kahit ano po! Malaking bagay na po yan!"
They're very grateful. They're not one bit disappointed. You really just have to explain and go the extra mile to educate. Their positive response is the opposite of what happened when one time, we tried to implement a cut-off. There was a bit of confusion & ruckus. Others pleaded that we allow them "na magbakasali" in the hopes that some of the produce will still reach the end of the line. It was magulo and I really felt bad that some have to beg to stay.
From then on, I reverted to my original policy: no cut-offs. I'll give them the chance to learn and understand that we have to leave some for the person next to them, and even have enough left to reach the last person. #TiwalaSaMasa and so far, it has been our best strategy. They get to have their own realizations and we have to guide them.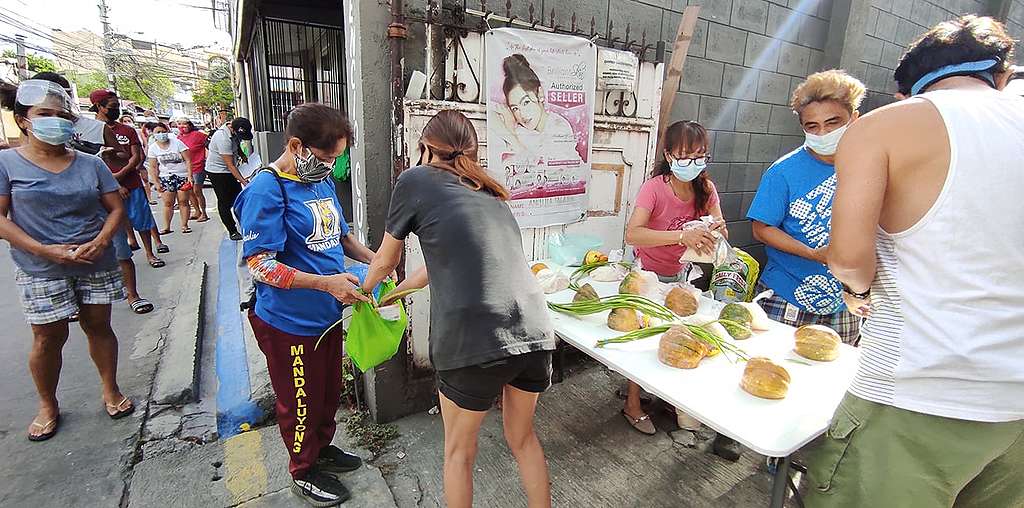 Also for our pantry, we don't have grand materials or artwork. We don't have a Facebook page, and neither are we operating under an organization. It's just me, my family, and the volunteers. I have been using a cartolina with my faulty handwriting. It's just a small pantry with two borrowed tables and a simple signage. I have nothing against well-designed posters—it's actually good to have those— BUT this is what works for us. We keep it simple, but the effect is grand. Overflowing goods with a very efficient system. I used to serve less than 50 people in a day, now we can accomodate over 300, have an annex site and even have so much to give for the next day. I am now even arranging deliveries for other pantries through the Philippine Air Force. I buy the produce, and then they pick up and deliver to various CPs.
2. One ulam per day
I used to stock the pantry up with a variety of options. The effect was that people got more of each, and we fed less. So with the concept of one ulam per day, we get to maximize the budget without scrimping. Say for example, for a ginisang sayote day, we serve: onions, garlic, tomato, sayote, rice, and egg. For a tortang talong day, we give more eggs, eggplant and rice. It's really simple but it makes the pantry more efficient and more families are served.
3. Be accountable and transparent
I post on FB & IG not to ask for donations but surprisingly, people from the community (people I don't personally know), friends here and abroad, previous bosses, strangers on the internet, etc. are giving donations and are even dropping off so much produce. I am bewildered by the generosity of people. It's overwhelming when I receive P 10,000 or a truckload of fresh vegetables from people I literally do not know! I think generally, everyone wants to help but they want to see where it goes and how it happens.
Through my posts, people are encouraged to share, since they know I am holding myself accountable for every single centavo, and they see that I personally manage it. They see me coordinating with the barangay, police, and even gaining the volunteerism of the community itself. Now because of the many donors, my posts are also my "receipts" for them. I want them to see how we value their donations, and that we are doing our best to avoid the typical issues surrounding CPs and CP organizers.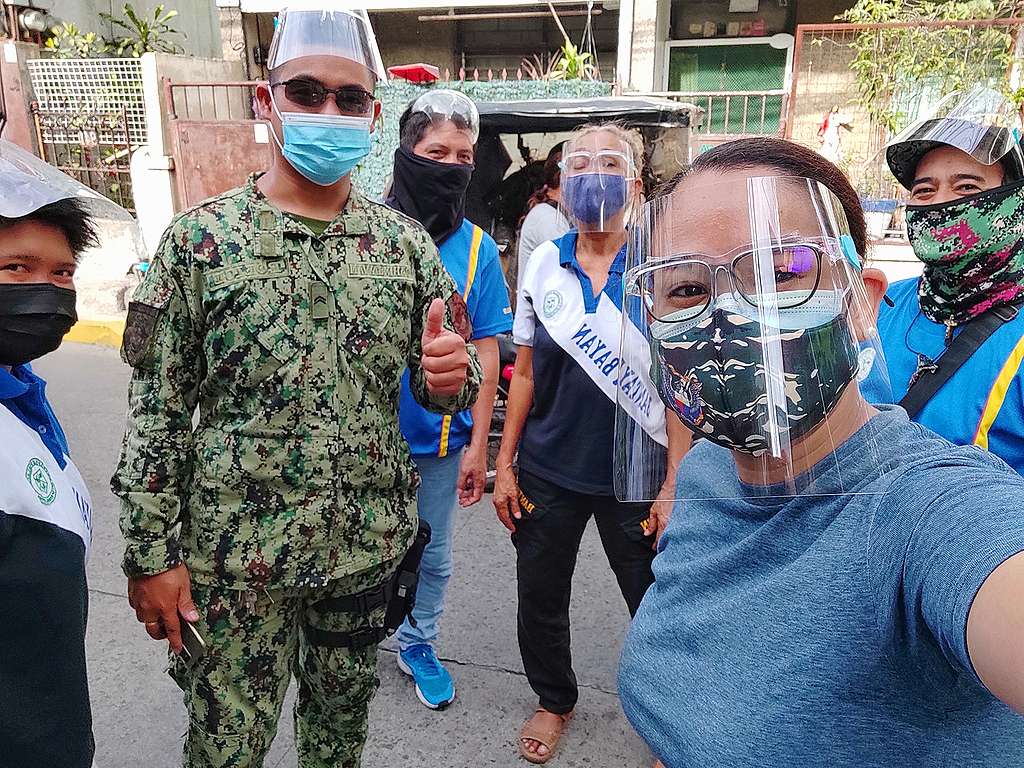 4. Make an ecosystem that supports the entire community
I buy from the nearby talipapas and wholesalers instead of the grocery. We just bought almost a whole day of sales for a pineapple vendor, and we're lined up to do the same for the taho vendor. Our volunteers are from the neighborhood, the tricycle drivers and barkers are our "bantay sa pila" (line ushers), the street sweepers help us clean after the food waste (leaves, stems, etc). My goal is to uplift the entire community starting with simple and small steps. It's modern bayanihan.
5. God and country
It's very easy to take credit for the work that we do. I can manage and talk about the initiative BUT I always focus and remove myself from the CP. I believe that we are growing to this scale because we are able to glorify God. We tell them not to say thanks to us, but to God. When they ask us when the next CP us going to open, we tell them to pray for more donors. We share bible verses and biblical teachings to them. I personally focus on the mission of serving this country and glorifying God in all we do.
Any memorable experiences/learnings so far?
Well, this entire experience has been amazing. But I think the part that is most memorable for me was when I realized that this was already getting bigger than how I imagined it to be, and that every time I feel like we were running out of funds already, someone or several brands will contact me to deliver goods or donate to us.
I admit, I was a bit pessimistic at first so that I could manage my expectations. I thought it would last 2 days only, at most 3 days, and that all of it will just be from my own pocket. But again, God is good and people have been so generous. People want to give. So don't be afraid to step up for them if you think you can do it. Start a cause or advocacy, with no expectations first and maybe you'll be surprised with the help that will come.
Beyond the community pantry, what's next? What should be done by the government or other sectors?
Easier said than done as they say, but the government must first assess itself, cleanse, and restock. An organizational overhaul is the best way to ensure that from the LGU to the top ranks, we will be getting the same efficient and productive response.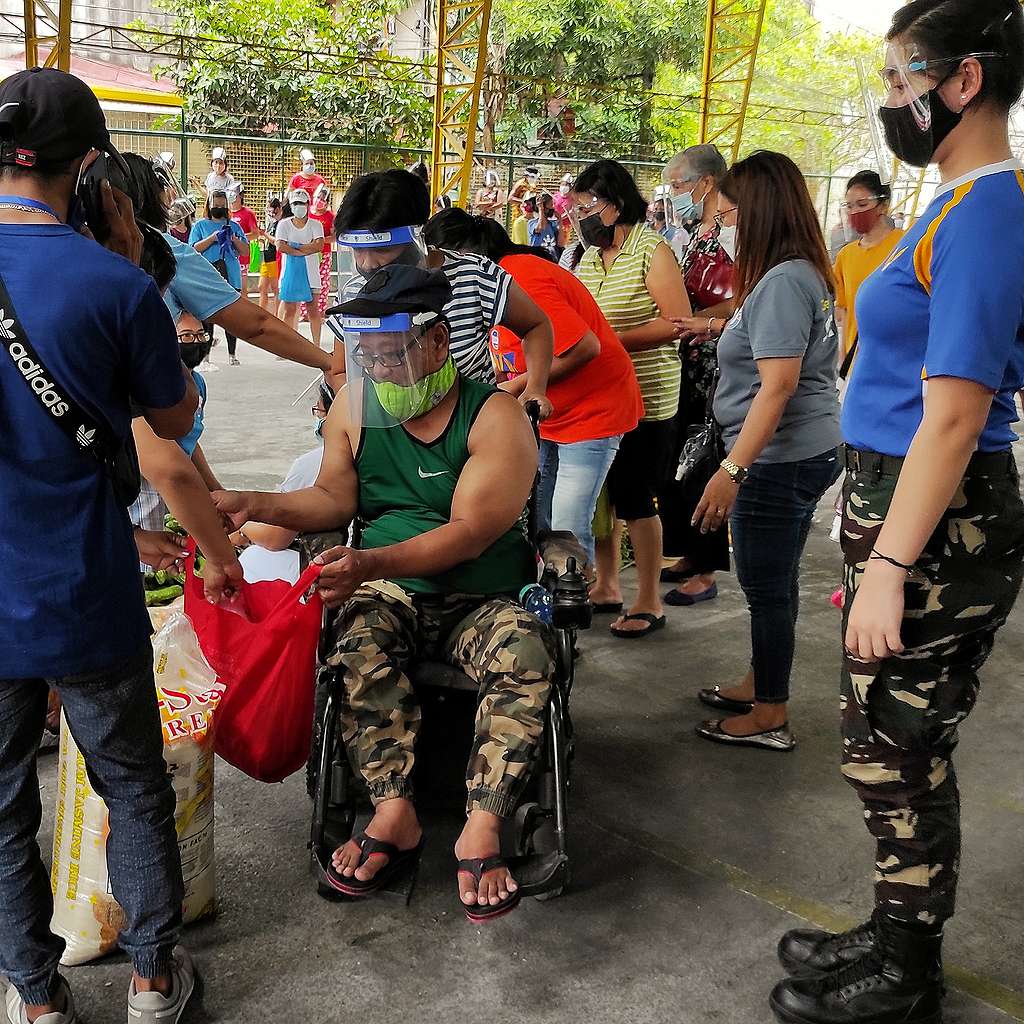 Unfortunately, we've been stuck in our old system of traditional politics, and it has been affecting the provision of services to people. Projects are hampered and bureaucracy has been causing unnecessary delay. If only our agencies are full of like-minded people who are strategic, principled, and have foresight. We will have upgrades left and right, our solutions to our nation's problems will be long-term, and we wont focus on the personalities rather with platform and stance.
It doesn't even have to be drastic. A public service culture change can be implemented from top to bottom, then couple that with an empowered voting population who will elect strong and qualified politicians. We've seen it in other cities who are headed by politicians of good governance. It can be done, and the benefits will be immediately felt by the people. Remove old habits and replace it with a progressive mindset—it is my dream for our generation and the generations to come.
---
To donate to the A.T. Reyes Street Community Pantry, send a message to Kris Zoleta on Facebook.
Support the youth's call for decentralized, sustainable solutions by signing the Better Normal Youth Agenda here—it'll just take seconds!