Last month, members and supporters of lesbian, gay, bisexual, transgender, and queer (LGBTQ+) community celebrated Pride month with the theme #ResistTogether, conveying that beyond an observance, it is also a form of protest.
The Metro Manila Pride march beat its own record in 2018, with 70,000 marchers this year. It sparks much optimism seeing woke Filipinos taking a stand, despite the shrinking democratic space in the Philippines.
Just as uplifting are the youth-led climate strikes sprouting in different parts of the country. It might seem like a totally distinct effort from the LGBTQ+ movement, but they are actually intertwined. For some, like Joshua and Marvin, they are one and the same.
Joshua, LGBTQ+ and environmental activist based in Bacolod City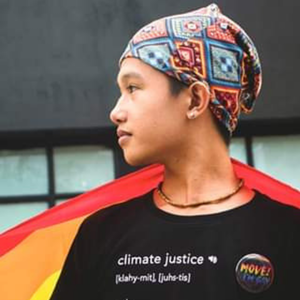 What did you struggle with as an LGBTQ+ in a climate vulnerable country? Did you ever feel marginalized/discriminated?
Being marginalized is a twin of being a member of the LGBTQIA+ community. As soon as you decide to go out/showcase non-heteronormative traits, you should expect that marginalization and discrimination will storm you. Every member of the LGBTQIA+ community has their unique stories of struggle about being marginalized and discriminated – both in small and large scale. For me, small scale discrimination happens from person to person, like the most common verbal abuse. However, what's worse is the large and organized discrimination brought to us by institutions, and the government. It should not be this way, but it is, for now.
Living in tone of the most vulnerable country, and being poor, making me more vulnerable to the impacts of climate change – I'm triple dead. But I can't and I won't back down. Ika nga, "ang beki ng bayan, ngayon ay lumalaban." In times of climate crisis, the movement in calling for climate crisis and gender liberation (specifically in gay rights and anti-discrimination) should go hand in hand. If climate justice campaigners really believe in the concept of justice they speak of, they shall, too, join the call for gay rights. And vice versa. Movements aren't exclusive, considering gay people are one of the most vulnerable to impacts of climate.
Given your journey, what do you wish you told yourself?
I wish I was able to tell myself to prepare myself for the storm – metaphorically and physically. Haha. Physical, as the Philippines experiences an average of 20 typhoons a year.
What change would you ask for?
I would ask for a more understanding and considerate world populace. Where developed countries would decommission their carbon emissions to give us a future. I will still ask for justice both for the victims of man-made climate catastrophe and victims of hate crimes. I also join my community in urging the Philippine's legislative body to pass the SOGIE Equality Bill and Same Sex Civil Union.
What inspires you to move forward? What makes you hopeful?
There's a lot. But most of the time, it's the people who I fight for- which includes myself. I always get my inspiration to the people who were left behind by the society. I am also inspired by the people ahead of me who fought the battle im into like Marsha P. Johnson and Sylvia Rivera of the gay liberation movement, and ofcourse Dr. Romana de los Reyes, Junjun Mojica, Fr. Chris Gonzales, Bp.Gerry Alminaza of the local environment and anti-coal movement.
What can the climate movement learn from the LGBTQIA movement?
Rebellion can effect change. What sparked the gay liberation? It's the uprising. It's the time of understanding that "Oh wait, why do we suffer more than you?"The gay people we're marginalized in the early times and the marginalization and discrimination continues, but they didn't just allowed them, they fought back.Same with the climate movement, especially in the call for climate justice, developing countries should lead the call for equality and fairness. Because we, the developing countries are experiencing more of the effects of climate monster, and we shouldn't just allow that.
As all movements start from scratch, there will always be haters, deniers, and apathetic people who will judge and comment negatively on the movement, but as long as we know to ourselves that what we fight for is right, we should not back down.
The gay liberation movement has a lot of legacies like the same-sex marriage in US, and other Western countries, the movement also empowered the LGBTQIA+ community to fight locally and assert their rights and many more.The same is through with the climate movement, many countries have already submitted theirselves to follow agreements that will safeguard the future. Somecountries are decommissioning coal already.
Marvin, environmental activist and member of the Pride team in Iloilo City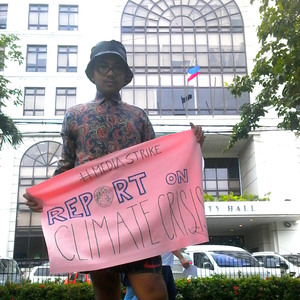 What did you struggle with as an LGBTQIA, in a climate vulnerable country? Did you ever feel marginalized/discriminated?
As a queer person, i have not yet felt inequality regarding being affected by the climate crisis. We are all in the same boat but in the future, i'm almost sure that we will not be on the same level as heterosexuals when it comes to the priority of the government since we are still not recognized and given the same benefits (i.e. civil unions etc).
There have been cases of LGBTIQ individuals and couples who have been deprived of services such as housing and food aid simply because they are not considered as a family unit nor a priority.  Theses have been found to happen especially after typhoons in evacuation centers.
Given your journey, what do you wish you told yourself?
I tell myself (after many long years of questioning) that i was born this way and it is other people who are overzealously religious who are abominations (probably because they live unfulfilling lives) as in nature, many animals are homosexual. Religion has caused so much destruction of the environment in the name of values!
What change would you ask for? 
I would ask that people concentrate on the fact that we are having ecological breakdown because of our sins as a species (overpopulation and undereducation supported by corrupt politicians so they can stay in power) and not any of that is to be attributed to people who are "different". Policies should be serving the people and the environment, not corporations and ulterior motives because that is unfair and the catastrophes will disproprtionately make the lives of innocent poor people even harder even if big industries worsened climate change.
What inspires you to move forward? What makes you hopeful?
When i feel unhopeful, i just remember my nephew and other children who may not have a future because of the selfishness of the financial elite.
What can the climate movement learn from the LGBTQIA movement?
It is a challenge to be eco chic but it can be done. Refuse, reduce, reuse, recycle. Upcycle. One just figures things out day to day, moment to moment, one challenge at a time. The movements for ecological and gender equality are far from over. We need the church to evolve for the people and not just for those in power. We need to respect the environment because we are not separate from it. Each piece of plastic (including cigarette filters) on the ground is a blight on our bodies and the rest of our wellbeing. We are all irritable because the world is imbalanced. We have to do better as a species and mostly that means demanding we be served by public servants instead of the the other way around.