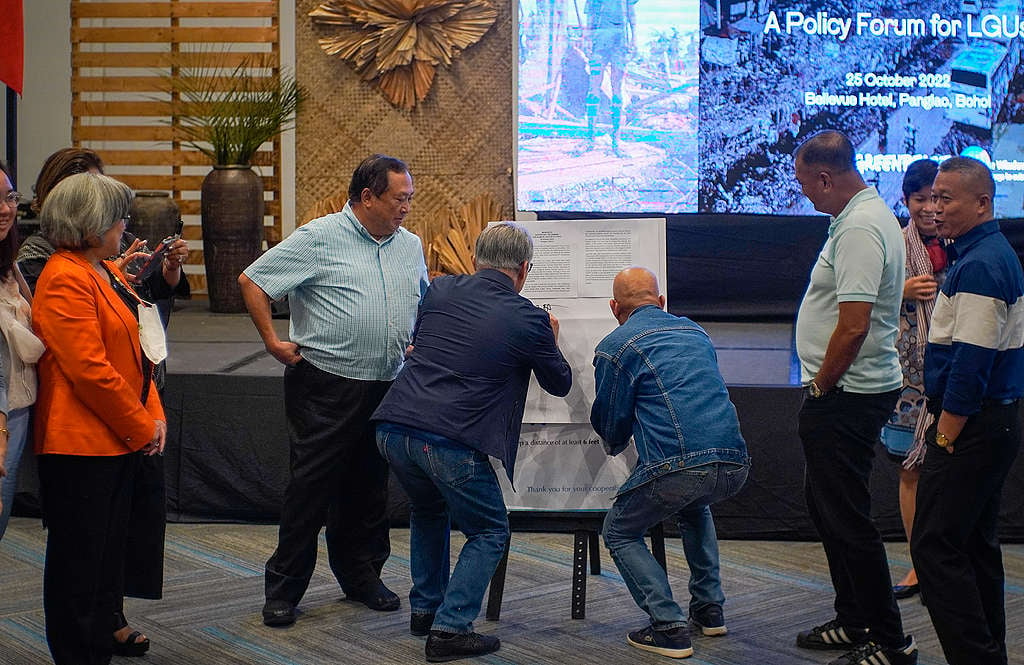 We, mayors and legislators from the Philippines, together with members of frontline communities of the climate crisis from various parts of the country, are joining the demand for climate justice at the upcoming 27th Conference of Parties (COP 27) of the UN Framework Convention on Climate Change (UNFCCC), and in future climate negotiations.
Over the last years, our towns and cities have been regularly experiencing the brunt of climate impacts, and it is getting progressively worse. In these past two months, we have already witnessed a series of devastating storms and typhoons[1], causing billions of agricultural damage and claiming the homes, resources, and even the lives of our fellow Filipinos.
This is not just a one-time occurrence. The Philippines recently ranked first among disaster risk hotspots in the latest World Risk Index, which measured risks from extreme natural events and the effects of the climate crisis. Furthermore, as climate change worsens, experts believe that extreme weather events like the typhoons we are experiencing will be more frequent and much more devastating.
As leaders in a country extremely vulnerable to the climate crisis, it is our duty to protect the interest and welfare of the people. This entails calling on our national government and other nations to address the climate emergency at its roots, and demanding accountability from the biggest climate polluters for their significant contributions to this crisis.
Just this year, the Commission on Human Rights of the Philippines (CHR) released its report on the National Inquiry on Climate Change (NICC). The report declared that the climate crisis impacts our fundamental rights—to life, health, food, shelter, etc.—and established that corporate polluters must be held accountable not only for the damage they have done, but also for obfuscating crucial information on their destructive practices.
Thus, we call on the decision-makers and stakeholders at the global climate negotiations to listen to the demands of our people—hold these destructive corporations accountable, and make them pay for the loss and damage dealt to vulnerable communities, in the Philippines and across the globe.
---
[1] Severe Tropical Storm Florita, Typhoon Maymay, Super Typhoon Karding, Typhoon Neneng, Tropical Depression Obet, Severe Tropical Storm Paeng
Cong. Edgar M. Chatto
Rep. 1st Dist. Bohol, Chairperson, House Committee on Climate Change
Mayor Alfredo Arquillano, Jr.
San Francisco, Cebu
Mayor Galicano Truita
Municipality of Dauin, Negros Oriental
Mayor Maria Puresa Veloso Chatto
Municipality of Balilihan, Bohol
Mayor Roman Bomediano Bullen
Municipality of Dauis, Bohol
Mayor Edito Saludaga
Municipality of Lavezares, Northern Samar
Vice Mayor Trisha Chatto
Municipality of Balilihan, Bohol
Board Member Anabelle Tangson
Province of Aurora
Board Member Melchor Mergal
Eastern Samar
Councilor Merlita Gaudiel
Bayawan City
Councilor Nonie Lou Eunio
El Salvador City
​Councilor Quin A. Cruz
Philippine Councilors League, Pasig City
Mayor Javier Zacate
Sulat, Eastern Samar
Board Member Virginia Zacate
Province of Aurora
Councilor Nadja Marie Vivencio
Malabon City