Five Women Making History Today
We are only in the first week of Women's History Month, and in Tacloban thanks to Balangaw: the Climate Justice tour of the Rainbow Warrior, I have had the luck and honour of spending time with some outstanding women who bravely shared stories of their struggles, hopes, fears, and dreams. These conversations summoned the last stanza of Maya Angelou's poem, "A Brave and Startling Truth" which has been echoing in my ear for days:
When we come to it

We must confess that we are the possible

We are the miraculous, the true wonder of this world

That is when, and only when

We come to it.
There has been progress for countless women and women's rights all over the world in recent decades, at varying paces, in different realms of life, from voting rights to reproductive rights, education, work, marriage, even driving. And there is much further to go. But it is worth remembering that it took generations of women like these: sharp of mind, large in spirit, courageous and caring, sometimes tired, and nevertheless persisting. Women like these five who took the hands of the giants who came before, working from where they were — be it in the courtroom, the convent or the classroom — with whatever they had to reshape the world around them.
1. Sister Helen Macabingkel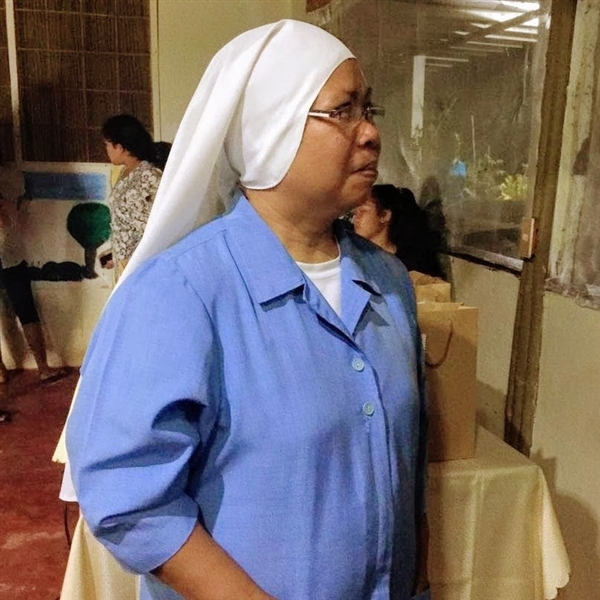 Sister Helen Mackabingkel of Nazareth Farm. Photo by Amrekha Sharma

"Please follow me, we can walk, it's not too far from here. And it will be hard for your bus to turn around", Sister Helen gently beckons.
The green undulating hills that are home to Nazareth Farm and convent are awash in the pearl veil of a full moon for miles around at 7pm. My eyes are bent on the moist dirt ground, by the white coin of light from a mobile phone torch, and I am carefully putting one foot in front of the other. I can only see a step or two in front of me. Sister Helen leads the way with one flashlight, and one of the girls who lives at her convent is somewhere in the middle of the pack bearing another torch, as we wordlessly descend a path that is sometimes narrow, pebbled and moist dirt track, and sometimes stone steps, pulling the odd branch out of the way. In single file, like a centipede, amid chirps of night birds and crickets, we walk down to the small convent where Sister Helen Mackabingkel resides.
"Well, doesn't this feel ever so slightly Biblical", I muse at our situation. Thirty of us from around the world: Greenpeace colleagues, Rainbow Warrior crew, with a few international guests, obediently following a nun in her blue habit and white veil, as we descend into a valley by light of the full moon, only able to see the next footstep, towards a convent, where she will feed us hungry souls the refreshments that she and her young charges have prepared fresh for us today from the organic produce of her farm. You do not read much about such nuns in the history books. Yet.
As we enjoy scrumptious homemade pasta and local treats made of coconut, rice, and camote (sweet potato), Sister Helen tells us more about how she got into farming and building this convent for mothers and children. She and another sister started this convent and the farm nearby as a response to the needs typhoon Yolanda (or Haiyan) left in its wake: mothers who were left without livelihood; girls and boys who needed a little extra support after the trauma of the typhoon, and with their day to day living and educational needs. She and another Sister started with nothing, she tells us, and did not know where the rest would come from, but she had faith what they needed would come. Sister Helen admits she had never "put her hands on the earth" before, but a Dutch volunteer arrived and taught her, as she says, how to help the earth grow the food they needed. She learned quickly, and she taught the mothers and children, too.
"The breath of life that is in me is the same as in you", she welcomed us. "Everyone is welcome here. We are all one. None of this is mine, it's given to all of us — and it's yours, too." Sister Helen models stewardship. Whatever has been given, she looks after and shares.
As she speaks about our interconnection with nature, it is quickly apparent that Sister Helen, standing at barely five feet tall, is a force of nature herself. Before Yolanda, she lived in the wealthiest monasteries in Geneva and Rome. She admits it was not an easy or simple decision to come back here; in fact it took her five years to make up her mind. In Europe, she was surrounded by 500 year old paintings, classical music, artifacts, good food, every comfort she could want. But "the call came from here", her homeland of Leyte, back to the land her great grandparents owned. Her father donated the land to her, with an ask: use it so that people could experience the love of God, and the simplicity of life.
Simplicity. That is the heart of Sister Helen's vision. No systems thinking analysis, no points of intervention, no five year planning, no critical path here, though what she is engaged in is what we call ecological agriculture and climate-resilient farming. Hers is a simple (not to be confused with easy), elegant, generous and humble view of life, anchored in the values of her faith, expressed in her character: a woman who is just getting on with making it real, serving those in her surroundings who need a little help the most, using her life to better the lives of others around her. And by her example, offering others a concrete ways to think differently about our place in the universe, to live differently in relationship with the earth beneath our feet and with each other.
One thing is clear by the end of the evening: I would follow this woman down any dark dirt track, anywhere she asked me to.
2. Arthur Golong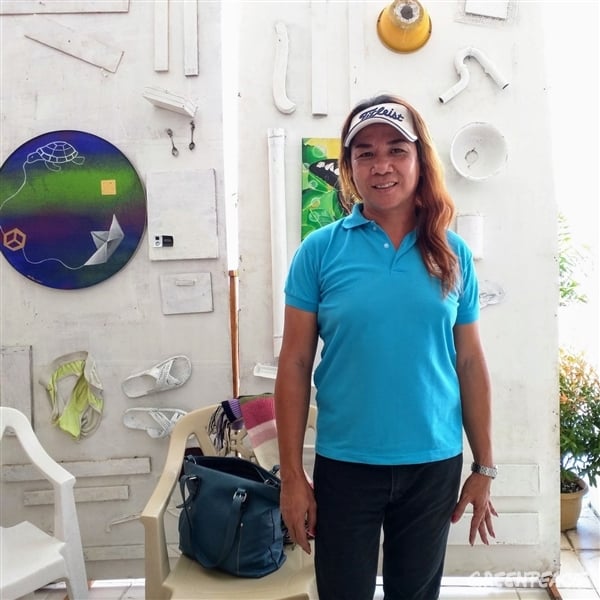 Arthur Golong, community leader and LGBTQ activist. Photo by Amrekha Sharma
Arthur was the first living 'book' I 'read' last week at the LIVErary, a storytelling event in Tacloban as part of Balangaw: the Climate Justice tour of the Rainbow Warrior. His title was, "A transgender's journey of leadership amidst disaster and discrimination". Arthur is 42 years old, gay, and never considered herself a leader. That is, until typhoon Haiyan arrived, and she had to become one.
She comes from a poor household and has been the sole supporter of her parents for 19 years. I tell her, I do not think she only became a leader after Haiyan. I think she was a leader since she was a child, because she was always the one to go first, or just get on doing what was needed and being herself, all the way through. She was and the only gay person from the village she grew up in. When Arthur was nine, she worked as a house help because there was not enough food to feed the family. At 13, she went to Manila on her own to learn hairdressing, her love, in order to better support her family.
"When Haiyan happened, I realised how strong I was." In her pre-Haiyan life, she really did not like talking to people, she would avoid them. But after surviving Haiyan, Arthur was the only one in her family who could go outdoors everyday and search for food and water. She says it took a lot to overcome her pride to line up for food. But she had people relying on her to eat, so there was no choice.
Arthur helped with relief distribution in the days after the typhoon, and quickly turned her fear of talking to people into a voice that advocates for the needs of those who were displaced by the typhoon and relocated to the resettlement site, New Kawayan. Now she has talked to Congress, government officials, media and her daily work is talking to the hundreds of residents from the 38 different towns who were also relocated there. Arthur says that even though she is gay, they trust her, although she still faces discrimination. "No one will make me change who I am," she said. "They should judge me for how I can lead and my ability. It's not my clothes that work, it's me. I don't need to wear a collared shirt to talk to you."
For Arthur, the real and pressing needs of daily survival, and the fact that there was just no one else to do the work pushed her into the position of someone who holds trust and power, someone who people follow. She admits, sometimes it is frustrating and difficult. "They think I'm a superhero," she said. There is no rest. Middle of the night phone calls. The work never stops. "If I don't act, who will? Who will help these people?"
Arthur used to dream about becoming so rich, she would not need anything. But that dream has been replaced after Haiyan, and since her father passed away shortly afterwards. "I just want to support my mom, two siblings and their education. I just hope to provide for their daily needs." There are still pressing needs in the new resettlement: adequate water, electricity, the mud, the lack of livelihoods for residents. As she says, and as another LIVErary book I 'borrowed', Pierce Docena argued in his session on inclusive disaster risk reduction and management (DRRM), the most pressing need, particularly for LGBTQ people are suitable livelihood options — "not just as part of women or men's groups, but specifically for us", Arthur says. The usual options open to LGBTQ people are limited and gender-stereotypical, falling between carpentry or fishing for men (which are dominated by straight men) and cooking for women. Tans women's needs are just not suited to the current offerings.
Pierce also elaborated on some post-disaster realities for LGBTQ people like Arthur. Harassment and sexual assault, particularly for trans women, openly gay effeminate men, and non-gender conforming people. They are often not allowed or not welcome to line up for food, water, or supplies ("you don't belong in this line"), or are last in line, so they end up receiving nothing. Men do not want them using the men's washroom, and women do not want them using the women's facilities. Culturally in The Philippines, they are expected to stay home and perform household tasks like cooking and cleaning, while straight family members go out. As Pierce said, these heteronormative expectations are so deeply entrenched, not even Haiyan could disrupt them.
Still, Arthur says she is proud that people accept her and recognise what she does for the community. "That's the biggest reward for me."
Does anything even scare her anymore after the experience of Haiyan and the journey of her personal transformation?
"Love!" she replies with a laugh. She jokes she is too busy for love anyway. "And losing my tweezers. I'm a girl, I can't have whiskers."
3. Kelsey Juliana
Kelsey Juliana of #YouthvGov. Photo by Amrekha Sharma
Kelsey got off a plane in Tacloban after two days of less than smooth travel with no rest, came straight to the port, readily joining in the 7:30a.m. dancing to Top 40 mix, as we waited for the Rainbow Warrior. That would be impressive enough. But then she went immediately into the press conference onboard and did a stellar job. This is Kelsey: high energy, down to earth, she laughs easily, and her passion shines.
She is named plaintiff "Juliana" in the groundbreaking legal case, Juliana v. United States. She and 20 young plaintiffs (now aged ten to 22, known collectively as YouthvGov), along with the environmental advocacy organization Earth Guardians, and Dr. James Hansen of Columbia University as guardian for future generations filed an action with Our Children's Trust in 2015 against the US federal government and president for violating their constitutional rights to life, liberty and equal protection as well as their public trust rights to vital natural resources. They argue that their government has violated, and continues to violate its constitutional and public trust obligations by committing the country to a fossil-fuel based energy system for more than fifty years, despite knowing about the grave dangers it poses.
This is not Kelsey's first foray into legal action on climate change. She is the child of environmental activists in her Pacific Northwest home of Eugene, Oregon, and a lifelong environmental activist. She was only 15 years old when she she first joined Our Children's Trust through suing the Governor of Oregon. I know Kelsey's case through our work on Climate Justice & Liability, but when I met her in Tacloban, I could not pass up the chance to ask her what I have been wondering these past couple years: why this battle? What makes a 15 year old who, could be doing just about anything else, decide to sue the government?
"Honestly, it wasn't a conscious decision, I don't even remember why", she says of what made her launch the first case in 2011 when she was 15. It was simply something she needed to do, to see through. She was inspired by another young activist, Alec Loorz from California who launched a lawsuit in 2010 when he was also 15 against the US government for global warming. He was also 15 at the time, a kind of role model.
Being activists themselves, and understanding well the risks that come with such a spotlight, Kelsey's parents did not want her to go through with her first legal case. Nevertheless, she persisted. "I always listen to my parents when it comes to the big, important things", she says, but she doggedly refused their 'no' on this one. Kelsey tells me she recently asked her mom what made them eventually relent. Her mom said it was because she was just so passionate about it, in a way she had not been about anything else.
What is it like to be a high school kid, now in college and take on this kind of work? It's not easy, I learn. Keeping up with school and classes was hard in high school, and still is now in college. It is hard for her to find a job that is flexible enough to allow for the demands of her climate activism work. Personal relationships can be challenging. Her face is recognisable in her hometown since her 2011 state case, now more so with her federal case, which brings its own challenges when you are a young person just out and about, living life; her behaviour is held to a different standard. Some of her friends thinks she is superhuman, that there is nothing she cannot do.
Does Kelsey have any fears at all? (aside from the usual ones when you take on arguably, the most powerful lobby, in the most powerful government in the world). "Sometimes I'm afraid we won't make it, we won't be able to act in time to stop the worst of the impacts," she revealed.
Any regrets, though? "I can't imagine what my life would've looked like if I wasn't doing this work", she says. Kelsey is studying Environmental Education at the University of Oregon, and she wants to be a teacher for Grades three to five. She loves kids, teaching, and being the one who could instill a love of learning. Not only will law students for years to come be reading her name in the case law, but her classrooms of students in years to come will be lucky to have her.
4. Merle M. Alunan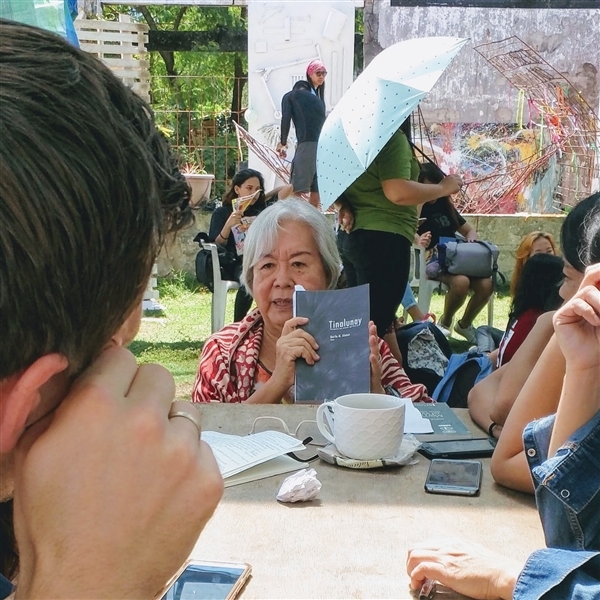 Merle. M. Alunan reads from her edited Waray collection, "Tinalunay". Photo by Amrekha Sharma
Filipina poet and editor, Ma'am Merlie as she is known, is literary royalty in the Eastern Visayas and beyond. She was born and grew up in Iloilo, is now retired, but spent the last twenty years of her career teaching Literature at the University of the Philippines Visayas Tacloban College, and sparking creative writing workshops across the Eastern Visayas, with a specific kind of storytelling advocacy: to encourage the young of this region to write in their native languages, so they can reclaim their stories and narratives. I am told that many credit her years of workshops, advocacy, and teaching for upwelling of interest among Waray people to become storytellers, writers, and poets, especially in the last decade.
I also 'read' her as one of the living books at Greenpeace's Climate Justice LIVErary event in Tacloban. In her session, "Istorya" (story" in Tagalog) twelve of us, mostly local students, sat around a table as she read us poetry, as a means of examining the narratives we are being asked to accept as 'normal'. The question we were to ponder was, from these poems "how does the Waray think of his or her environment?" She says this is important to any creating any environmental campaign in the region. Analysing the narratives of a people and place helps us to better understand their worldview, attitudes to nature, needs, and expectations.
She first reads an old, well-known poem whose author was from Samar (the Eastern Visayas are made up of the islands Samar, Leyte and Biliran), and from the Spanish post-colonial era. It reads like a paean to place, a kind of love letter to his Visayan islands home. He describes why he loves this land — the scenery so beautiful, the many kinds of bananas and fruit and fish…but something is amiss, Ma'am Merlie says. "Why does he love the land?" she asks us.
The poem, she goes on, is all about what the poet can get from the land — the food it produces, the pleasure of its beauty. In the Bible, she goes on, God tells Adam and Eve that the earth is for them. "This is where we get the idea that nature is there for us to exploit, utilise for our own good." It is the nature-as-commodity or "natural resource" narrative. She points out it is also written from a male point of view. And it sounds like women are inferior to men. Women, Ma'am Merlie says, are placed on par with nature by many of these poets: what their beauty, the pleasure and enjoyment they can give men. "Do you think this is fair? Is this how you would like a man to think of you?" she asks a mostly female bunch of readers.
We go on to discuss her follow up question: is this narrative that is distinct to the Waray or broader (among the dominant narratives of the Western world, where the Bible and colonisation were dominant historical features). Under capitalism, influenced by this interpretation of a Biblical story, we are encouraged to "gather, get and get", and those who have more, can gather more; those who have less, get less, she says. There is no narrative of responsibility to replenish what we get from nature. Ma'am Merlie believes, like Sister Helen that we are supposed to be stewards of the planet, and take our place among other creatures with whom we share this home. "If we violate our duty to it, Haiyan comes."
"The sea will forget us. It has already forgotten us after Yolanda. But we will remember. The sea did what it did partly because of what we did to it," she cautions the group, listening quietly.
Ma'am Merlie reads one of her own poems, "Legends of the Flood" about the 1991 Ormoc flash flood from "Tinalunay" ("braid"), a collection of Waray language stories and poems that she edited. Some of her family members, including her father were among the 8,000 lives lost in a tragedy that man helped to orchestrate with excessive legal and illegal logging of the land. "Such rage was paid for a good not done," the poem reads.
She says she was silent for many years after the flood, she could not write about it. "Pain has to be felt first, and felt and felt…then the memory comes. Then maybe you can write." She does not write in the heat of emotions, she says, because writing demands calm, logic, clarity, discipline.
I ask her, are there any records of how the Waray people viewed nature before the Spanish arrived? Ma'am Merlie says no, there was as far as she knows, nothing written down (one had to be able to write, then that writing would have had to survive a great deal of turbulence in the political and natural world in the times to come). But one student offers that before the Spanish, then American colonisation of the country, Filipinos believed in animism — the belief that everything on earth, every animal, mountain, river, and rock have a soul, and therefore, must be in some way attended to, appeased, or included in human dealings. It was a much more reverential worldview, and one that appreciates the human place in an inextricable web of relationships in the universe. So, maybe the Waray relationship to nature was not always as reflected in the poem.
The nature-as-commodity narrative though, Ma'am Merlie says, is a very convenient one. It asks for no sacrifice or relationship with nature. She says, maybe we would care more if we had a nature-as-Mother narrative and worldview instead: you would not treat your mother that way.
5. Ingrid Skjoldvær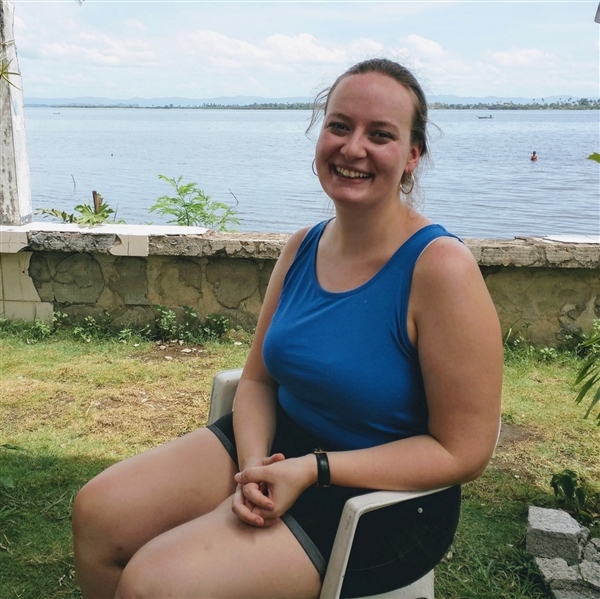 Ingrid Skjoldvær, former head of Nature and Youth. © Greenpeace / Amrekha Sharma
"Sitting in this place that has not only witnessed, but experiences the impacts of climate change, you really understand why we need to act fast," Ingrid said at the press conference aboard the Rainbow Warrior when it arrived in Tacloban.
Ingrid came to Tacloban from Oslo to be a living 'book' in the LIVErary. For the past two years, she was the head of Natur og Ungdom (Nature and Youth), the largest youth environmental organisation in Norway, with 7,600 members and 80 local groups throughout the country. At 24 now, Ingrid has been involved with Nature and Youth since she was a teenager. "You get to do so much that you'd never get to do at 24", she says of her time with the organisation. From skills in non-violent direct action, public speaking, and conferences, to meeting government officials, she tells me it is a great platform for building confidence in youth. "It's nice to be that place for so many young people," Ingrid tells me.
I know about Nature and Youth from their work with Greenpeace Norway and a broad coalition in bringing the historic People vs. Arctic Oil legal case against the Norwegian government. They argued in court last December that action must be taken to keep the Paris Agreement on track, invoking the Norwegian people's right to a healthy and safe environment, as it is written in Article 112 of Norway's Constitution. This climate lawsuit demands that Norway upholds its constitutional guarantee for future generations. As with Kelsey, I was intrigued by why Ingrid choose this battle, what sparked her passion for the environment, and what the journey has been like for her as a young woman.
Ingrid is from beautiful Lofoten, a part of Norway within the Arctic Circle, known for its dramatic peaks, Northern Lights, midnight sun, and fishing villages where the people have lived on fish for thousands of years. Her grandfather was a fisherman, as so many were before him in her family. When she was 12 or 13 years old, the debate about oil drilling in her area was beginning. When the government offered money to the fishermen in exchange for their agreement for the drilling to go ahead, she got angry. "I wanted to show solidarity with the fishermen, that's when I joined Nature and Youth", she said. Politics is personal, and the personal is political, and Nature and Youth offered her the community to protest with other young people who were also opposing oil drilling.
"The oil industry in Norway has a strong influence on people and their perception of reality," she says. "Some people believe that if we don't have the oil industry, we'd have to say goodbye to our social welfare system. But there's so much potential for renewable energy in Norway." In the run up to the court case, there was a surprising shift, she says, from zero public appetite for discussing oil drilling, to a readiness to talk about it. This was a game changer. But it did not, however, come without having to bear rage and vitriol, online harassment from trolls and hate.
"Most of the time, we don't get heard," she says of her work with Nature and Youth. "When you go up against the oil industry, you don't expect to win." If you want to shift the public narrative about the role of the oil industry and drilling in the Arctic, people need to at least want to have the conversation. The People vs. Arctic Oil climate lawsuit helped create that space for a public conversation. This was already a little win. Last month, Greenpeace Nordic and Nature and Youth announced they are challenging the judgement in their case against the Norwegian Government for Arctic oil drilling, and aim to take it directly to the Supreme Court.
These days, Ingrid is trying to figure out what comes next for her — which, I imagine is not so easy once you have already brought your State to court over climate change at the age of 24. Is she afraid of anything now?
"I worry about people becoming indifferent," she says. "At the same time we show the problem, we need to show how we're winning victories around the world, and how we're getting more people involved."
As Audre Lorde wisely told us, "There is no such thing as a single-issue struggle because we don't lead single issue lives." Women are fighting for the rights of others in a changing climate in creative and unexpected ways. Whether they do their work through communities of faith, LGBTQ rights, storytelling, children's education or the law, these women are changing what we have been told is acceptable, correct, real and possible — for all of humanity, and for women — and showing us what a world of greater justice and peace might look like because of their work in it, and how they interweave struggles for self-definition, equality, environmental protection and stewardship, climate change, human rights, and even of future generations.
To me, what makes them powerful and unique is that each of them is doing their work in ways that are authentic to who they are, parked as poet, Victoria Safford called for, at the gates of Hope, from "the place of truth-telling, about your own soul first of all and its condition, the place of resistance and defiance, the piece of ground from which you see the world both as it is and as it could be, as it might be, as it will be; the place from which you glimpse not only struggle, but joy in the struggle". And that is worth celebrating today and everyday.
Amrekha Sharma is Story Advisor at Greenpeace International.