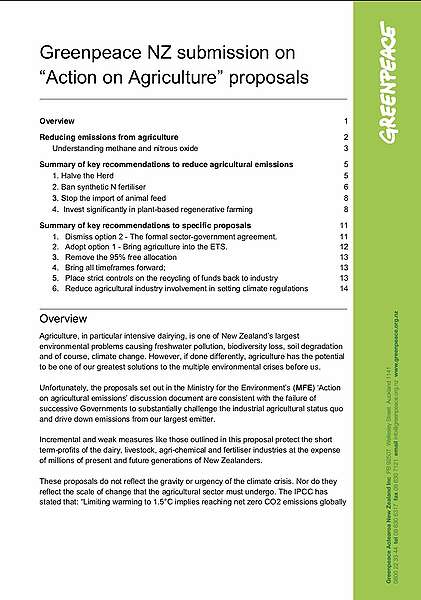 Overview
Agriculture, in particular intensive dairying, is one of New Zealand"s largest environmental problems causing freshwater pollution, biodiversity loss, soil degradation and of course, climate change. However, if done differently, agriculture has the potential to be one of our greatest solutions to the multiple environmental crises before us.
Unfortunately, the proposals set out in the Ministry for the Environment"s (MFE) "Action on agricultural emissions" discussion document are consistent with the failure of successive Governments to substantially challenge the industrial agricultural status quo and drive down emissions from our largest emitter.
Incremental and weak measures like those outlined in this proposal protect the short term-profits of the dairy, livestock, agri-chemical and fertiliser industries at the expense of millions of present and future generations of New Zealanders.
These proposals do not reflect the gravity or urgency of the climate crisis. Nor do they reflect the scale of change that the agricultural sector must undergo. The IPCC has stated that: "Limiting warming to 1.5°C implies reaching net zero CO2 emissions globally
around 2050 and concurrent deep reductions in emissions of non-CO2 forcers, particularly methane."1
The IPCC has also found that what we grow and how we choose to grow it has an immense impact on the climate. It has found that Agriculture, Forestry and Other Land Use (AFOLU) is responsible for 23% of total net global emissions. Of the total net global emissions AFOLU accounts for 44% of the methane (CH4), 13% of the carbon dioxide (CO2), and 82% of the nitrous oxide (N2O). When emissions associated with pre- and post-production in the global food system are included, the food system accounts for up to 37% of total net emissions.2
The climate science is clear. To avoid the catastrophic and deadly impacts of a climate warmed above 1.5 degrees requires nothing less than a rapid and transformational shift in land-use and agricultural practices.
Globally and here in NZ, we must shift away from industrial livestock farming and into diversified, primarily plant-based, regenerative farming. This land-use change must be accompanied by a shift in farming practices. We must move away from agri-chemical and synthetic fertiliser dependent monocultures towards diversification and regenerative farming methods that both protect biodiversity and lock up carbon.
Climate change is already taking lives. It is already harming health, homes, communities, food security, culture and livelihoods. It is already accelerating the extinction of the remaining wildlife and wild places with which we share this Earth. Poor and marginalised communities are already suffering the most, despite being the least responsible for causing the issue.
We have known about this looming catastrophe for decades. We have known who and what has been causing it, and we have had access to the solutions to prevent it getting to this point. This global disaster is not a result of a failure of science or a lack of solutions. It is a direct result of Governments around the world failing to stand up to those polluting industries insistent on maintaining profits no matter the consequences.
The Government must finally hold the dairy, livestock and agri-chemical industries to account for their prominent role in driving the climate crisis and their decades long history of evading and delaying the reduction of their emissions. Now is the time to reject the self-interest of these industries determined to slow, delay or avoid change. NZ can and must lead the world in the urgent transition away from intensive livestock farming and into predominantly plant-based regenerative farming.