In January 2021, the healthcare system in Manaus collapsed. The Covid-19 pandemic got worse, showing its cruelest face through hospitals overrunning, low oxygen and other medical supplies, and people queuing for beds.
Brazil is one of the worst affected countries by the pandemic. Indigenous communities are facing severe impacts – particularly as President Bolsonaro fails to recognise Indigenous Peoples' human rights.
Together with local partners, Greenpeace is delivering equipment and medical supplies to Indigenous communities, in an effort to help save lives.
The pandemic has worsened the long-standing injustice that Indigenous communities face
Indigenous Peoples in Brazil and across the Amazon face serious economic, social and health challenges and are at higher risk from emerging infectious diseases.
Throughout history, epidemics brought in by European colonisers devastated Indigenous communities that had no immunity to new foreign diseases.
Fast forward five centuries, and these communities live in severe deprivation, and continue to be at grave risk from infectious diseases like Covid-19. Even today, many of Brazil's Indigenous communities do not have basic resources to face the pandemic, such as access to water, soap and masks.
The Covid-19 mortality rate for Indigenous people is at least 16% higher than the Brazilian average. Hospitals in the nearest Amazon city Manaus don't have enough equipment to tackle the pandemic, and are also understaffed.
The Covid-19 crisis is so severe for Amazon Indigenous communities some in Brazil are calling it a genocide
And even when Indigenous people are able to access healthcare services,  they can face stigma and discrimination. In the State of Amazonas – an area of mostly Amazon rainforest equivalent to 12 times the size of ​​England – only the capital, Manaus, has intensive care beds.
Indigenous leaders across Brazil have said that government agencies have not given them enough support to combat the pandemic, including access to adequate healthcare.
In addition, Indigenous Peoples in Brazil have long faced a difficult struggle for basic land rights and government protection from the threat of invasions, which is a duty of the state guaranteed by the Constitution. Without these rights and protections, communities can't isolate themselves and are constantly under threat from potentially-infected outsiders.
The existing deep-rooted, historical inequalities that Indigenous communities face are multiplied by Covid-19. The crisis is so severe that Indigenous rights organisations and six of Brazil's political parties have alleged that Covid-19 could lead to a 'genocide' of Brazil's Indigenous Peoples.
Indigenous communities are forced to move away from their homes, and into the overcrowded capital
Where Brazil's President, Jair Bolsonaro has encouraged land grabs by invading farmers and miners, Indigenous communities are facing an increased risk of Covid-19 transmission. This is mostly due to people travelling between urban centres with high infection rates and more isolated rural areas.
Besides the Covid-19 health risk, there are often violent clashes between miners and loggers and Indigenous communities.
Indigenous Peoples have spent centuries defending the forests and lands that they depend on to sustain their families, culture, preserve their way of life and the plants and animals around them. Research shows that while Indigenous peoples comprise less than 5% of the world's population, they protect 80% of global biodiversity.
Indigenous peoples evicted from their Amazon rainforest homelands have often been forced to move to Manaus, with overcrowded informal settlements and now, overstretched healthcare.
Manaus is a city of over a million and home to 180,000 Indigenous inhabitants. For example, as reported by Mongabay, Anne, a single mother living with two of her children in a rented apartment in the north of the city, says how she doesn't have a job, and almost nothing to eat as a result of the forced displacement.
Further south, invasions of Indigenous lands for industrial meat and dairy in the southern Amazon bring threats of new pandemics. In a cruel ironic twist, as industrial farming pushes further into wild areas where only Indigenous Peoples might have gone before, rare new diseases can jump to humans from once-isolated animal populations.
What is Greenpeace doing to help?
Greenpeace Brazil has been part of an emergency effort working with a number of Indigenous and civil society groups, together with healthcare professionals, to help provide and transport emergency aid to remote areas.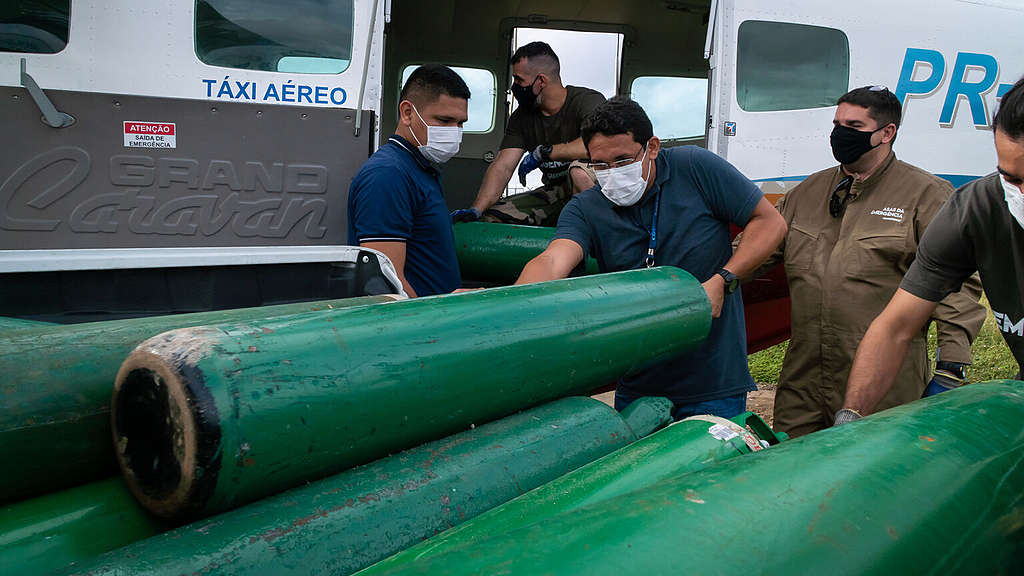 Using the small airplane normally used to monitor deforestation, and leaning on the organisations' territorial knowledge on the Amazon, Greenpeace has been able to overcome barriers and provide urgent support to Indigenous Peoples in need. 
Since mid January, around 32 tonnes of equipment and health supplies have been delivered to remote Indigenous communities. This includes critically needed oxygen cylinders, to the city of Manaus and other communities in five states of the Amazon region.
Their ongoing efforts began last year when Greenpeace Brazil teamed up with health professionals and other organisations to launch the Wings of Emergency project – delivering 63 tonnes of desperately-needed food and medical supplies to remote Indigenous communities in the Amazon.
Through the project, Greenpeace was able to provide emergency supplies to Indigenous communities, such as those belonging to the Munduruku and the Yanomami Peoples.
Covid-19 is an extreme threat to the survival of Indigenous communities
Indigenous Peoples have faced illegal invasions, destruction of their livelihoods, and very limited access to healthcare for many years. Now, Covid-19 is playing out as another chapter in the story of violent colonialism.
Through the Wings of Emergency project, Greenpeace has been able to step in and provide emergency supplies to Indigenous Peoples.
Greenpeace continues to call on President Jair Bolsonaro and the Brazilian government to listen to Indigenous organisations and prioritise protecting the people of Brazil during the COVID-19 pandemic – especially the groups most at risk, like Indigenous Peoples and traditional communities.