LAST UPDATED: 18 AUGUST 2021
At Alert Level 4, the Ministry of Health is now advising that you must stay home other than for essential personal movement. You are encouraged to wear a face covering and keep 2 metres distance from others when leaving your home. You legally must wear a face covering: on public transport. More details can be found on the Unite Against Covid website.
What does the Ministry of health say about reusable masks?
"Re-usable fabric masks ideally have three layers of fabric and can be purchased through retail outlets, online or you can make your own.
The Ministry of Health recommends approximately four fabric reusable (washable) face masks per family member."
Masks can be purchased at supermarkets, but we can also make our own upcycled face masks using items we might already have at home and avoid contributing plastic pollution. (Bonus points if you don't buy anything new!)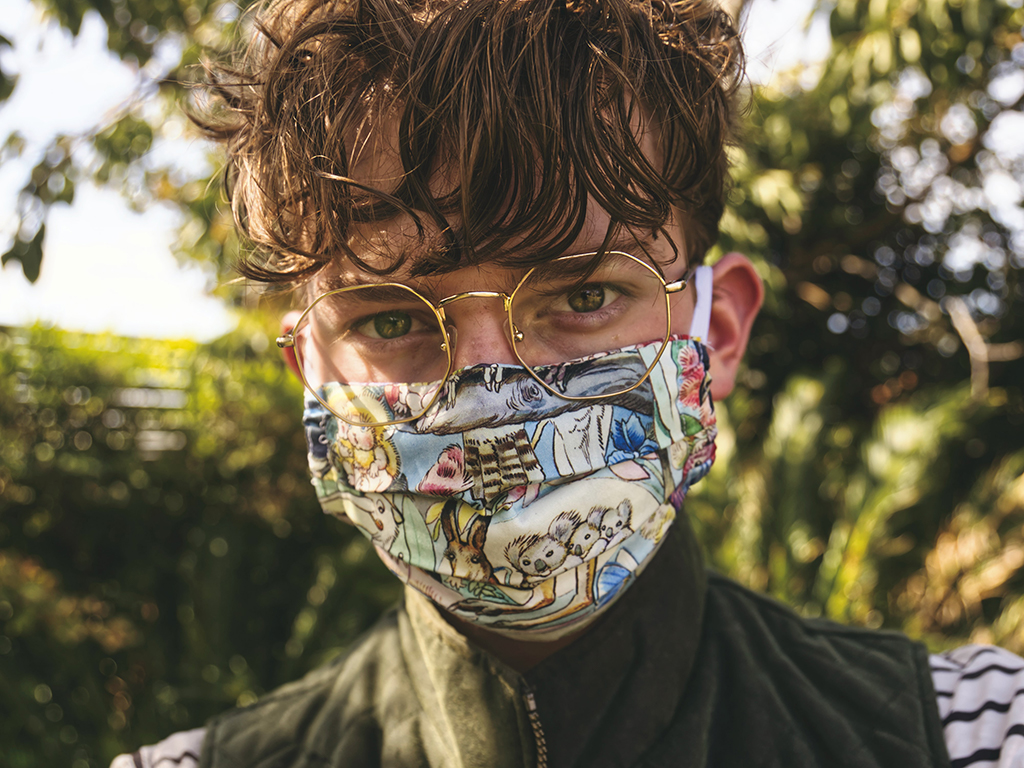 Don't head off to the bargain chemist, or seek out those cheap disposable face masks, make your own material mask! A DIY washable face mask is cheaper, better for nature, and surprisingly easy!
The increasing use of personal protective equipment (PPE) such as face masks around the world has meant that we are also witnessing a massive increase of disposable waste—much of it made from plastic. Wearing a face mask is not just about protecting yourself: it is also about protecting others but – as always – we also need to think about protecting the planet.
Unless you are in the front lines; such as a health or essential worker, experts state that you can avoid a disposable mask and use a reusable mask instead. Wearing a reusable mask, which can be made at home, may sound like a small thing compared to the big picture, but it is actually a critical and positive action you can take for yourself, for others, and for the environment.
Help prevent the spread of coronavirus by making and using this upcycled fabric face mask with a non-woven coffee filter insert.
Together, we can help prevent the spread of the coronavirus, keep our communities safe, and reduce our collective environmental impact.
What's the best fabric to use for your face mask?
You should use plain, tightly woven cotton, not a stretchy knit, and wash it in hot water to shrink the fabric prior to making your mask.
How to make a no-sew non-medical fabric face mask
You will need these materials:
Cotton fabric (you can use bedsheets, pillowcases, t-shirts, pyjamas, handkerchiefs, bandanas, tea towels, tote bags, or denim)
Ties (you can use hair ties, elastics, bias tape, string, twill cord, shoelaces, strips of fabric or jersey knit, or cording)
Non-woven insert (you can use piece of a non-woven fabric bag, shop towels, coffee filters, dry wet wipes, or kleenex)
Safety pins
Tape (you can use duct tape, scotch tape, masking tape, or electrical tape)
You will need these tools:
Scissors
Measuring tape or ruler
Pencil
Instructions: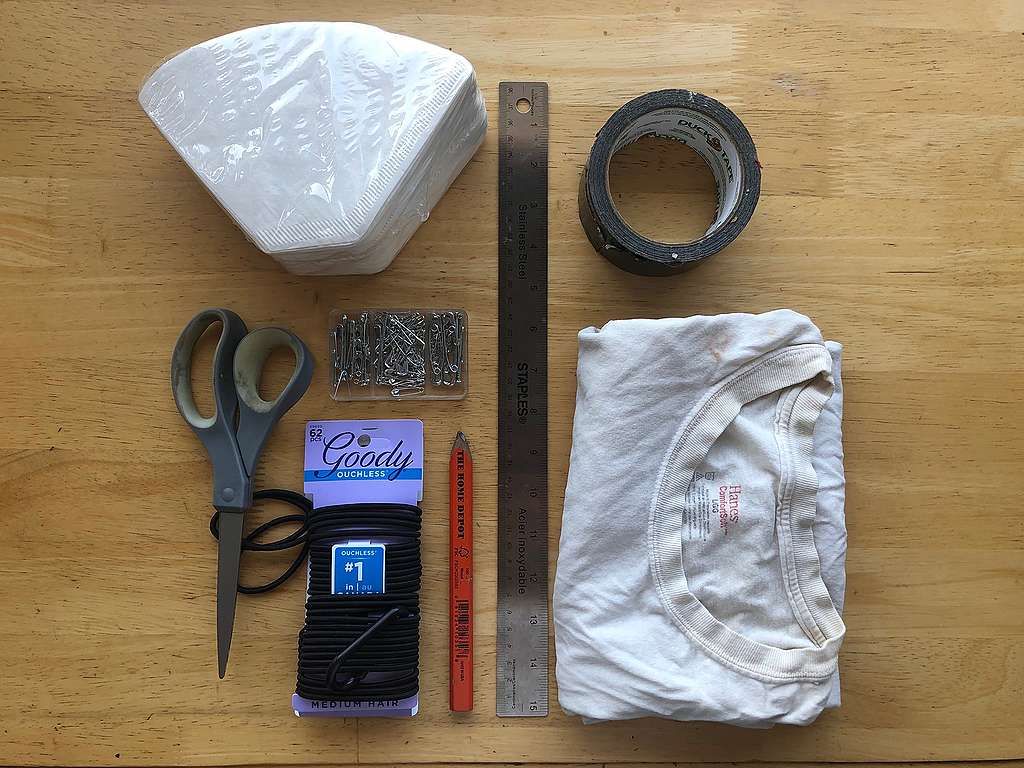 1. Cut your cotton fabric into a rectangle of 13 inches (33cm) tall by 14 inches (35.5cm) wide.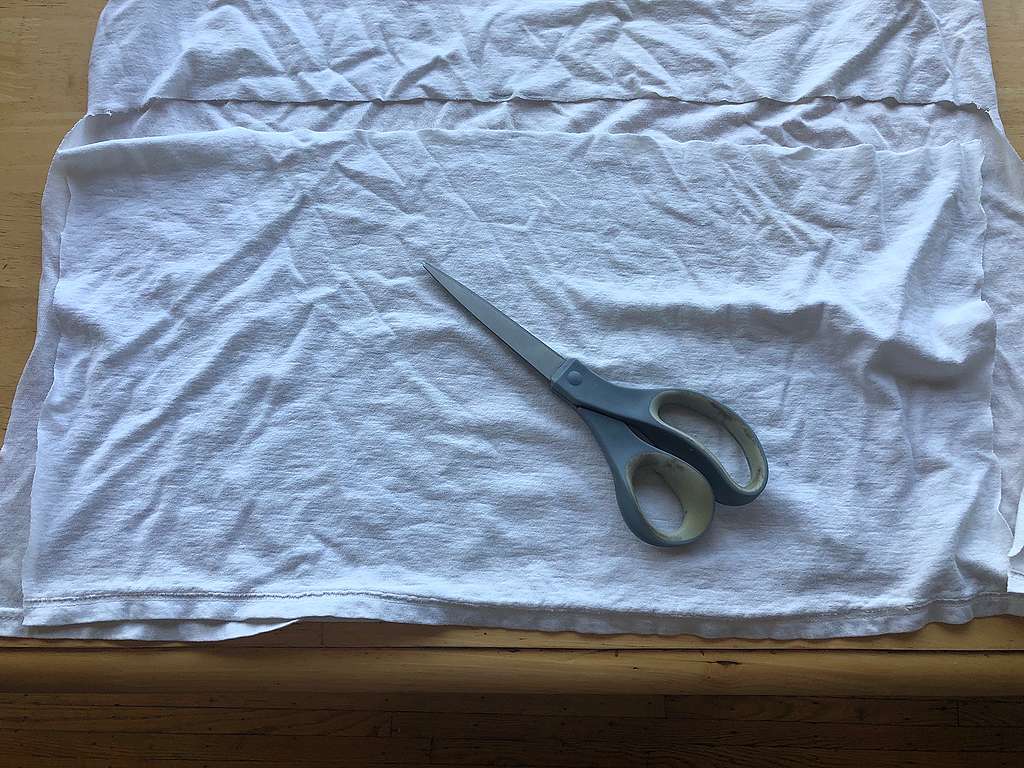 2. Cut your coffee filter to size to fit the cotton fabric. Remove one inch from the tip of the coffee filter. The wide rounded side will be the top of the mask.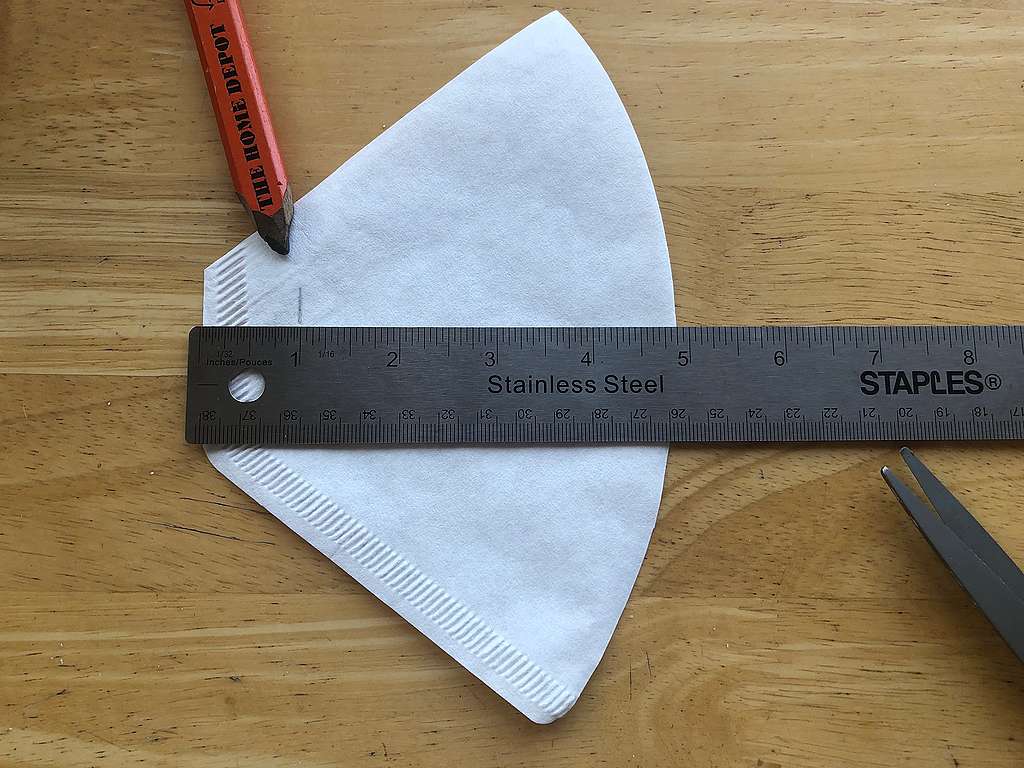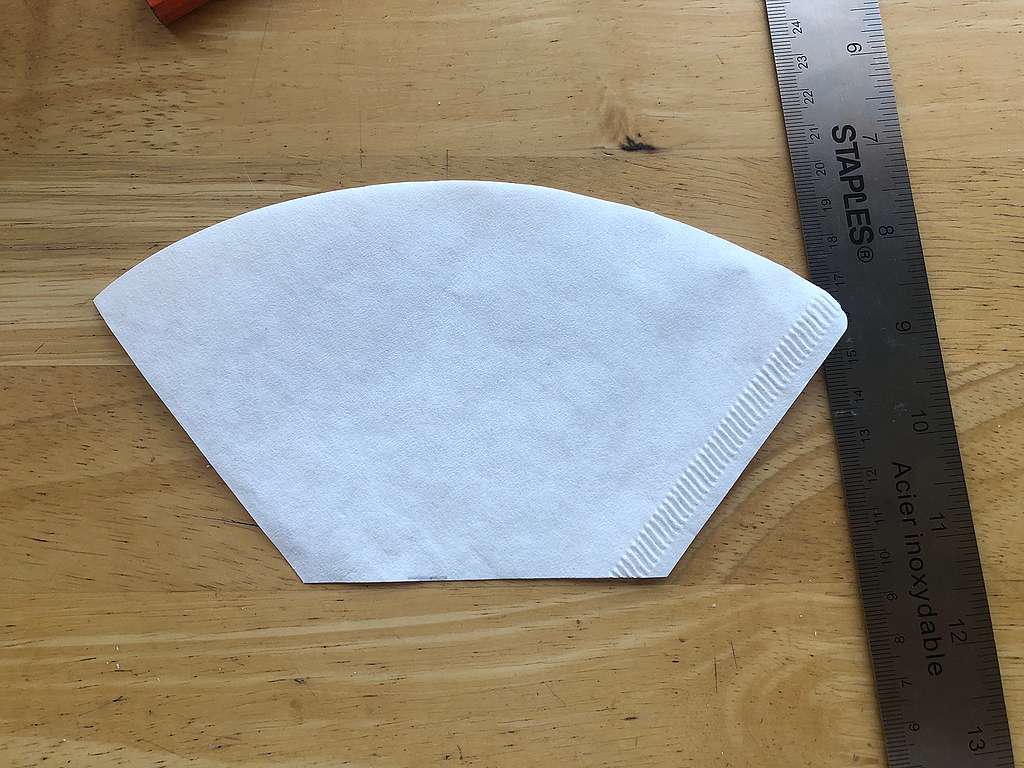 3. Place your filter on top of the fabric and roll the fabric over the filter.
4. Fold your fabric around the hair elastics or other ties and safety pin the fabric to secure the elastic or ties.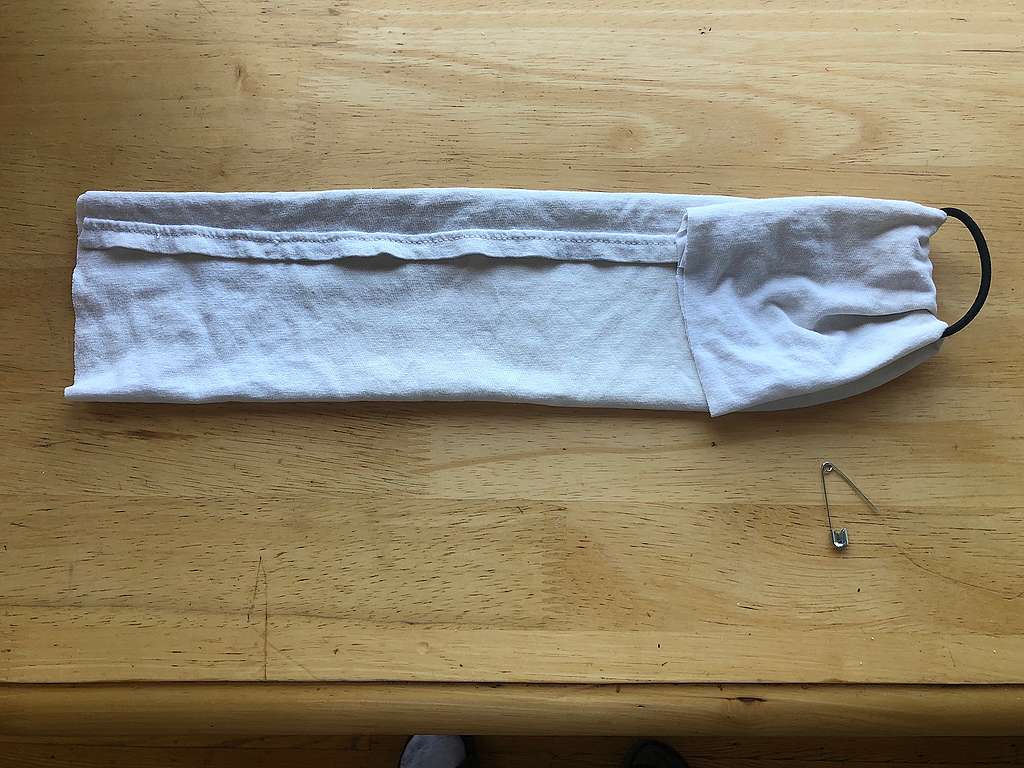 6. Use tape to close the safety pins. This is to ensure the safety pin is secure, so there is no way for it to open around your face.
7. To wear the mask, fit each elastic or tie around your ears.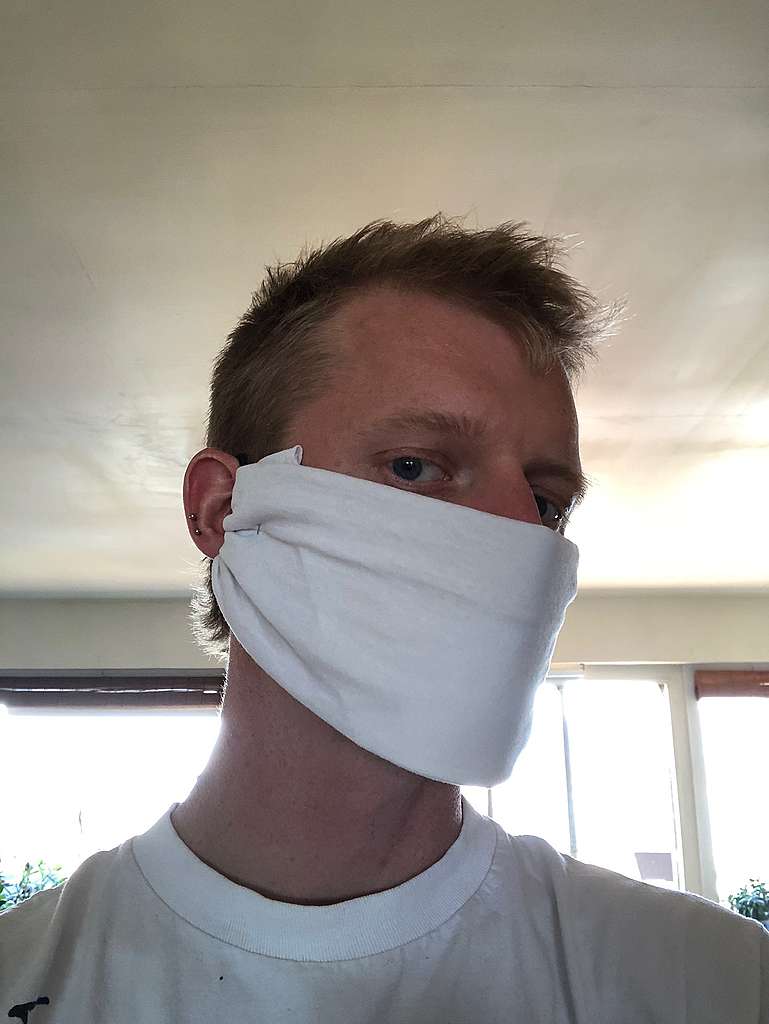 Watch out! Even with tape, under enough tension the safety pins can deform and be pulled free, becoming hazardous. Always check safety pins before putting on the mask.
You don't have any safety pins? The mask should still work without them, provided the fabric is long enough.
How to sew a non-medical pleated face mask
You will need these materials:
Cotton fabric, cut into three rectangles of 9"x6" (23cm x 15cm) each (you can use bedsheets, pillowcases, t-shirts, pyjamas, handkerchiefs, bandanas, tea towels, tote bags, or denim)
Ties (you can use bottom hemmed part of a t-shirt, string, twill cord, shoelaces, strips of fabric or jersey knit, or cording)
Cotton thread
Coffee bag twist-tie (optional)
You will need these tools:
Sewing machine
Scissors
Pins
Measuring tape or ruler
Instructions:
1. Gather your materials and cut your cotton fabric into three 9"x6" rectangles.*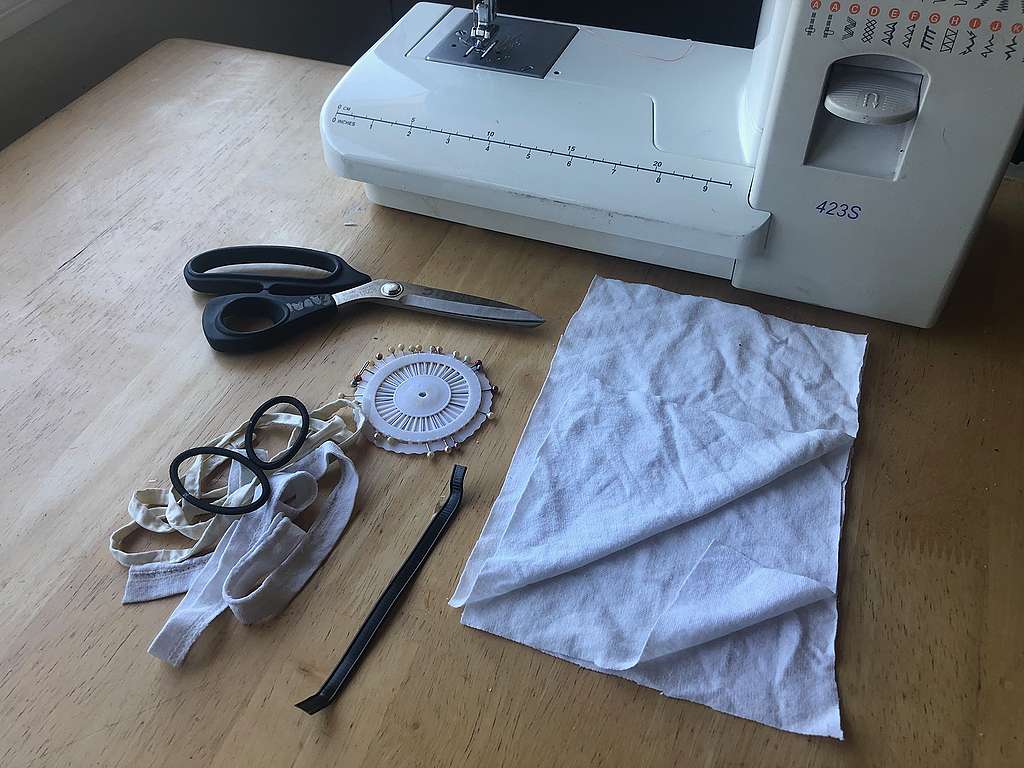 2. Place ties on top of two layers of cotton facing in, place last layer on top and pin cotton and ties in place.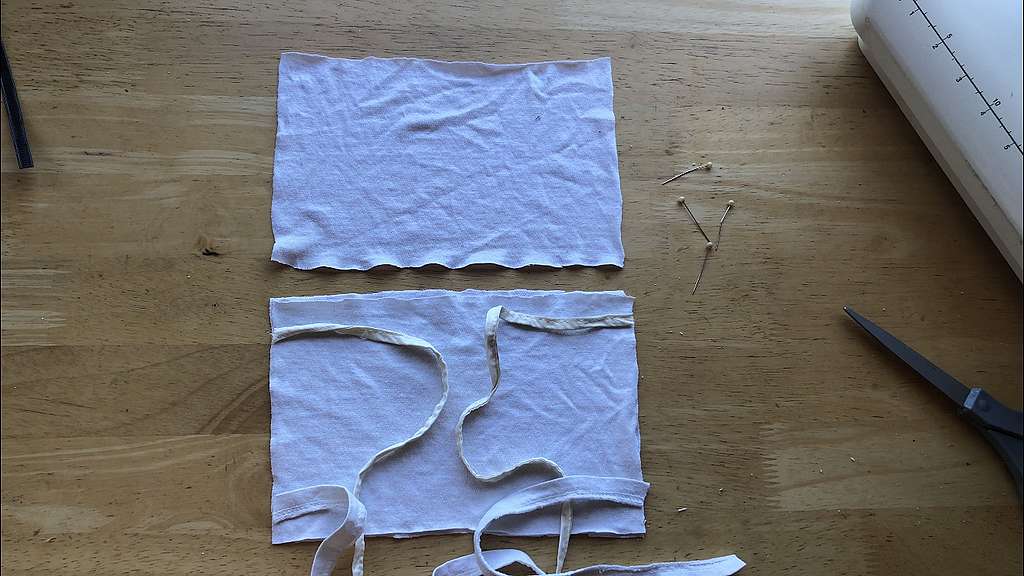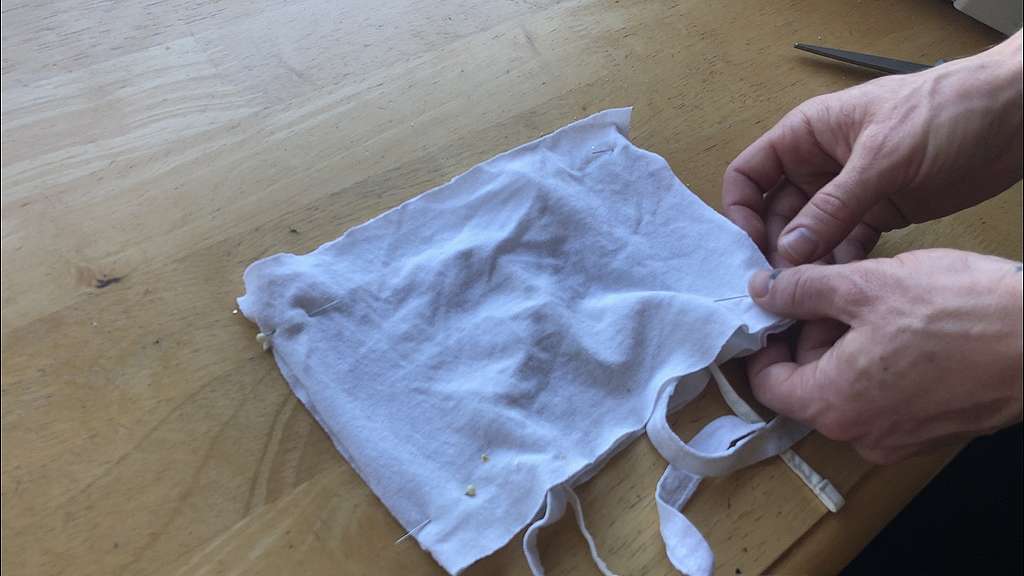 3. Sew sides, top, and part of the bottom of the mask, leaving a space to turn the mask inside out.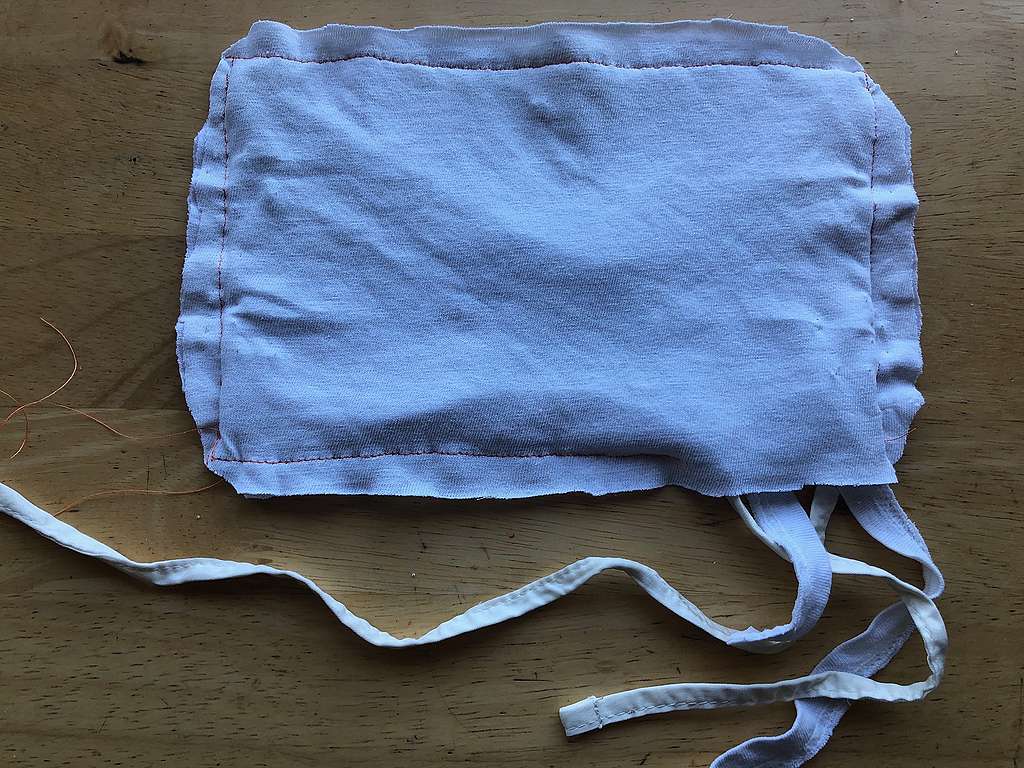 4. Turn the mask inside out.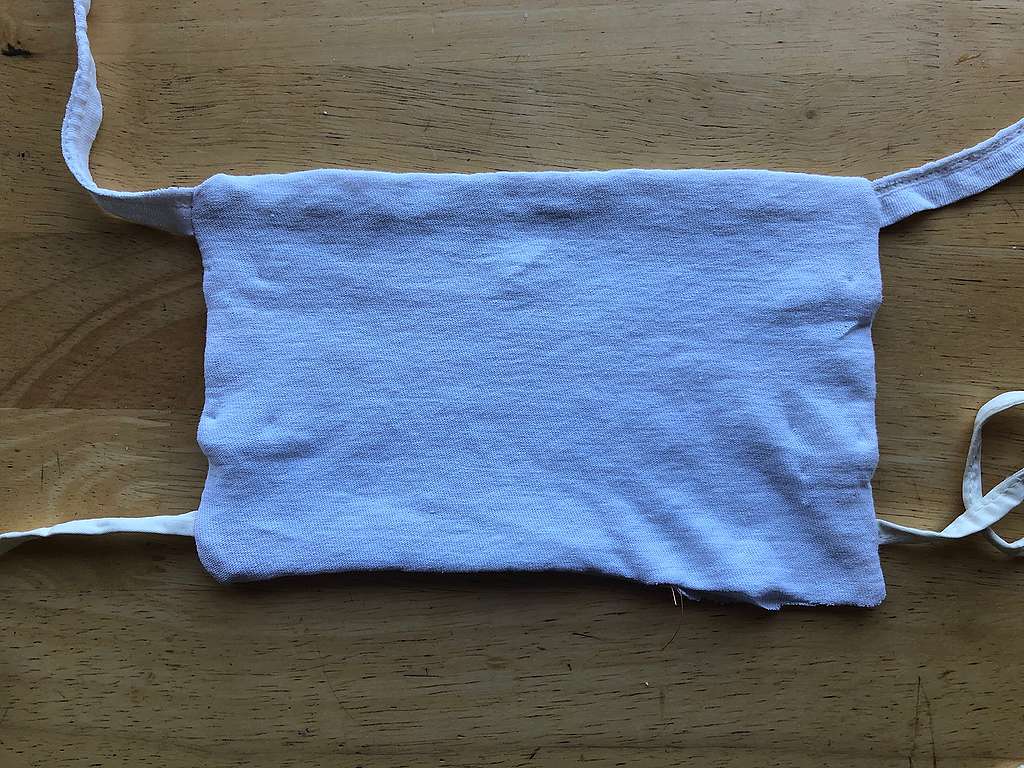 5. Optional: add coffee bag twist tie into the mask and sew it in place.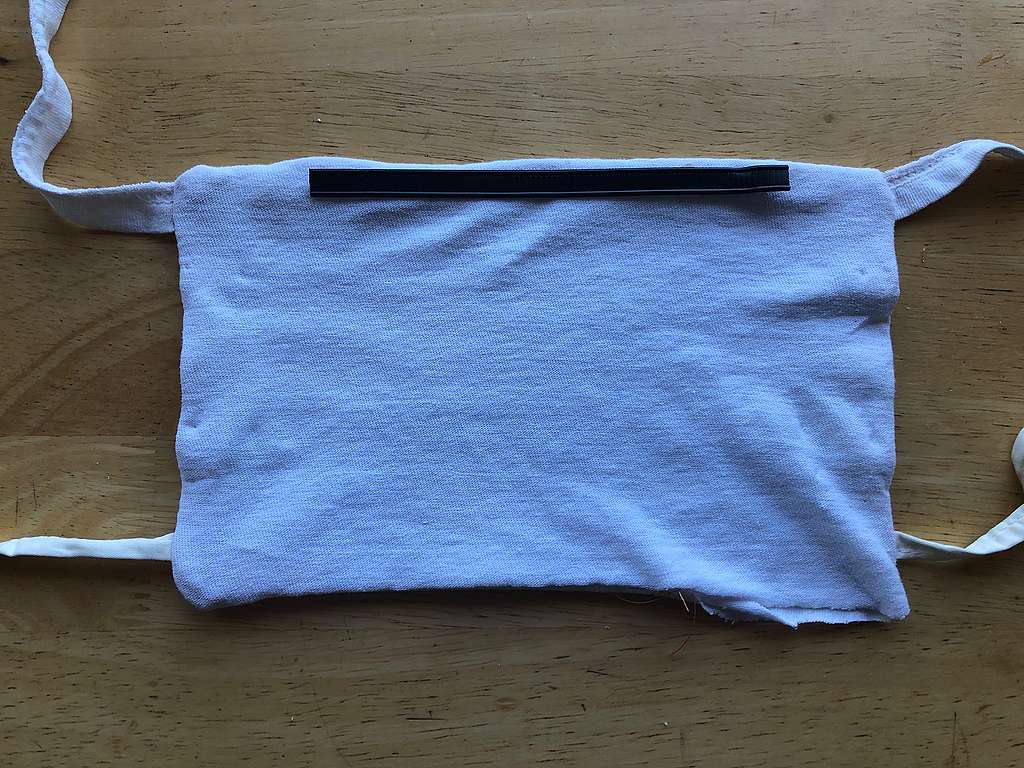 6. Pin and sew bottom of mask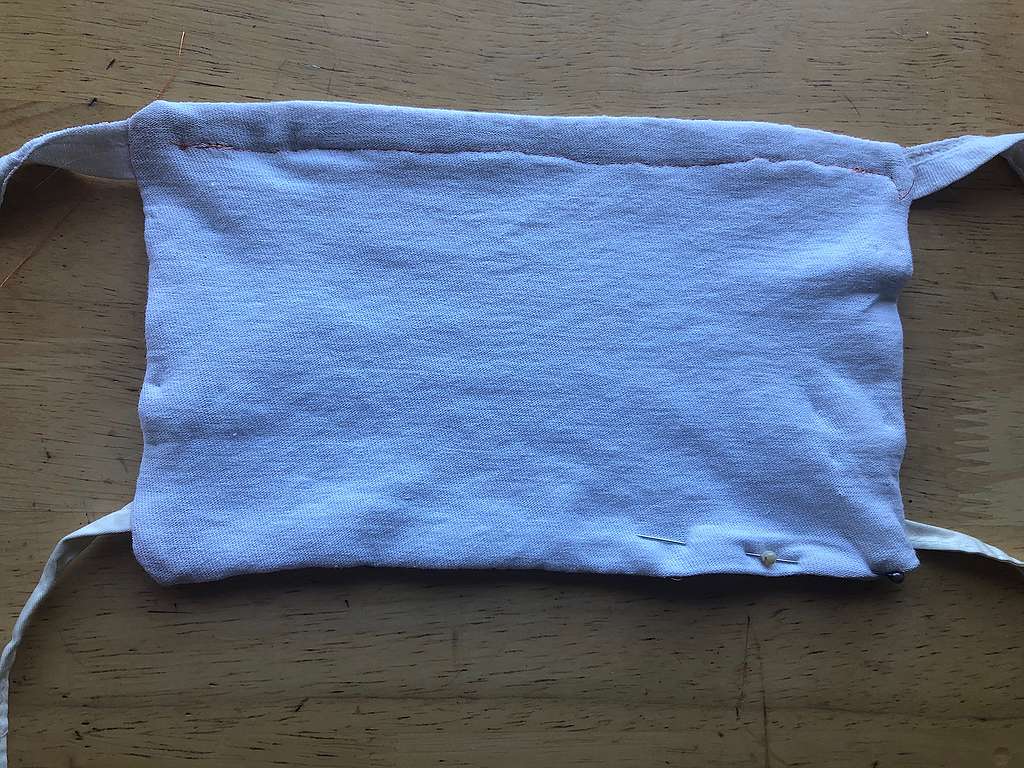 7. Fold mask twice to create symmetrical pleats, iron, fold and pin in place. Sew both sides.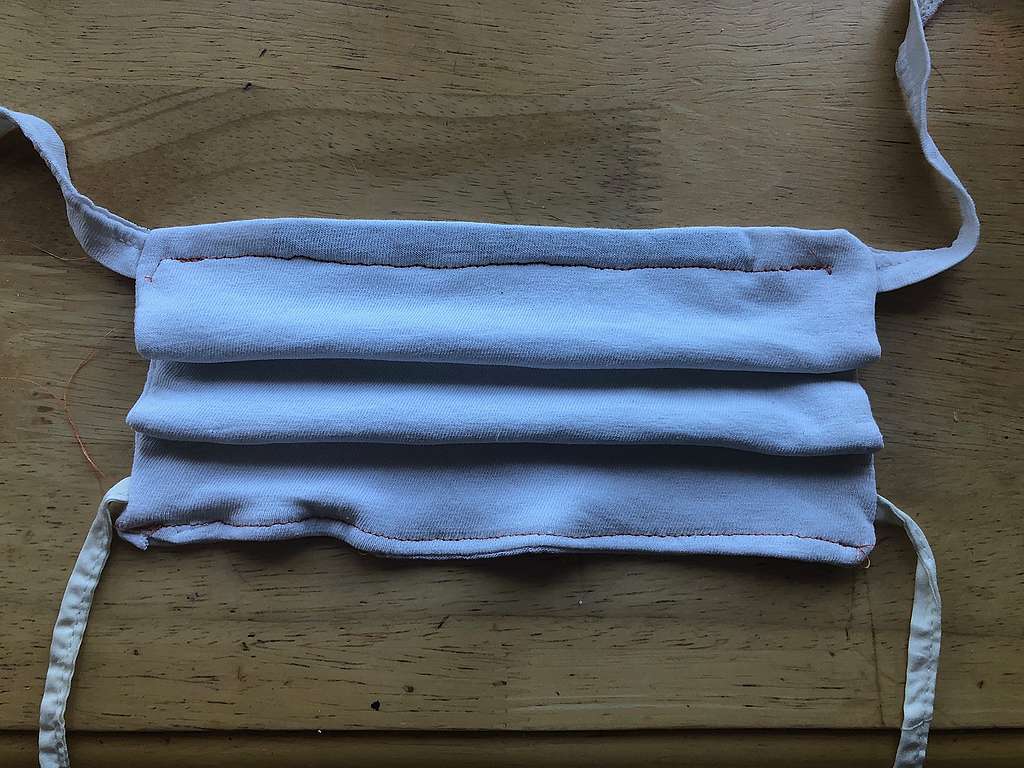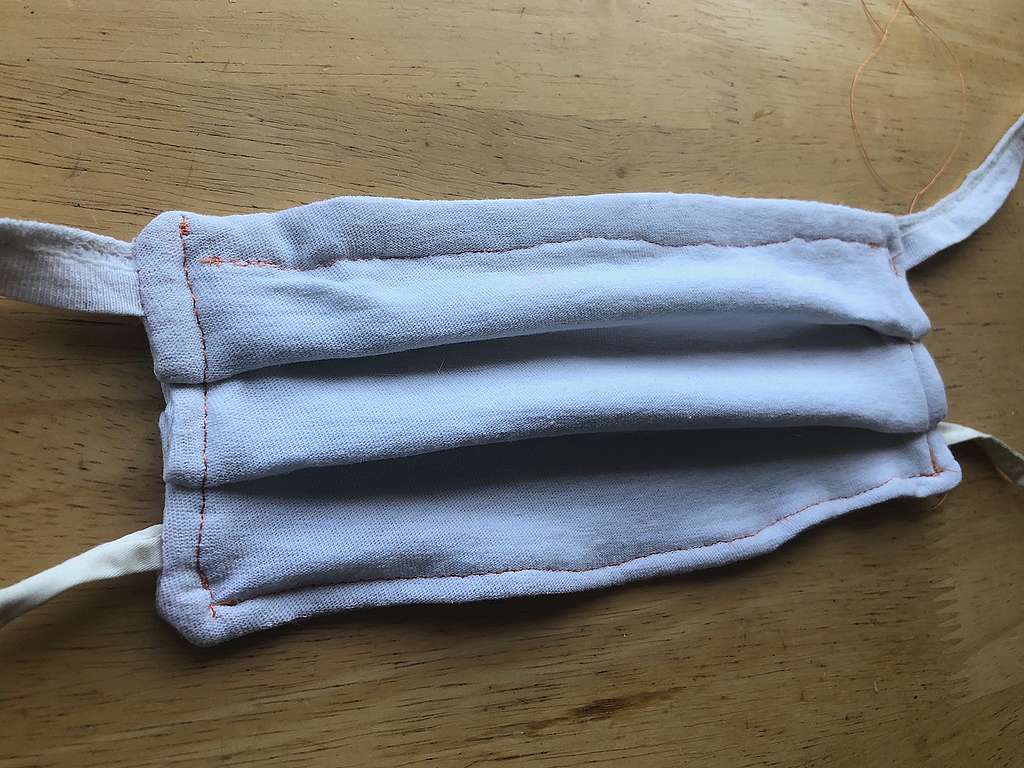 8. Remove all pins and snip excess thread.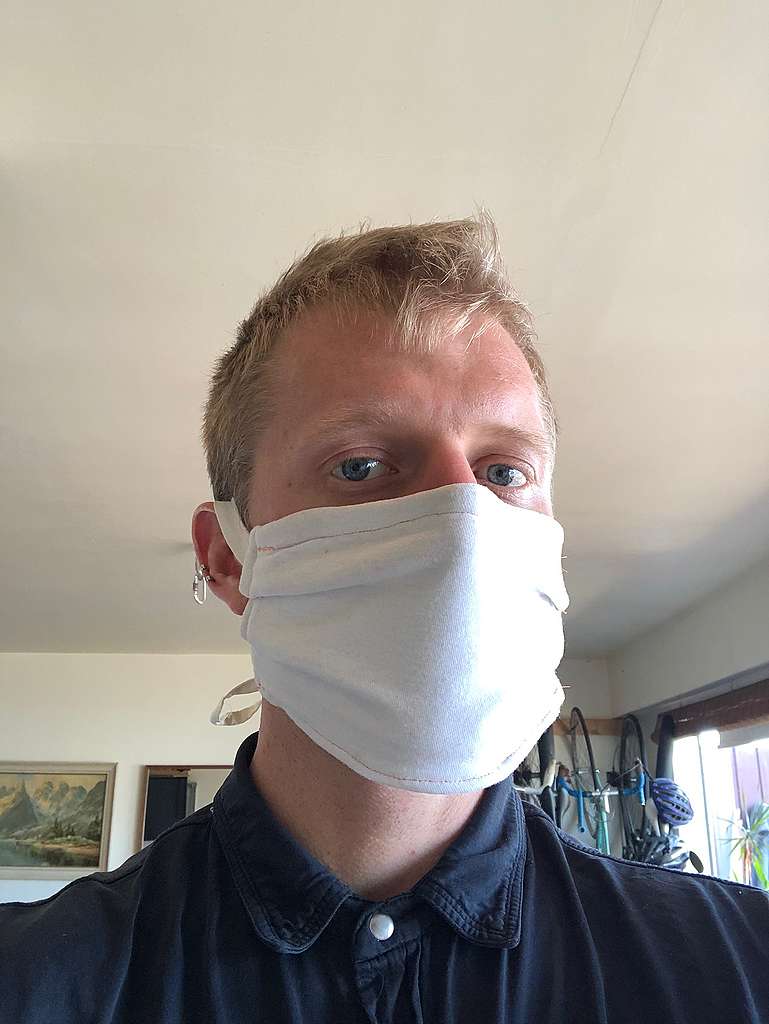 * To include an opening for inserting a removable non-woven layer to the mask, hem two rectangles together along the top horizontal edge. Hem the remaining rectangle along the top horizontal edge. Continue with the following instructions, but when sewing, do not sew the hemmed edges together. This will create an opening at the top of the mask where you can insert a non-woven layer.
How to use your fabric face mask
It's important that your mask fits snugly but comfortably and that there aren't big open gaps around your face.
Remember not to touch your face or the mask when wearing it.
After taking off the mask, remove the non-woven layer and dispose according to your local municipal waste guidelines. Wash your hands immediately.
The fabric mask should be laundered in hot water with fragrance free, non-toxic detergent and rinsed well.
You can air dry the mask in sunlight.
Before using the mask again, insert a new non-woven layer.
If you need to use masks regularly, you may want to have more than one mask (one being laundered, the other to wear).
Remember, masks are not a replacement for handwashing and social distancing guidelines ✌️
RELATED: How to make a reusable facemask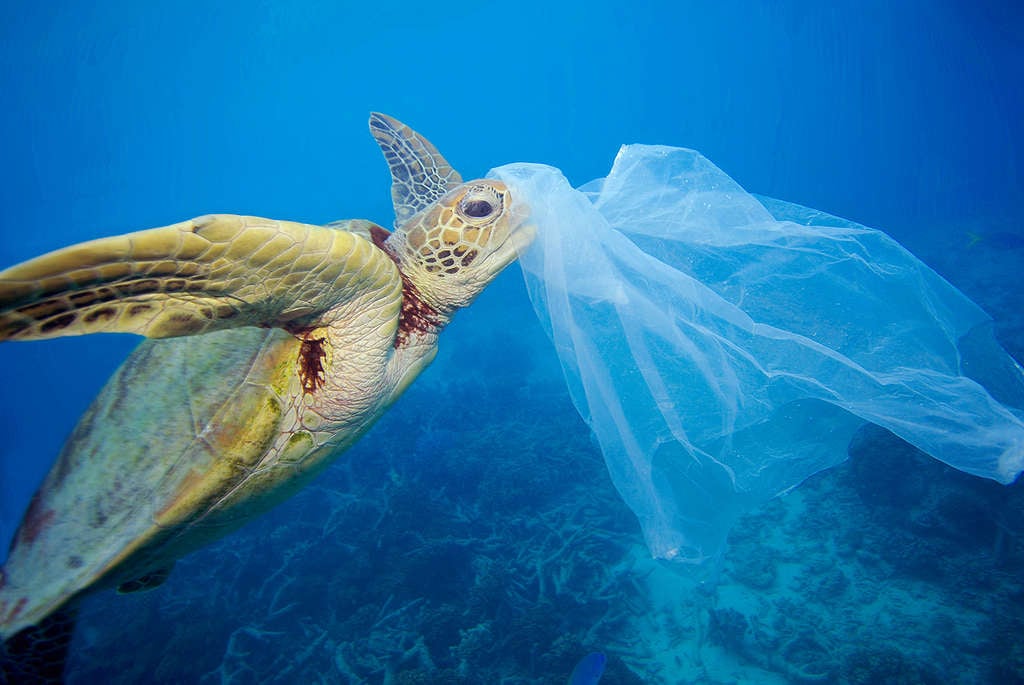 End Pointless Plastic in Aotearoa
We know that plastics are choking our oceans, and putting the creatures that call it home at risk. We need a plan to stop it! Around the world, people and governments are taking bold action. But despite these efforts, big corporates like Coca-Cola, Unilever, and Nestlé produce tonnes of disposable plastics every year with no end in sight. We need to end this madness.
Take Action