Remember watching that Saturday morning kids' TV, 'What Now?' and seeing people get gunged with cold, sticky slime?
All too often, what should be a refreshing dip in your local river seems more like a 'What Now?' gunging – thick mats of green slime drifting in the water. So we've made sure that the people responsible for the slime know what it feels like. We just gunged fertiliser company Ravensdown.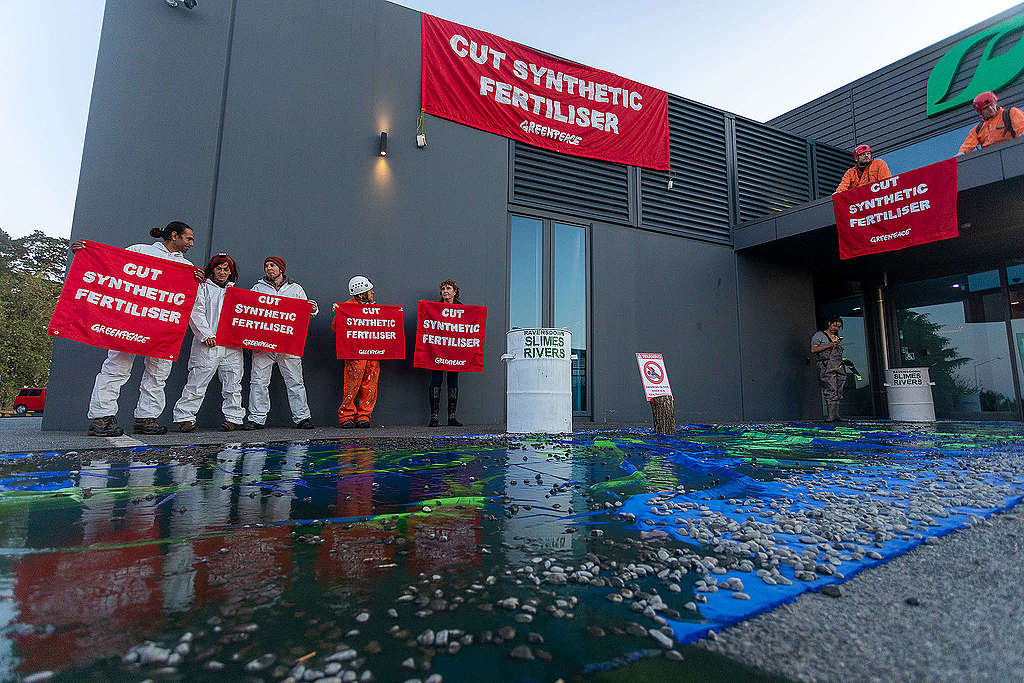 It's shocking, but right now, 70% of monitored rivers are too polluted to swim in. Companies like Ravensdown are driving industrial dairying and making our rivers sick, all so they can make a quick buck.
"This summer kiwi families have been encountering slime-choked rivers at their favourite swimming spots," says Greenpeace campaigner, Gen Toop. "Today we decided to give Ravensdown a taste of their own medicine."
Use of synthetic fertiliser has increased 627% since 1990 and in that time the dairy herd has more than doubled. The effects on our rivers are devastating. Nitrates from synthetic fertiliser and cow urine, create slimy algal blooms, suck the life out of waterways and threaten the safety of our drinking water.
Matt Coffey grew up near Selwyn Huts, on the banks of the Selwyn/Waikirikiri River. Several swimming spots along the Selwyn have warnings against swimming.
"I grew up on and around the Selwyn River. In boats, fishing, catching cockabillies. But that's all gone nowadays. My nephews can't do that any more. My sister was living at Selwyn Huts but had to move out because she couldn't keep the kids out of the river," says Matt.
In 2017, Jacinda Ardern promised to clean up our rivers. Last month, we held her to her promise by placing billboards in the polluted Selwyn/Waikirikiri river calling on the Prime Minister to honour her pledge to clean up our rivers.
We know that companies like Ravensdown don't have Kiwis' best interests at heart. They want to keep selling as much fertiliser as they can and watch the dollars roll in.
But no corporation has the right to ruin our rivers for a profit. We can make sure our freshwater is protected for generations to come.
Right now, the Government is deciding on new freshwater rules. If we get it right, these rules could cap the amount of synthetic nitrogen fertiliser that's put on the land, stemming the flow into our rivers and thwarting companies like Ravensdown.
Our government works for us, and they need to know that we want to see a cap on synthetic nitrogen fertiliser, for the health of our freshwater and our communities. There's a better way – regenerative agriculture that works with the environment, not against it.

Email the Prime Minister now and call on her to bring in strong new freshwater rules that place a cap on synthetic nitrogen fertiliser, and support farmers to transition to regenerative agriculture that doesn't rely on chemicals.
Let's reclaim our rivers from the slime. Kia kaha!
PS. If you're wondering, our special slime formula is not only edible, it's practically a green smoothie. All you need is:
– 1 tbsp psyllium husk
– 500mls of water
– a pinch of spirulina powder
Mix well, bring to a boil, allow to cool and it's slime time!