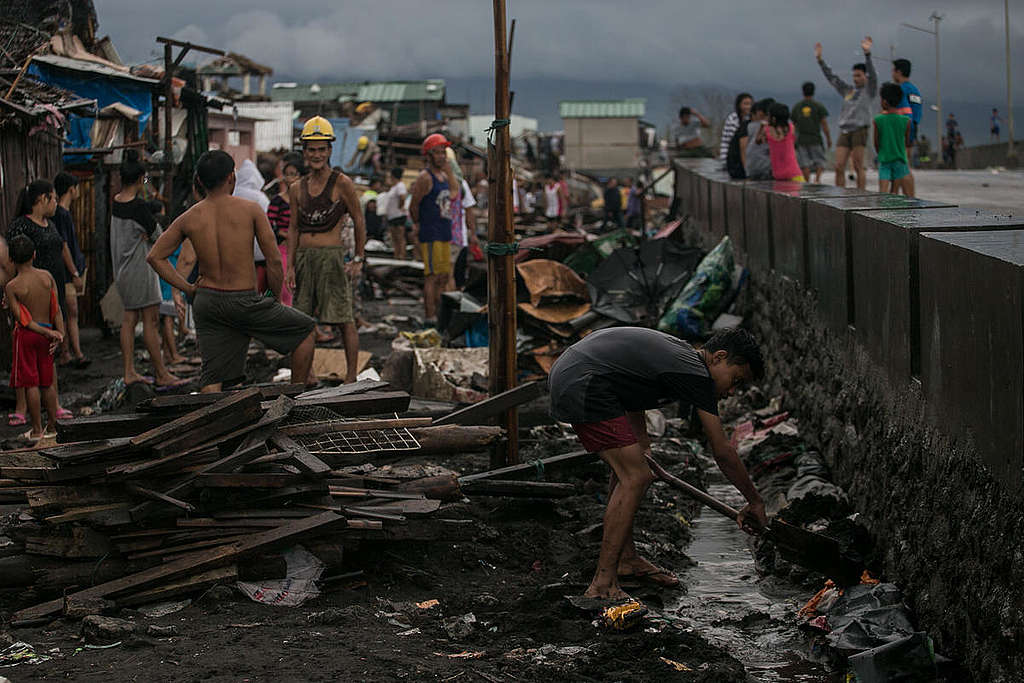 4 Canadian companies named in decision holding fossil fuel companies accountable for climate-related human rights harms
MADRID, 9 December 2019 — Today, on the sidelines of COP 25 in Madrid [1], the Commission on Human Rights of the Philippines (CHR) announced that 47 investor-owned corporations could be found legally and morally liable for human rights harms to Filipinos resulting from climate change. [2] Four Canadian oil companies, CNRL, Encana, Husky, and Suncor, were named in the original complaint that led to this decision, alongside oil majors like Shell, ExxonMobil, Chevron, BP, and Total.

In its groundbreaking investigation, the CHR also found the relevant criminal intent may exist to hold companies accountable under civil and criminal laws, in light of certain circumstances involving obstruction, willful obfuscation and climate denial.

The CHR has concluded that people affected by climate change and whose human rights have been dramatically harmed must have access to remedies and access to justice. Simply put, big polluters and other corporations have the responsibilities to protect human rights as we face the climate emergency.

Keith Stewart, Senior Energy Strategist at Greenpeace Canada, said:

"This is a strong signal to industry that the era of impunity is ending for fossil fuel companies who, for decades, covered up what they knew about how their products were causing the climate crisis. Communities in Canada who have been ravaged by wildfires, floods, melting sea ice and rising seas, as well as cities like Toronto, Victoria and Vancouver who are exploring legal action against these companies should be paying attention to this development."

Greenpeace Canada is running a campaign advocating accountability for big carbon polluters in Toronto and across Canada. So far, thousands of people in Canada have signed up to support their municipal governments holding oil companies accountable for the costs of climate-related harms.

Greenpeace Southeast Asia Executive Director Yeb Saño said:

"We applaud the statement of the Commission on Human Rights of the Philippines. This is a historic moment for people and the planet, and a landmark victory for climate justice.

Today marks the beginning of the end to the fossil fuel industry's stranglehold over our political systems. For the first time ever, big polluting companies have been found responsible for human rights harms resulting from the climate crisis. A growing number of climate cases are now being heard or filed across the world—and with the conclusion of this investigation, we believe many more communities will take a stand against fossil fuel companies that are putting profit before people.

The world is waking up to the fact that fossil fuel industry knowingly imperiled the safety and security of millions of people around the world for their own short term interests. It is an industry composed of the world's largest and richest companies who rake in profits, while the poorest and most vulnerable communities reel from super typhoons and droughts made worse by climate change, and suffer from loss of lives and livelihoods in a world degraded by the impacts.

This is a vindication of the struggle of communities in the frontlines who are leading the movement to demand climate justice. We are calling on people all over the world to support the call for justice and hold governments and corporations accountable in order to accelerate a just transition to renewable energy and avert the worst impacts of climate change."

The CHR's announcement, given by Commissioner Roberto Cadiz, coincides with the start of the second week of the UN Climate negotiations, COP25.[3] The energy for change visible on the streets has not translated so far into energy at the negotiating tables or into a reduction of the role that fossil fuel companies play in the political process. It is time for decision-makers to prioritise people over polluters."
ENDS
Notes to editors
[1] The announcement was made in a COP25 side event titled "Addressing Access to Remedy and the Business and Human Rights Dimension of Climate Change" organized by the UN Office of the High Commissioner for Human Rights (OHCHR) and Organisation for Economic Co-operation and Development (OECD).

[2] The National Inquiry on Climate Change is the first of its kind in the world and its resolution is expected to become a precedent for future climate litigation in the Philippines and in other countries. The Petition sought an investigation on "carbon majors," the world's biggest investor-owned fossil fuel and cement companies, for violating or threatening the human rights of Filipinos by significantly contributing to climate change and failing to reduce emissions.

Fourteen human rights and environmental groups, namely Greenpeace, Sentro, Philippine Rural Reconstruction Movement, Dakila, Philippine Alliance of Human Rights Advocates, Philippine Human Rights Information Center, Mother Earth Foundation, Ecowaste Coalition, 350.Org East Asia, Nagkakaisang Ugnayan ng mga Magsasaka at Manggagawa sa Niyugan, Asian Peoples' Movement on Debt and Development, Alliance of Youth Organizations and Students-Bicol, Philippine Movement for Climate Justice, and Nuclear Free Bataan Movement.

Read more about The Climate Change and Human Rights Petition in the Philippines: https://www.greenpeace.org/philippines/press/1237/the-climate-change-and-human-rights-petition/

[3] Greenpeace International's COP25 opening statement can be found at:
Media contacts

In Manila:
Angeli Cantillana, Greenpeace Philippines, +63 998 595 9733 or +63 925 805 0596, [email protected]

In Madrid:
Juliet Perry, Greenpeace International, +31 61 434 0380, [email protected]

Available 24 hours:
Greenpeace International Press Desk, +31 (0) 20 718 2470 [email protected]