It's been quite a ride. 
Together, we have put the climate emergency front and centre in this election campaign in a way that has never happened before. From the 150+ Green New Deal town halls in the Spring, to the massive student-led climate strikes, the relentless pressure on candidates at debates and on doorsteps, and even inspiring applications of art to politics, we have demanded that our next government treat the climate emergency like an actual emergency.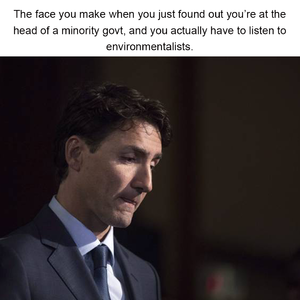 Now we need to seal the deal.
We need you to contact the Prime Minister NOW and tell him that you want him to work with other parties to implement a climate emergency response plan that acts at the speed and at a scale equal to the crisis. A plan that:
Is aligned with the best available science, so will e

liminate all carbon emissions before 2050 to avoid the worst effects of climate change. 

Has targets for 2025 and 2030 consistent with getting there, and independent reporting on whether we are on track.  

Ensures everyone in my community has a good job, because the big changes we need to make to solve the climate crisis can also address its twin scourge of growing inequality. 

Takes back the power and stop letting Big Oil companies influence government decisions. Your policies must be for the people, not the millionaires.

This begins with an end to subsidies to fossil fuels and the expansion of fossil fuel infrastructure, including the cancellation of the Transmountain expansion pipeline.

Stops putting extractive industries interests before Indigenous rights. He should implement free, prior and informed consent for all indigenous communities coast to coast to coast.
This is big. It won't be easy. But more delay or half-measures will be much, much harder.