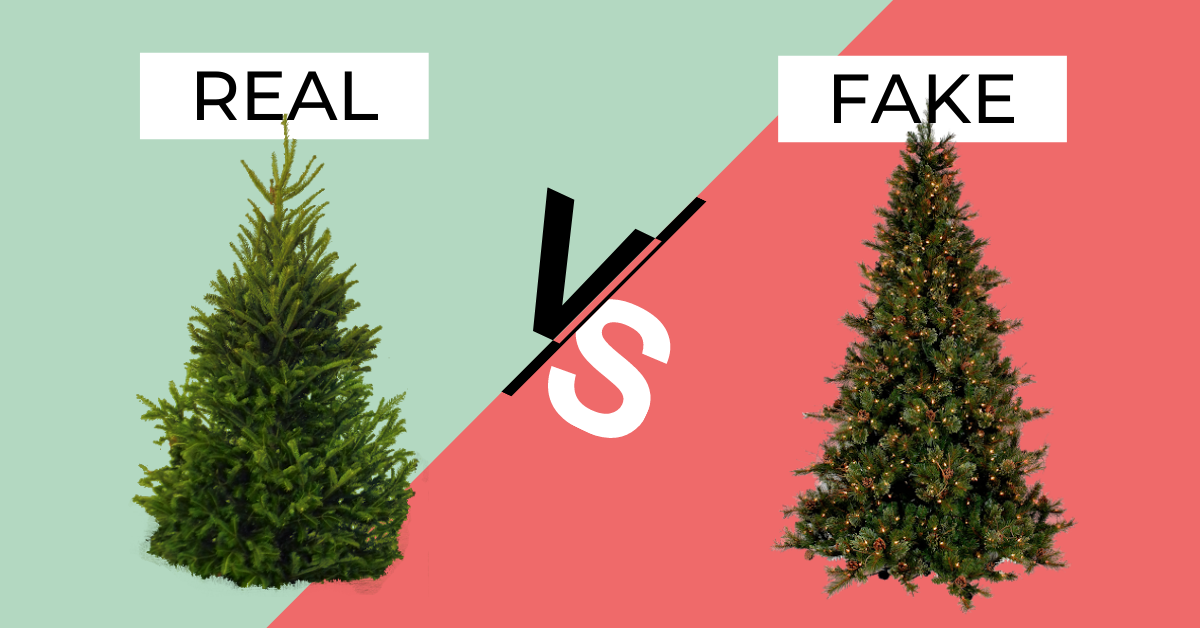 Alongside zero waste wrapping, we can now add 'the great tree debate' to the list of viral Holiday eco-trends worth unpacking: which is more sustainable, a real tree or a fake tree (or as my daughter likes to call them, FAKEmas trees)?
The truth is, they may both have their drawbacks and their benefits, according to the research that's been conducted on the environmental impacts of each.
While we might think of real trees as more sustainable because they suck up carbon dioxide and are compostable at the end of their use, when you look at the big picture, things start to get more complicated. Christmas tree farms can displace biodiverse natural ecosystems and, according to research conducted by Ellipsos, there is some debate around whether trees absorb more carbon than they release in their first 20 years of life (Holiday trees are generally cut down in their teenage years, so don't reach their ultimate carbon absorbing old-growth potential). Many commercial Christmas tree operations also use pesticides – some of which are even banned for use in gardening.
And while getting a permit to chop down a tree in the Canadian wilderness sounds nostalgic, there may be repercussions for unsuspecting wildlife – like this northern saw-whet owl who went viral last month after the tree he was chillin' in got chopped and dragged from Oneonta to New York City. The owl was unharmed, but frankly this is not a death stare I'm willing to mess with.
Fake trees, on the other hand, are often made from polyvinyl chloride (PVC), which is one of the naughtiest plastics on the plastics list and pollutes across its entire lifespan, from production to end of life. Trees made from PVC are difficult to recycle and so end up going to landfill where they release more greenhouse gases and pollute ecosystems by leaching dangerous chemicals. They are also usually made in factories overseas and the GHG emissions associated with shipping increases their carbon footprint.
For those wanting to escape the fake vs real dichotomy, here are some other eco-friendly options:
1) Make your own
Feeling crafty? Mix some creativity into the festivities this year and make your own tree out of upcycled materials (remember, the most sustainable item is the one that already exists. So the more reuse you can incorporate, the merrier for the planet!). This DIY cardboard Christmas tree from Makedo gives you a variety of options for how to decorate the finished product – you could make a traditional Christmas tree design or have cutouts with different coloured lights inside for a modern look.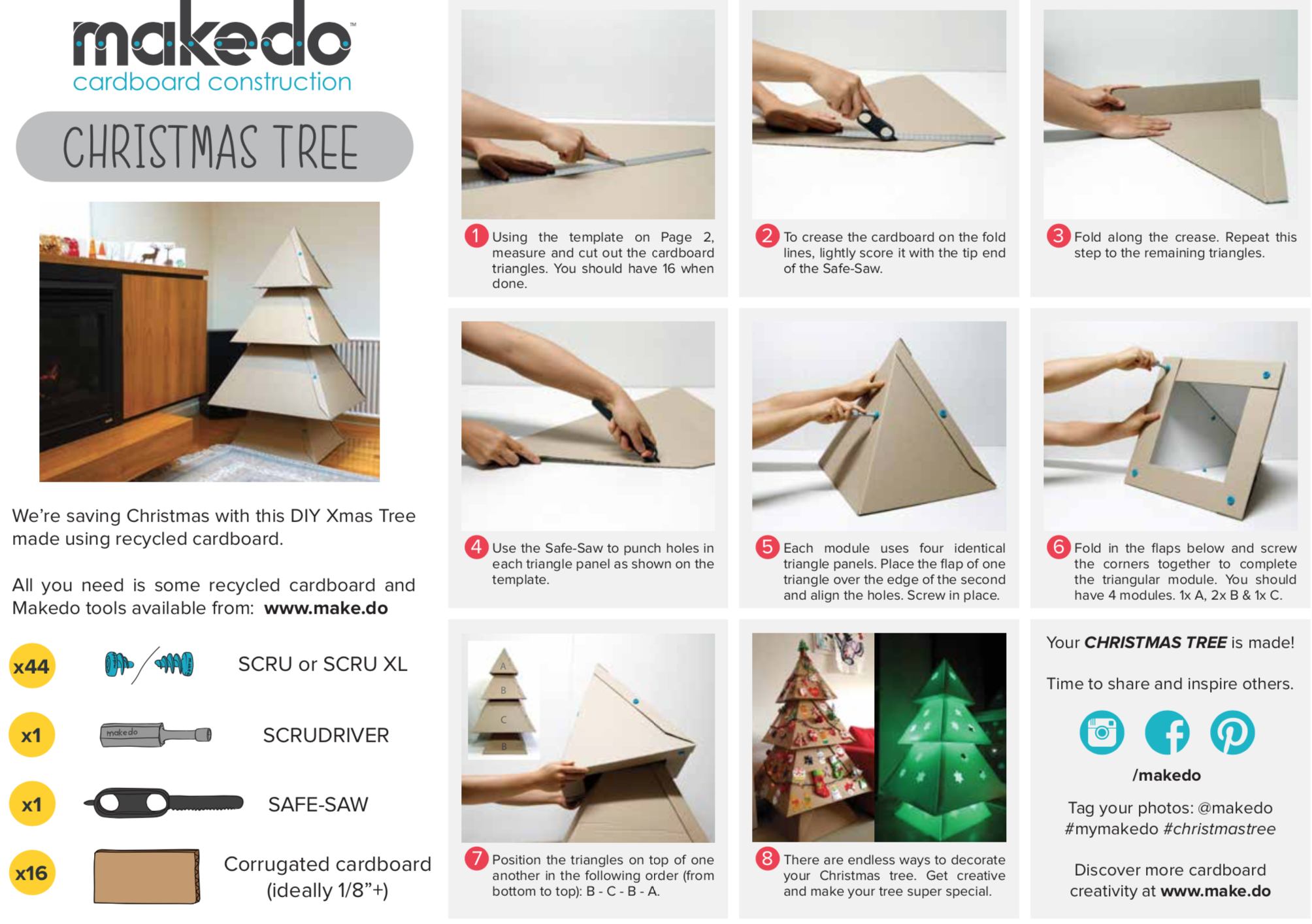 Here are a few other ideas to get your creativity flowing: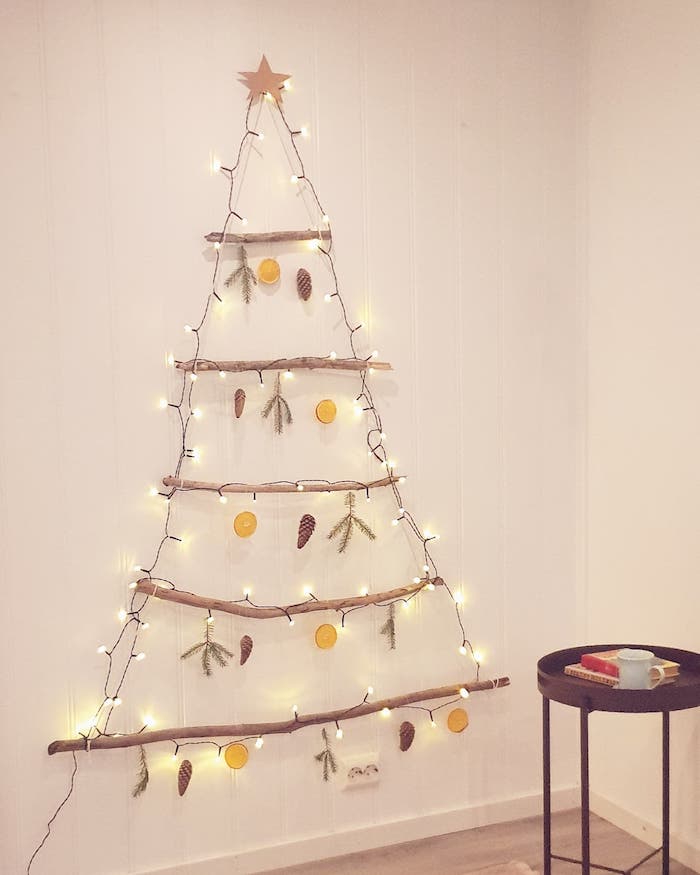 2) Get a live potted tree
Companies in Ontario, B.C and Alberta are making it possible for people to have a real tree, but minus the whole death thing: how about a living, oxygen-creating potted tree that you either plant or send back to the farm after the Holidays?!
Run by two forestry graduates, Carbonsync Christmas in Squamish will deliver your living tree to your door and pick it up after the Holidays to donate to habitat restoration groups for replanting. Likewise, Evergrow Christmas Trees in Burnaby will deliver the tree and then return it to the nursery so that families could potentially rent the same tree year after year until it's ready to be planted.
In Toronto, Evergreen Brickworks Garden Market let's you select a live potted tree to keep indoors over the holidays and then you plant it yourself in the spring. Here's a handy guide on how to care for and plant your own tree.
FromTheGround Organic Gardens in Alberta gives you the choice: you can either get them to pick up the tree after the Holidays OR you can keep the tree and they'll come back in the spring and plant it for you.
Know any other live-tree companies? Put them in the comments!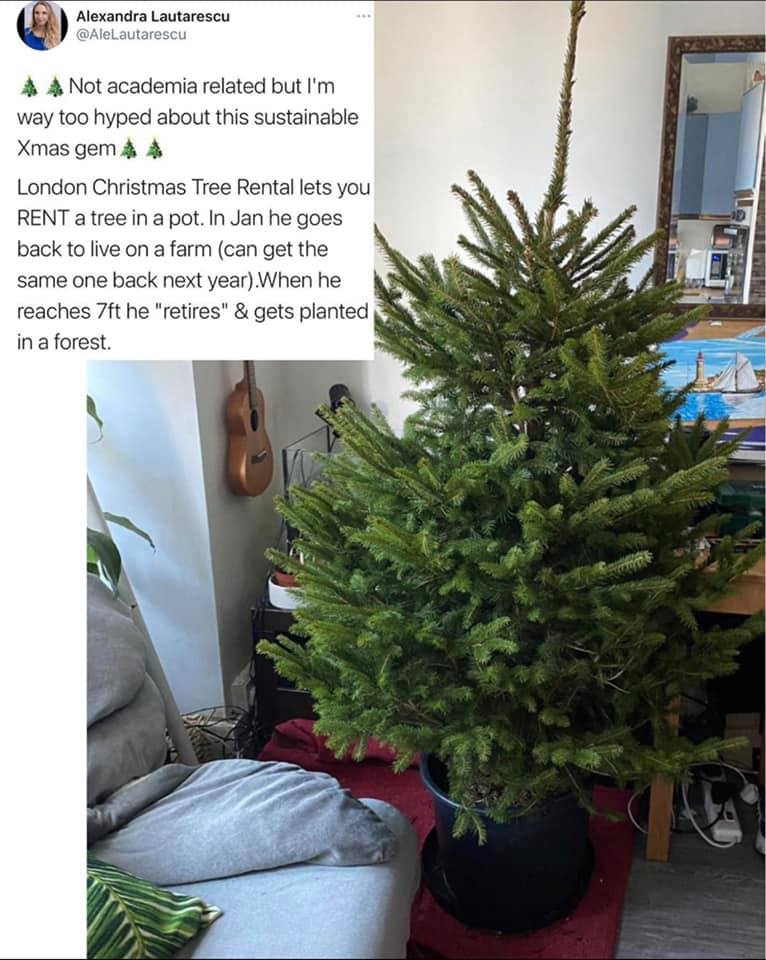 3) Get a second hand artificial tree
If you're going to commit to an artificial tree, get it secondhand rather than purchasing it new.
The research conducted by Ellipsos and the American Christmas Tree Association – both using comparative life cycle approaches – found that real trees generate less greenhouse gas emissions per Holiday season than artificial ones, but that this changes the longer your artificial tree is around for because the emissions are divided over many years.
An artificial tree has to be in circulation for at least 8 years – but ideally 20 – to reduce its carbon footprint. So, if you can find a good quality one in the secondhand market and take good care of it with proper storage, it can continue its journey long after you're finished with it. Here's a guide for how to navigate the secondhand market during the Holidays.
4) Get a Norfolk Island pine
Are you a proud plant parent who enjoys taking care of your leafy friends? Maybe a good alternative for you is to invest in a Norfolk Island pine that you can keep indoors year-round and transform into a Christmas tree during the Holiday season.
5) Decorate a living outside tree
If you have access to an outdoor tree, why not meet the tree where it's at and decorate it for the Holidays? This way, you don't have to pay for a pricey live potted tree or worry about any environmental impacts of a real vs artificial tree.
If you're still craving to have something indoors, supplement your outdoor Christmas tree with an indoor DIY Christmas tree (see point number 1).
If you do end up getting a real, cut tree for the Holidays, try to ensure it comes from a local, sustainable tree farm that doesn't use pesticides and where possible, make sure it gets responsibly composted.
If you end up going for a new artificial tree, try to select a high-quality one that will last a long time and can be passed on responsibly when you're finished.
---