On 14 July, the European Commission will formally kick off the complex process of turning a continent-wide climate target into concrete policy measures.
The bumper package of policies is meant to help the European Union achieve a 55% net cut in greenhouse gas emissions by 2030 (compared to 1990 levels). Hitting the target will require significant changes in a variety of economic sectors, from cars to energy, and taxation to trade.
But the Commission is expected to stop short of cutting off financial support for fossil fuels and other environmentally destructive sectors, like industrial farming and aviation, and will even encourage investments in fossil gas and the burning of trees for energy (what is known as bioenergy) by labelling them as sustainable solutions.
As the planet is gripped by the worst extreme weather in human history, the 55% target for net cuts to emissions itself falls well short of what science requires to restrict global heating to 1.5°C and stop catastrophic climate breakdown. The target translates to a 52.8% cut in real emissions from polluting sectors, like energy, transport and farming, because of the counting of 'negative' emissions – carbon dioxide that could potentially be absorbed by carbon sinks like forests.
Greenpeace EU director Jorgo Riss said: "This package of measures from the Commission is a fireworks display over a rubbish dump. It may look impressive, but move in close and it begins to smell. No amount of razzamatazz will change the fact that it's all meant to deliver on a target to cut emissions that's not grounded in climate science. It condemns us to a world where the deadly heatwaves, raging wildfires and devastating storms and floods we've seen over the last few months are constant and even more destructive. To really make a difference, the EU and European governments need to stop the greenwashing and end support for fossil fuels, polluting transport, industrial farming and deforestation."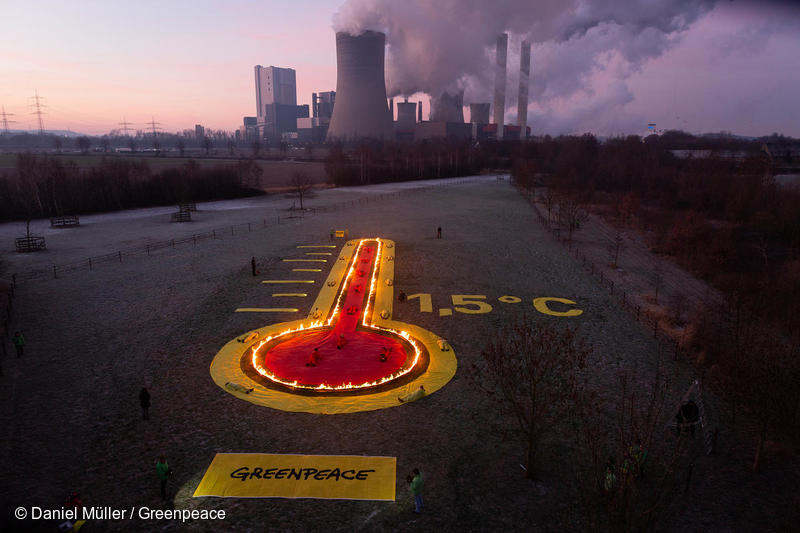 The Commission's 14 July package will include revisions of existing legislation and new initiatives, including on: the Energy Efficiency Directive; the Effort Sharing Regulation; the Renewable Energy Directive' the Emissions Trading System; the Energy Tax Directive; the Land Use, Land Use Change and Forestry Regulation; and the Carbon Border Adjustment Mechanism.
The Commission is likely to make some eye-catching announcements, which could draw attention away from the real-world impact of the bulk of the measures. Here are some areas worth watching.
Renewables & biomass (a.k.a. fake renewables)
The EU's target for the share of renewable energy (in heat and electricity) seems likely to remain low – closer to 40%, instead of a share of 50% by 2030, which would be in line with the Paris climate agreement. A contentious issue will be how much the target will rely on the burning of trees for energy. Hundreds of scientists have called on the EU to exclude the most destructive woody biomass from renewable energy policies, because of their impact on nature and the climate.
Greenpeace and other environmental organisations are calling on the Commission to exclude the burning of wood extracted directly from forests from counting towards renewable energy targets. Instead, the Commission should only support the burning of residues from wood product manufacturing, or true waste from other processes.
However, recent leaks of Commission plans indicate that it is considering nothing but cosmetic tweaks to existing criteria, such as excluding the last remaining parts of primary forests from biomass extraction – but leaving the majority of European forests fully exploitable for biomass burning. New research published by Greenpeace Netherlands revealed how similar biomass criteria in the Netherlands has led to forest destruction in Estonia, now the second-largest wood pellet exporter for energy production in the EU.
Offsets (a.k.a. LULUCF)
As the EU heads towards a target to reach 'net-zero' emissions by 2050, an increasing amount of attention is going to how many greenhouse gas emissions can be absorbed by nature. The Commission's new policy framework is expected to bank heavily on so-called carbon sequestration from land and forests – land use, land-use change and forests, or LULUCF.
The Commission is expected to table new climate targets for important carbon sinks like forests and peatlands, but these could well be riddled with accounting tricks – as is the case with the existing LULUCF targets. Recent leaks also suggest that efforts to absorb emissions could become a fig leaf to conceal the inadequacy of measures to cut growing emissions elsewhere, including from industrial animal farming and sectors covered by the Effort Sharing Regulation.
Cars
The Commission is considering ending the sale of new cars that run on a combustion engine by 2035. But Greenpeace research shows that this headline-grabbing move would come seven years too late, particularly without accompanying measures to reduce car use and trigger a large-scale shift towards cleaner modes of transport, like public transport, trains and cycling.
The inclusion of road transport in the European emissions trading scheme (ETS) would also be no guarantee of meaningful emission cuts in what scientists warn is a make-or-break decade for climate action (see the section below on the ETS).
Airlines
While they embody the most polluting and unequal way to travel, airlines still benefit from multiple privileges that distort the market, including a kerosene tax exemption, no VAT on international tickets, free allowances in the ETS, state aid, and special loans and bailouts.
The Commission is expected to reassess the kerosene tax exemption as part of a thorny review of the Energy Tax Directive. But here too, a low tax rate, a delayed implementation, and a series of exemptions, including for private trips, air cargo and business aviation, could gut new measures of any real impact in this crucial decade.
The inclusion of international flights in the ETS is also unlikely, with the EU robbing itself of a powerful tool to encourage global climate action. Flights within the EU are already covered by the ETS, but airlines benefit from vast amounts of free allowances (see the section below on the ETS).
Greenpeace is calling on the EU to take immediate action to slash the damage caused by airlines, including by banning short-haul flights where there are convenient alternatives, by investing in sustainable mobility options like trains, and by securing a just transition for airline workers. Betting on false solutions, like unrealistic 'green' planes powered by unsustainable biofuels, and encouraging a return to pre-pandemic levels of flying, as foreseen by the sector, would only expose the hypocrisy of European governments when it comes to climate action.
ETS
A recent leak has indicated the Commission's intention to introduce a separate carbon market for new sectors, like buildings and road transport, but this poses social risks, with no guarantee of meaningful emission cuts. The inclusion in a new carbon market measure does not give the necessary price predictability to drivers, nor the necessary protection for poorer households facing a fuel price increase. The measure could also disproportionately burden households and drivers – to differing degrees, depending on their income or where they live – while the biggest corporate polluters, like airlines and heavy industries, continue to receive free allowances.
The draft plan does not address the biggest problems of the ETS: the lack of a carbon floor price and the free allocation of emission allowances, which on paper should only have benefited companies with the best practices, but in reality have enabled huge chunks of industry to pretend to offset their activities at no cost.
Carbon border tax
The Commission is developing plans for a Carbon Border Adjustment Mechanism (CBAM) to combat 'carbon leakage' (moving corporate operations to countries with fewer or looser emissions restrictions). Based on a recent leak, we can expect the mechanism to introduce carbon emission costs for imports of certain goods, including cement, steel and electricity, covering both direct and indirect emissions (like the impact of the electricity used to produce the goods). The CBAM aims to gradually replace the measures that address carbon leakage in the ETS, through the allocation of free carbon allowances. The leaked plan says these two systems will co-exist for some time, in a transitional period where the CBAM will be phased in and allocations under the EU ETS phased out. 
Given the narrow focus of the CBAM on certain sectors, it seems the measure will be limited in scope, but the Commission is planning a review after the transition period, and is considering potentially extending it.
The leaked plan includes six different options for a carbon border mechanism. If deployed alongside other strong climate policies, a carbon border tax could potentially be an important tool to stall the trade in climate-destroying commodities and services. However, one of the main concerns about any carbon tax is that, if not properly designed, it carries the risk of disproportionately burdening lower income groups and poorer countries, who bear a much smaller responsibility for the climate crisis. The Commission's draft will include a list of countries excluded from the carbon border tax. The list could favour countries with special trading relationships with the EU, with little concern for impacts on other developing countries.
Greenpeace calls for revenues from the tax to be used to ensure a speedy and just transition to reach net-zero emissions in the EU. However, the leaked plan indicates that most revenues will go to the EU budget, in particular to cover part of the recovery instruments of Next Generation EU, without earmarking them specifically for climate action.
Contact: Greenpeace EU press desk: +32 (0)2 274 19 11, [email protected]
For breaking news and comment on EU affairs: www.twitter.com/GreenpeaceEU
Greenpeace is an independent global campaigning organisation that acts to change attitudes and behaviour, to protect and conserve the environment and to promote peace. We do not accept donations from governments, the EU, businesses or political parties. We have over three million supporters, and offices in more than 55 countries.
EU Transparency Register: 9832909575-41