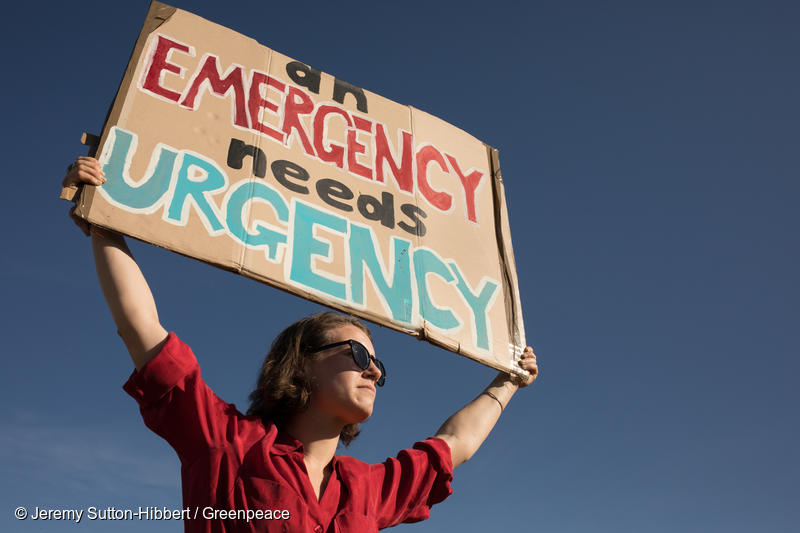 Brussels – Despite a series of eye-catching announcements, a package of policy proposals released by the European Commission on Wednesday is unfit to tackle the climate crisis, warned Greenpeace.
Greenpeace EU director Jorgo Riss said: "Celebrating these policies is like a high-jumper claiming a medal for running in under the bar. You can't sidestep the rules of the game, just like you can't ignore climate science. But this whole package is based on a target that is too low, doesn't stand up to science, and won't stop the destruction of our planet's life-support systems. For all the hype, many policies won't kick in for ten years or more, like new polluting cars still being sold up to 2035, while others will actually fuel the fire, like labelling the burning of trees as renewable energy."
As the planet continues to face deadly heatwaves, raging wildfires and devastating storms and floods, the EU's 55% target for net cuts to emissions by 2030 falls well short of what science requires to restrict global heating to 1.5°C, and prevent the collapse of nature, the economy and wider society.
Among the top announcements today:
The Commission wants to restrict sales of new cars to "emissions-free" vehicles from 2035, too late to limit global heating to 1.5°C.
The Commission also wants to set up a new carbon market for road transport, triggering fears that rising energy and fuel prices could harm poorer households, with no guarantee of meaningful emission cuts.
A new tax on jet fuel kerosene could only be fully implemented in 2033 and be riddled with exemptions.
Polluting industries are likely to continue to get free emission allowances under the EU's carbon market until 2035, linked to the phase-in of the carbon border adjustment mechanism (see below).
Hydrogen will also be eligible for free allowances under the EU's carbon market, including when it is produced using unspecified "low carbon" technologies.
A carbon border tax on steel and iron, aluminum, cement, electricity and fertilisers to combat 'carbon leakage' that would co-exist for a transition period with the EU carbon market. This could disproportionately burden poorer countries.
Insufficient measures to stop the burning of trees for energy, as all woody biomass could continue to count towards the EU's renewable energy target.
The Commission also wants to hide emissions from industrial farming by compensating for them with emissions absorbed by forests and nature.
New and more transparent targets for forests and nature to absorb carbon by 2030, even if efforts could be almost doubled by 2030, when combined with nature restoration.
An increase of the EU's renewable energy target for 2030 to 40% of the share of energy (up from the current 32%) and an energy efficiency target of 36% are too low to limit temperature rise to 1.5°C.
As details of the 'Fit for 55' package emerge, further analysis on today's top announcements by the Commission will be added to this page (latest update at 5.30PM CET on 14 July 2021).
All Commission proposals will be subject to amendments and approval by the European Parliament and governments over the coming months and years.
*** For more information on the Fit for 55 package, read our media briefing.
Contact: Greenpeace EU press desk: +32 (0)2 274 19 11, [email protected]
For breaking news and comment on EU affairs: www.twitter.com/GreenpeaceEU
Greenpeace is an independent global campaigning network that acts to change attitudes and behaviour, to protect and conserve the environment and to promote peace. We do not accept donations from governments, the EU, businesses or political parties. Greenpeace has over three million supporters, and 26 independent national and regional organisations with offices in more than 55 countries.
EU Transparency Register: 9832909575-41