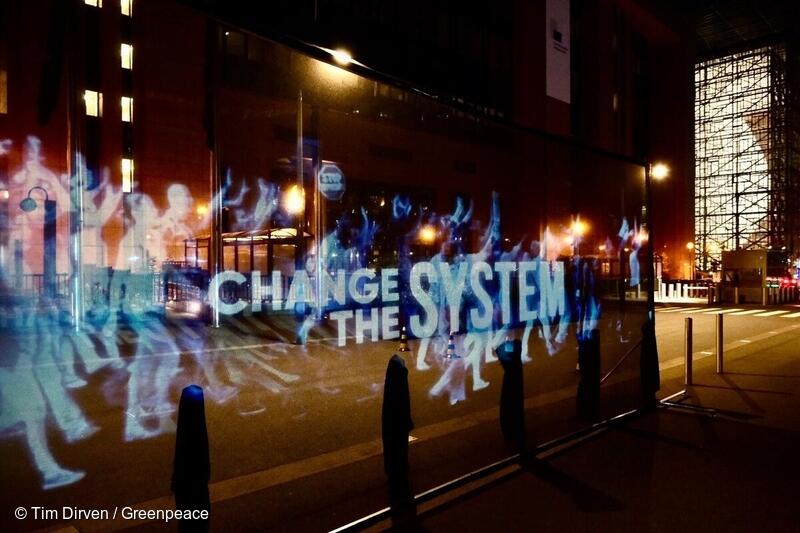 Brussels, 15 March 2022 – More than 270 civil society organisations, trade unions, employers and academics have today published a Manifesto for a Green, Just and Democratic European Economy, as EU finance ministers meet in Brussels to discuss reforms to the bloc's economic governance.
The manifesto calls for fundamental reform of EU economic policies to reduce socio-economic, intergenerational and gender inequalities, while protecting people's well-being and accelerating action on the climate and nature emergencies.
Greenpeace EU sustainable finance campaigner Ariadna Rodrigo said: "The EU is trying to cushion some of the immediate impacts of the war in Ukraine or high energy bills by patching up the economic system. But rather than lurching from one crisis to another, European leaders need to rethink our flawed system, which for too long has rewarded pollution, environmental destruction and human exploitation."
Soon, the European Commission will present the outcome of its economic governance review, and in May will issue budget guidelines to national governments. The Commission is also anticipated to propose reforms to fiscal rules in June.
Greenpeace is calling for the EU to do "whatever it takes" to put Europe's economy on a sustainable pathway, including by investing in renewable energy, home insulation, zero-waste communities, sustainable transport, and ecological farming that protects workers and nature.
Contact:
Ariadna Rodrigo, Greenpeace EU sustainable finance campaigner: [email protected]
Greenpeace EU press desk: +32 (0)2 274 1911, [email protected]
For breaking news and comment on EU affairs: www.twitter.com/GreenpeaceEU
Greenpeace is an independent global campaigning network that acts to change attitudes and behaviour, to protect and conserve the environment and to promote peace. We do not accept donations from governments, the EU, businesses or political parties. Greenpeace has over three million supporters, and 26 independent national and regional organisations with offices in more than 55 countries.
EU Transparency Register: 9832909575-41