17 November will be a big day for nature protection – here's what to look out for
Brussels, 9 November 2021 – On 17 November, the European Commission is set to publish a draft law to address the EU's contribution to global deforestation and forest degradation. Through consumption of products that come from cleared and devastated land and through finance of companies profiting from this, Europe contributes to the destruction of forests and other ecosystems, within and outside its borders. The EU is responsible for 17% of tropical deforestation linked to internationally traded commodities like meat, palm oil or soy. The EU's own forests are also suffering as they are increasingly fragmented and losing biodiversity.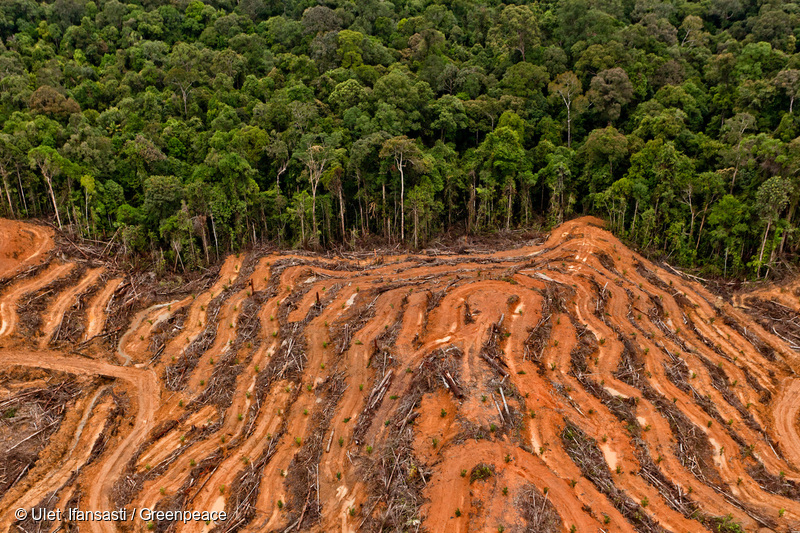 The destruction of ecosystems in order to access natural resources, grow crops and graze animals often comes hand-in-hand with the violation of Indigenous People's rights or other human rights abuses. In 2020, Global Witness recorded 227 fatal attacks on environmental defenders, 70% of whom were working to protect forests from destruction. Indigenous People also face violence, land-grabs, threats and harassment for defending natural areas from exploitation.
Greenpeace EU agriculture and forest campaigner Sini Eräjää said: "People in Europe should have a guarantee that nothing in their shopping basket makes them complicit in nature destruction. The EU's new anti-deforestation law must oblige companies to show that their products have not caused deforestation, ecosystem destruction or human rights abuses, if they want to sell on the EU market. A patchwork law that leaves many natural areas vulnerable and provides loopholes for destructive industries is not good enough."
Pressure from EU Parliament and civil society
The publication of the draft law comes on the back of pressure from the European Parliament, NGOs and the public to propose a strong law that cuts ecosystem destruction out of supply chains and investments.
From September to December 2020, the European Commission ran a public consultation about how it should address the EU's contribution to global deforestation and forest degradation, to which over one million people responded – the highest number of responses for an EU consultation on an environmental topic, and the second-highest ever. Over 1.1 million people called on the Commission to publish a law that would require companies selling products on the EU market to show that their supply chains were clean of forest or ecosystem destruction, or human rights abuses. They also called on the Commission to require banks operating in the EU to show that their investments were not contributing to the same destruction of nature or rights violations. These same demands were backed by the European Parliament in its report in October 2020.
If the lofty pledges to halt deforestation made at the COP26 UN climate meeting are to have any credibility, EU representatives and government leaders will have to agree on strong law to curb the impacts of our consumption and finance sector.
Push-back from industry
Many of the world's biggest food and timber companies, selling products that are known to be associated with ecosystem destruction and human rights abuses, have skin in the game.
A recent Greenpeace report shows that while many of them are busy making public "zero deforestation" pledges, they are also lobbying EU decision-makers to make sure that the legal requirements for their specific businesses are as few as possible and as weak as possible.
The report reveals how, for example, paper, pulp and rubber companies argue that others elsewhere are to blame, how soy feed and meat companies claim that they have already dealt with the issue themselves through voluntary certification schemes, or how palm oil companies argue that it is not up to the EU to take action.
Leaked documents
Leaked drafts of the forthcoming draft law have revealed that, while the European Commission is planning to propose a robust set of new rules, the plans also have some glaring gaps.
Leading MEPs have written to the Commission, urging it to protect all ecosystems and regulate all commodities that pose a risk to nature in the new law. They also said the impact of the finance sector on ecosystems should be addressed by the legislation, that internationally recognised human rights must be upheld, and warned of the risk of loopholes by creating exemptions for commodities originating from so-called "low risk" countries. The narrow scope of risky commodities included in recent leaks has been criticised by scientists and even sparked pleas from some of the excluded industries themselves to have their sector's supply chains regulated, as is the case for parts of the rubber industry.
How to measure if the new EU law will protect nature and human rights
Greenpeace is looking at five crucial omissions that must be filled in the new law to ensure it really ends Europe's complicity in nature destruction and human rights abuses. Greenpeace is also hoping that key strengths of the law seen in leaked drafts actually make it into the final proposal.
What's missing?
1: Not just forests
Many other ecosystems are destroyed to produce commodities for Europe's consumption, such as wetlands like Brazil's Pantanal to clear pasture for cows, savannahs like the Cerrado to plant soy, or peatlands in Indonesia to grow palm oil and pulpwood. Just like forests, these other ecosystems support the livelihoods of many Indigenous Peoples, are home to rare species and play a big role in absorbing carbon dioxide and fighting climate change.
It would be a significant failure if the EU's new law leaves these ecosystems exposed by shifting land clearing from forests to other natural areas. However, leaked versions of the draft law suggest that it will only protect forests, and not other ecosystems.
2: Uphold international human rights laws
Leaked documents show that the European Commission's plans fail to include respect for international human rights law as a requirement to place products on the EU market, instead relying on the laws in producing countries. Many of these countries have not translated international human rights law obligations into domestic law. We have also already seen examples where governments are removing legal protections for Indigenous Peoples' land (in Brazil) or for forests crucial to local communities (in the Democratic Republic of Congo), disregarding international law obligations.
To properly end Europe's complicity in human rights abuses, and effectively protect the rights of Indigenous Peoples and local communities, the new EU law must require companies to show that products sold here comply with domestic and international human rights law.
3: Cover all commodities and derived products that put forests and ecosystems at risk
The production and consumption of many different products put forests and ecosystems at risk. Leaked documents show that the European Commission plans to regulate only six of these commodities: beef, palm oil, soy, coffee, cacao and wood. The drafts notably exclude rubber and maize, which has led to criticism of the Commission's use of flawed numbers to justify this exclusion. The drafts also only include beef, but not other meat (like pork and poultry).
Furthermore, listing derived products one by one, instead of using a general clause that covers any product when it derives from forest and ecosystem risk commodities, could create loopholes. Soy is included as a commodity, but soy oilcake and other solid soy residues are missing, despite the fact that they make up a major part of soy products imported in the EU. A partial list would mean that a lot of commodities' production for the EU market would remain unregulated.
To protect nature, the law must apply to all products containing or derived from commodities that pose risks for forests and other ecosystems.
4: Level playing field for all countries
Forest and ecosystem destruction to make way for commodity production happens across the world. In any country, risks to ecosystems can change rapidly and companies that source commodities must be able to react quickly. That is why it is crucial that all companies are obliged to apply due diligence procedures (risk assessment and risk mitigation) to all commodities from all countries. However, the leaked proposals show that the Commission plans to introduce a list of "low risk countries", whose products would not need to undergo due diligence before being placed on the EU market. This could lead to loopholes, distort trade flows to the benefit of supposedly "low risk countries", and even promote the use of these countries as a hub for the laundering of commodities from high risk ones.
5: Follow the money
Lenders based in the EU's 27 member states have made an estimated €401 million in proceeds from forest destruction alone since 2016. Still, the leaked proposals turn a blind eye on the whole financial sector. The leaked proposals refer to other EU policies to address this problem, none of which obliges financial institutions to ensure they do not finance ecosystem destruction.
What must be kept?
Hold on to strong supply chain controls
The Commission is expected to set clear environmental sustainability criteria for some products, going beyond what is considered legal in producing countries. This is an important step change compared to similar, but grossly insufficient, initiatives by the US and UK governments and will set an international precedent.
The draft proposals also rely on strong rules (so-called due diligence) that companies will have to comply with before they can place their products on the EU market (albeit with the problematic exemption of commodities from so-called "low risk countries" referred to in point 4 above). The rules should also oblige companies to determine exactly where their commodities come from. Compared to other earlier EU legislation, such as the EU timber regulation, the drafts also promise stronger enforcement of the law, for example by assigning clear responsibilities to customs officials, and more detailed penalties for companies breaching the rules.
Finally, the draft law must include a firm definition of 'forest degradation' in relation to products on the EU market, and the recognition that, given their lack of effectiveness, private certification schemes can only play a very limited role and cannot substitute the operator's responsibility to conduct due diligence
Next steps
Publication of the Commission's proposal will kick off rounds of negotiations both in the European Parliament and among national ministers. In the Parliament, MEPs in the environment committee are expected to take the lead, whereas ministers are still debating whether environmental or agricultural ministers should be in charge. Negotiations between national ministers are expected to start in earnest during the French presidency of the Council of the EU in the first half of 2022.
Contacts:
Sini Eräjää, Greenpeace EU agriculture and forest campaigner: +32 476 975 960, [email protected]
Greenpeace EU press desk: +32 (0)2 274 1911, [email protected]
For breaking news and comment on EU affairs: www.twitter.com/GreenpeaceEU
Greenpeace is an independent global campaigning network that acts to change attitudes and behaviour, to protect and conserve the environment and to promote peace. We do not accept donations from governments, the EU, businesses or political parties. Greenpeace has over three million supporters, and 26 independent national and regional organisations with offices in more than 55 countries.
EU Transparency Register: 9832909575-41