History of Greenpeace
Greenpeace started in 1971 with a small group of volunteers organizing a music concert to raise funds to sail a boat from Vancouver to Amchitka to protest against US militarism and the testing of nuclear weapons. The tests went ahead but the protests gave birth to a new idea – Greenpeace.
45 years on, Greenpeace has a presence in over 55 countries around the world. We share the same core values of non-violence, bearing witness, personal action, internationalism and independence – we do not accept funding from governments or corporations.
You can read more about Greenpeace activities around the world via their national or on the international website which links to national pages.
1995-2000

Before Greenpeace India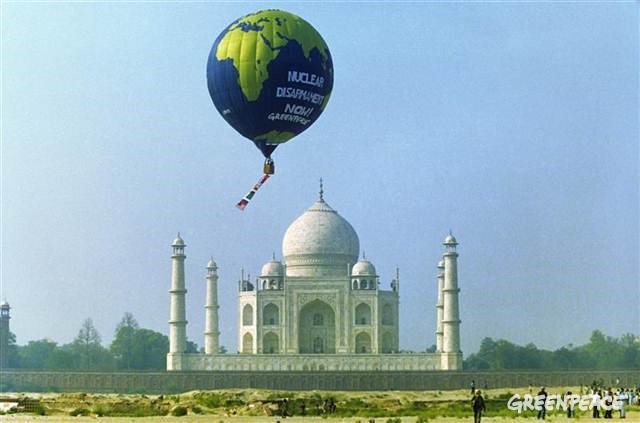 Greenpeace India was founded in 2001. But our story goes back further to 1995 where grassroots activists from other Greenpeace offices started the idea of Greenpeace India in Delhi. Ideas are often more powerful than organisations.
The initial campaigns to stop western companies using India as a dumping ground for toxic waste (1995), the iconic hot air balloon protest near the Taj Mahal (1998) and the campaign against toxic ship breaking in Gujarat , gave us the momentum to get registered in India by May 2001.
2001-2008
The early years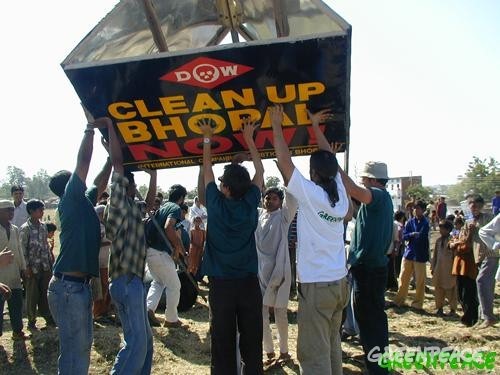 Looking back at old websites and press releases evokes nostalgia from those early days. The success stories of a very small office, campaigning on a wide range of issues ranging from Genetic Engineering to the dumping of toxic mercury waste at Kodaikanal (part of the corporate accountability ship tour in 2003). Not to mention promoting clean energy and the solar generation, and also mobilising support for the victims of Bhopal Gas Tragedy. We could slowly create a niche for our work and register our presence in the development sector and the civil society of this country.
By 2006, Greenpeace India had established itself as an environment watchdog and a force to reckoned with. We had successfully senthe toxic asbestos laden French warship – Clemenceau, back to France. The ship was seeking admission to recycle yards of Alang in Gujrat. We started a high profile campaign to save the turtles of Orissa (check out the Olive Ridley turtle protests),
Our supporter base was growing fast as more and more people in India were inspired to donate towards a green and peaceful future for our country.
2009-2014

Campaigning and mobilisation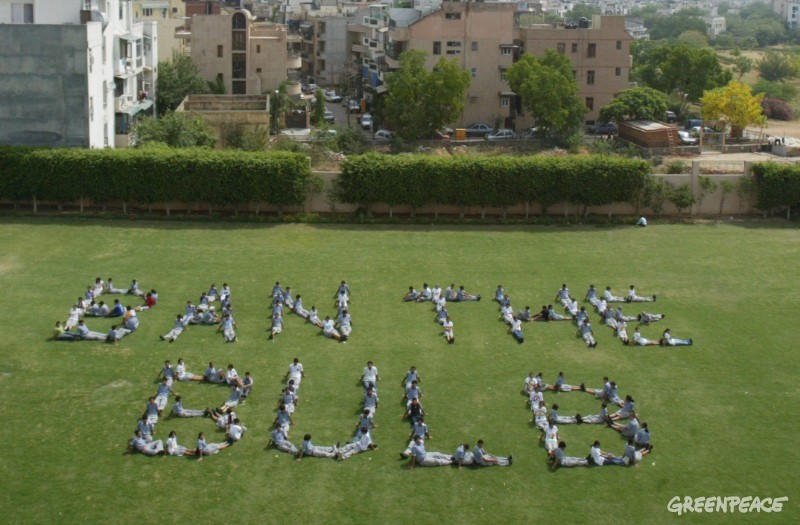 The Ban the Bulb campaign integrated our on-ground volunteers with our online digital activists and mobile phone campaigning (missed calls and SMS actions). Over two and a half lakh people signed up to support the campaign and three years later celebrated success with the announcement of the Bachat Lamp Yojana program in 2009.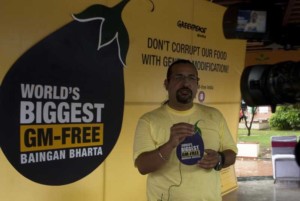 The detection of nuclear radiation at Mayapuri in Delhi, and the campaigning around the Government's proposed nuclear liability bill helped enforce one of our key demands in the 2010 Monsoon Session of the Parliament – that of complete supplier liability i.e. The supplier of the technology be held liable in case of any nuclear accident owing to faulty products or technology. If their products are flawed, it is unfair if the Indian taxpayer must foot enormous bills in the event of a disaster, while the company just rakes in the profits. Furthermore, the health and safety of our nation is at risk from nuclear contamination if we don't have strong laws that hold suppliers accountable for their products. Our Safe Food campaign continued to win a world record for the biggest GM Free Baigan Bharta.
Onwards – the Delhi rooftop solar campaign, and the Switch on the Sun initiative culminated in the Bike-A-Thon for World Environment Day in 2013, bringing Greenpeace supporters, Resident Welfare Associations (RWAs), cyclists and radio stations on board (or on their bicycles) to join the long running campaign to solarise our cities and our villages. That idea of a solar generation from 2013 still lives on.
Our sustainable agriculture campaign hit headlines the next year as Greenpeace India published an expose report confirming the presence of pesticide residue in products of major tea brands of the country – persuading companies like Unilever, Girnar, Tata and Wagh Bakri to commit to non-pesticides management for their tea cultivation– making our food and chai safer.
The Mahan campaign started in the forests, working with tribal communities, and led to the creation of an online nation – the Republic of Junglistan. The campaign had everything from legal cases to reports, celebrity endorsements (Fools for Forests), a show on MTV. offline, online and mobile activism (inc. Radio Sangharsh) in the cities and the forests, culminating in a huge non-violent direct action in January 2014 and ultimate landmark legal victory we never believed possible. Over 1 million people (10 Lakh) joined the campaign – and if you were one of them, then that victory was your doing – thank you.
By January 2015, Greenpeace India had come a long way since since its inception, with offices in Delhi, Mumbai, Bangalore, Patna, Kolkata, Pune, Hyderabad and Chennai.
2014-2015
Recent history
In June 2014 the media reported that the Indian Intelligence agency had allegedly leaked a report making bizarre claims about Greenpeace India and other civil society organisations. This report has never been officially published. A series of rapid shocking blows followed one after the other. The MHA blocked donations from international donors, suspended Greenpeace India's FCRA registrations and stopped Greenpeace staff with valid visas from entering India.
To suppress dissent from all fronts, in January 2015, MHA offloaded Greenpeace India activist, Priya Pillai from her London-bound flight. She was on her way to talk to British Parliamentarians about the human and forest rights violations committed in the forests of Mahan in Central India by a London-based company.
In April 2015, MHA froze Greenpeace India's domestic accounts blocking the donations of 77,768 Indian citizens. Greenpeace India was threatened with imminent closure. But we remained optimistic, because we believe that optimism is a form of courage.
This was the probably the darkest chapter in the history of Greenpeace India. As much as we would like to forget about it, what we want to remember is the unprecedented support that we got from numerous Indian citizens who stood by us. And the landmark court verdicts, which clearly declared: dissent cannot be muzzled in a democracy.
Some legal battles still continue, but our campaigns, for creating a healthy sustainable future have been getting more powerful by the day.
What's next?
This is just a small snapshot of some of our history – it doesn't mention our work in Bhopal, the Airtel diesel campaign, the Oily Moily spoof, the solar innovation challenge, Living Soils in Bihar, lots more work on GM and Nuclear power especially at Jaitapur, the Arctic 30 solidarity events, the hugely successful E-waste campaigns, the ocean defenders work against overfishing, the water for farmers work, dams protests, Coal Curse – the documentary, campaigns to save the Ganga, the Delhi Toxicity campaign and much more.
The next episode in our history is up to you – so if you'd like to campaign for clean air, and India's forests and our country's future, then get involved .
20 years of action
And a final thank you to everyone who was involved in any of these activities from over 20 years of our history – enjoy!